So I'm kind of in a self-imposed vacation diet detox. I got back from my vacation on a Wednesday, which meant merely two days of regular working until the weekend, which meant out to dinner and BBQs, which meant I never really went grocery shopping or fixed myself any healthy-ish meals for the better part of two weeks. My pants noticed. Of course they did. SO, needless to say this week I was on a one-way trip to Salad City with a layover in Granola Town then on to my final destination: Skinnyville, USA.

So, with regard to the granola. I made this recipe over four weeks ago and I wasn't even really planning on posting it; however, at least twice this week I have mentioned to one of my buds how great it is so I figured, why not? It's not like doling out the recipe for my lunchtime salad would be that exciting anyways and these are pretty much the only things I have eaten this week. I should also mention that this batch of granola has stayed fresh and crunchy for four weeks! If I were to break it down for you, i.e. the cost of the ingredients for this divided by the sheer number of breakfast meals (not to mention snacktime fistfuls) I have eaten, it would illustrate just how impressively inexpensive and satisfying homemade granola can be, but I don't feel like doing math. When I set out on my quest to make this I found two great recipes from Mark Bittman and Molly Wizenburg (here and here, respectively). I adapted my own recipe based on a) their general suggestions and b) what I was actually able to remember from the ingredients list when I found myself in the grocery store without the actual recipes in my hand. I ate the finished product with sliced strawberries and a scoop of Greek yogurt (2% Fage is nice). However, when I ran out of strawberries I started eating it with yogurt, applesauce and a sprinkle of cinnamon and sugar. YUM: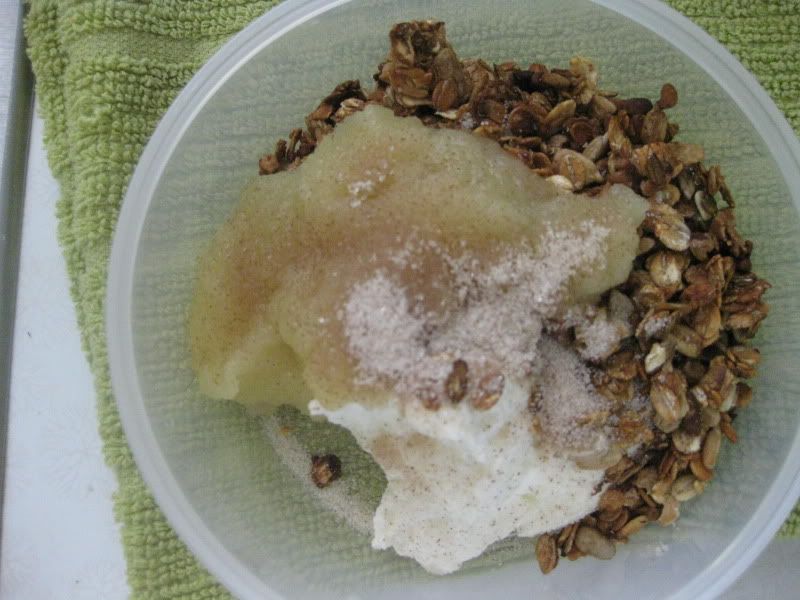 It's like a chilled deconstructed bowl of oatmeal. And I don't even like oatmeal! It's the kind of breakfast that makes me feel certain I'm doing something right, which is a nice feeling. The applesauce/yogurt/granola combo is merely my serving suggestion but you could eat this granola any old way you please. Soy milk might be nice.

HOMEMADE GRANOLA:
Adapted from a combination of Bittman and orangette.

the dry:

One canister Trader Joe's hot cereal blend (about 5 cups)*
1 c. sunflower seeds, unsalted, hulled
1 c. chopped pecan pieces, unsalted
3/4 c. light brown sugar
2 tsp. ground cinnamon
1 tsp. ground ginger
1 tsp. salt

the wet:

3/4 c. unsweetened applesauce
1/4 c. honey

Preheat oven to 325. Combine dry ingredients in a large bowl, stir well. Combine the wet ingredients in a smaller bowl and stir. Once the applesauce and honey are mixed well, pour the wet mixture over the dry and stir the whole mess together really well. Dump the granola mixture onto two rimmed cookie sheets and place in the middle rack of your oven. Bake approximately 40-45 minutes rotating and shaking the pans every once in a while to make sure it doesn't stick or brown up too much in any spots. Taste test. I found my granola may have taken even more than 45 minutes, perhaps 50. But I also trusted both recipes in that the granola may still be a bit soft after 45 minutes and trusted that it would get crunchier as it cooled. It did.

In making this recipe on my own, I partook in some generous switcheroos as far as the ingredients go, but I did my best to marry both Bittman and Molly's recipes together. Basically I used her measurements on the spices and sugar and his measurements on the wet ingredients. Her recipe called for a 300 degree oven, his a 350. I opted for 325. The cool thing about granola is you can make it with whatever ingredients you prefer- switching up the nuts or seeds, maybe including sesame seeds, coconut or dried fruit if that's your thing. I kept mine relatively simple mostly because I didn't want to spend 50 bucks on nuts at the store. The basic tenets of granola, in my extremely limited experience with same, I have found to be: combine dry, combine wet, combine wet and dry bake for about 40 minutes, giving the pan a shake every five to ten minutes to make sure it browns evenly.

This batch yields a tremendous amount of servings (I eat about a half cup serving at a time). Store in an air tight Tupperware or a Ziploc bag and it should stay fresh for quite awhile.

*this is a combination of steel cut oats, rolled oats and some other sort of whole grain-oat-type-thing. It's exact name may very well not be "cereal blend" I can't remember what exactly it was called and I did not write it down. I was staring blankly at the selection of oats, etc. in Trader Joes pondering the strict recommendations of my two granola gurus thinking "omg, are these quick cooking? It doesn't say, but Bittman specifically said NO quick cooking" and this nice lady said "oh, that cereal blend is really, really good. You should try it." Since I not only talk to strangers, but yield to their grocery purchasing advice, I decided to get it. I wanted a combo of textures and this stuff ended up being just perfect. I did not do the gourmand thing and purchase my steel cut, non quick cooking oats and other variety of whole grains directly from some oat wholesaler, sue me.