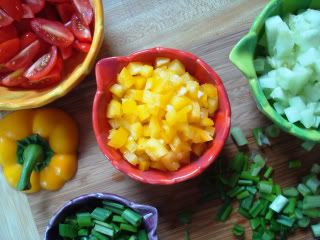 WHOLE GRAIN
SALAD with SUMMER VEGGIES and FRESH HERBS

1 c. wheatberries*
4 c. water
1 tsp. salt
½ pint cherry tomatoes, quartered or halved
1 yellow pepper, diced
½ large cucumber or one small, diced
3-4 scallions, chopped
Handful basil leaves, chopped (approx. ½ c.)
Approx. ¼ cup mint leaves, chopped
¼ c. red wine vinegar
½ c. extra virgin olive oil
½ tsp. Dijon mustard
salt, pepper
pinch sugar
1 tsp. lemon zest
½ package crumbled feta
*Que pasa wheatberries, Jess? Well, glad you asked. Wheatberries are a dense whole grain that kind of look like farro ("wheatberries" is also, according to Spell Check, not a word and neither is "farro". Whatever Spell Check, they are Google search terms and hence, exist). So I accidentally bought some wheatberries because I was convinced that they were farro, even though the label on the package clearly read "wheatberries." I wrongly assumed "pssh, same thing!" It turns out that they were actually wheatberries, which are a whole grain not totally unlike farro, but aren't in fact, farro. Now, I certainly don't hate 'em, but these suckers take like 2 hours to cook.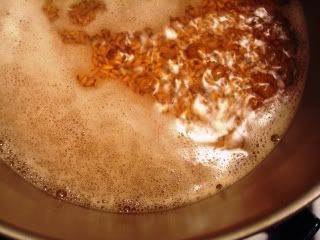 Since wheatberries are a weird random ingredient, I had to turn to the internet to find instructions on how to prepare them. The internet will tell you that you will need to cook one cup of wheatberries in 3-4 cups of a water with a little salt. The internet will tell you that this takes an hour. This is a vicious lie. I cooked my wheatberries for closer to two, continually adding a little more water here and there, and they still ended up, well, toothsome. Toothsome is a word used by fancy chefs to describe food that is undercooked. So the resulting salad was delicious in flavor, but moderately crunchy in texture. Next time, make this salad with quinoa, cous cous, bulgur wheat OR drained, rinsed chickpeas. Any and all of these substitutions are tasty, super healthy and take less than 20 minutes.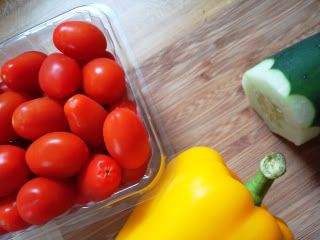 Personally, I really don't mind a time commitment in the kitchen. I got a lot of other things done: did a load of laundry, drank some wine, poached some chicken, made chicken salad, baked up some tofu, talked on the phone, etc. Eventually however, as the wheatberry cooking process edged toward the 2 hour mark, I found myself
drunk and impatient
eager to taste the finished result. And the finished result? Actually still very good, despite the fact that the main ingredient was still a little denser than anticipated. The flavor was really good. I'll take it.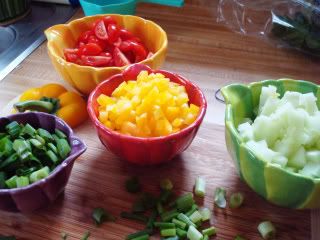 Remove your (semi)cooked wheatberries from heat, let cool for a bit. Meanwhile whisk mustard, vinegar, salt, pepper and sugar in a large bowl. Drizzle in olive oil to make dressing. Toss in diced veggies, followed by your grain, the herbs, lemon zest and feta. Toss several times. Keep refrigerated. Great as a healthy side dish, salad topper or as a snack with hummus and pita.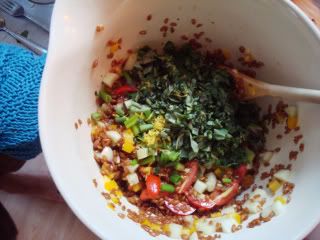 And don't say I didn't warn you that wheatberries might get you drunk.