I love me some Asian food. Pretty much from any far reaching corner of the great continent. Indian? Ooooh, Namaste. Thai? Yes please! Japanese? Domo Arogato, Mr. Roboto. "Chinese" accompanied with drinks wrapped in plastic leis and garnished with crepe paper dolphins? Holla! Before my taste buds ripened to adult capacity I was pretty picky, but these days if I'm dining out or taking food home, I'm usually sopping up saag with a little naan or firing down some Thai basil Drunken Noodles. If my dad and I go out for dinner our default choice is to warm our blood streams with sake as we make jokes over a gorgeous platter of sushi.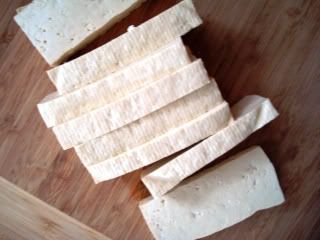 I love how dishes are sometimes called the most ridiculous thing like Good Luck Fun Beef and Super Golden Chicken. Life would be better if we described everything like a Thai food menu. "Hey how was your day?" "Meh. It was strange sounding chicken, but there's always tomorrow for it to be #1 good luck." At my favorite Thai joint they have a chicken dish called "XTREME!" (capitalization and exclamation point theirs). All I can think of is Harold and Kumar when I see that and it makes me smile every time. I haven't tried the dish, but I'm sure it's totally extreme.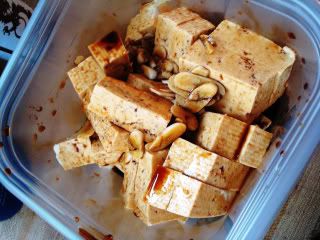 The problem with me is that I can't just go out to eat and be done with it. I need to learn how to make the food myself. It's an annoying habit, but it's just the way I am. My mom has always made really great stir-frys. Stirfrys? Stirfries? Whatever. She has the touch and she usually does her best work with a little help from a jarred or bottled sauce. LaChoy brought the Far East to our Massachusetts kitchen long ago and in recent years a Taste of Thai or Annie Chun's (I think that's her name) sauces have put the finishing touches on a big skillet filled with veggies, and beef or chicken. There is nothing. I repeat NOTHING wrong with getting your stir fry on with a good bottled sauce. I mean really, I don't advocate food snobbery on here and I certainly don't advocate going out and buying 17 random ingredients from the Asian market just to try and make a stir fry you're going to eat one night for dinner. But I wondered if I could do it without the premade sauce.
My reasoning for reaching outside the bottle was three fold: (1) I hate waste. And whenever I buy a bottle of a stir fry sauce I use a quarter of it and then it languishes inside my refrigerator door for the next 3 years until I finally get grossed out enough by its presence to throw it out; (2) these sauces are expensive. They're like, $5.00 a bottle and you can really only use it for a single purpose! and (3) they have a lot of sodium and/or corn syrup in them. Why do you think they taste tangy, salty and delicious? So, was there a simple way to get some kickin' ethnic flavors into my decidedly American kitchen? There was and I'm here to share with you.
You may have to seek out a couple of these ingredients, so be forewarned. However, most are condiments that keep, in the cupboard or the fridge for a long, long time. AND, they can be used in many other dishes, so they aren't single purpose solutions. I had everything except for ginger already at my house. All I had to buy was the tofu and the veggies and it was Stir Fry Central. If you need to purchase these things, I found everything I used here at the regular grocery store (in the Asian food aisle) or Trader Joes (they have the cheapest soy sauce and sesame oil). Also, when I told my sister I had sesame seeds stocked in my kitchen she was like "wow, fancy." and then I told her where I got them: Target. Yup. They have sesame seeds there.
So yes, this is a tofu stir fry. I know that people hate all up on tofu and I'm not going to lie and say that it's everyone's cup of tea. I myself have mocked this humble soy product. And I myself have eaten some pretty crappy tofu in my life. Tofu needs a little bit of TLC to taste good, but if you adhere to a few simple rules, it can taste delicious. It's very healthy and performs like a little flavor sponge soaking up whatever you're cooking it in and taking on its flavor completely. If you were looking to try your hand at cooking tofu, the method I outline here might change some of your presumptions. BUT if you're unconvinced, the recipe would work perfectly using only vegetables; or using chicken or even lean beef. Whatever tickles your fancy. If you are cooking with chicken or beef, make sure they are cut into small pieces and cook the protein in the pan first, then take it out and tent some foil over it while you fry up the veggies, when you're ready to add the sauce, add your protein back to the pan and stir everything together.

TOFU and VEGGIE STIR FRY
Vegetable or canola oil (about 2 tbs.)
One small ginger root, peeled and minced
2 cloves of garlic, minced
About 2 tbs. sesame seeds (optional)
½ cup salted, roasted peanuts, chopped (optional)
2-3 tablespoons rice vinegar
3-4 tablespoons soy sauce
1-2 tsp. sesame oil
1-2 tsp. honey
Pinch sugar (if needed)
One package extra firm tofu, pressed and marinated
Snow peas (about 1 ½ cups)
One red bell pepper, sliced or chopped
One medium onion, sliced into strips or chopped
Cremini or button mushrooms, cleaned and chopped (about 1-2 cups)
2-3 scallions, chopped
I know that this looks like a lot already, but once your initial prep is done, this dish comes together in minutes. The first thing you will need to do is press your tofu to remove some of the moisture. Remove it from its packaging, discard the water and place on a plate with a big enough lip to hold some fluid in. Place tofu on the plate and stack a few other kitchen plates on top. Let sit for at least 15 minutes. When it's done you can discard any water that has purged and marinate the tofu for a bit. For my marinade, I cut the tofu into chunks and placed it in a Tupperware with a few generous shakes of soy sauce, a small drizzle of sesame oil and 2 or 3 cloves of garlic. Then I let it hang in my fridge, turning every once in a while, until I was ready to cook.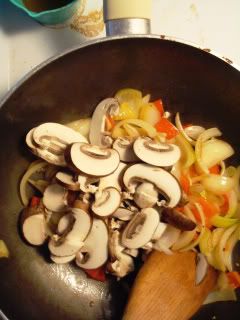 If you are serving this dish over rice, check how long your rice takes and if it takes 40 minutes, like mine, start the rice first. Then, clean and chop all of your vegetables and set them aside. Prepare the ingredients for your sauce; solids first. Peel ginger with a regular vegetable peeled and mince it as you would garlic, just not as small. Set aside, alongside the garlic, sesame seeds, peanuts and chopped scallions. Remove tofu from the fridge and set a stir fry pan or non stick skillet over medium high heat with vegetable or canola oil in it. Heat oven to 375.
When the skillet is good and hot add the tofu with some, but not all of its marinating liquid. Let tofu brown on each side a bit. When it's browned, remove it from the skillet onto a cookie sheet and place it in the oven. While you cook the rest of your stir fry, the tofu will continue to crisp up a bit in the oven. If necessary, add a touch more oil to the pan. Cook onions and peppers first, stirring frequently, add mushrooms and sauté an additional few minutes, until the mushrooms have wilted a bit and purged a little of their liquid. Another few minutes.
Add the ginger, garlic and scallions, stirring together for a minute, then add the soy sauce, sesame oil, rice vinegar and honey. If you'd like, you can stir the liquid ingredients of your sauce together in a small bowl prior to adding it to the skillet, but it's not necessary. Now, stir in the snow peas and take the tofu out of the oven and add it back to the pan. Taste test one of your vegetables to see if you like the balance of the sauce. If necessary add a little more soy (for salt), vinegar (for tang) or honey (for sweetness). Add peanuts and sesame seeds and serve immediately over brown or white rice.