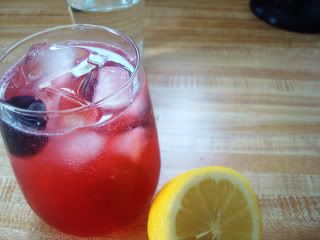 I am, admittedly, a wee bit obsessed with
rosé
. I will talk about it passionately with anyone who will listen because I am determined that the world know how refreshing and delicious it is (in addition to being so very pretty). Rosé is refreshing and easy to drink but has a touch more complexity than your typical white wine. Not that I don't like a cold glass of white, I am a Caucasian female: we're pretty much programmed to pound the stuff. But my warm weather weekends almost always involve a chilled bottle of pretty pink wine (or two).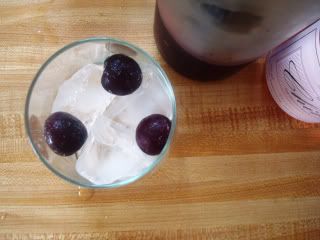 I knew for 4th of July that I wanted to make a punch to: a) use our radical new punch bowl; b) use up the delicious
Sweet Cherry Simple Syrup
I made last week; and, c) have enough hooch in it to make us sufficiently warm and fuzzy because nothing to me says "Happy Birthday America" like a cool buzz, some smoked meats and some mother loving fireworks. Tonight I plan on having all three and I wish you the same. Happy 4th.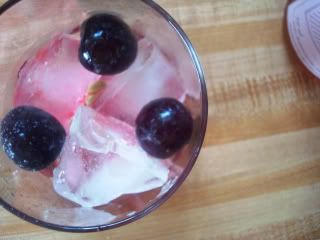 RED, WHITE and ROSE PUNCH
(for one)
½-¾ cup chilled rose wine
Juice from half a lemon
1-2 oz.
Sweet Cherry Simple Syrup
Ice
Seltzer
Frozen cherries
Slicced lemons
Fill a rocks glass or stem less wine glass with ice. Drizzle in Cherry Syrup, add the lemon juice and rose; stir together to combine well. Top off with seltzer. Garnish with frozen cherries or any other fruit (peaches or strawberries would also taste great). Serve immediately and repeat until feeling sufficiently patriotic.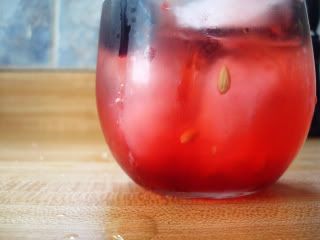 (for a crowd)
2 bottles chilled rose wine
Juice from 2 lemons
½ - ¾ cup*
Sweet Cherry Simple Syrup
1/3 container frozen lemonade concentrate (like Minute Maid)
1 ½ liters seltzer
Frozen cherries, lemon slices, or any other fresh cut fruit for color and garnish
Combine Cherry Syrup, lemon juice, frozen lemonade and rose in a large pitcher or punch bowl; stir together to combine well, add the cherries and any other fruit. Set in the fridge until ready to serve, anywhere from an hour to overnight. When ready, fill pitcher or bowl with ice and top off with seltzer. You can also use less seltzer for a more concentrated punch; or, if you're a real boozehound use a bottle of Prosecco or Cava instead (no judgment here, I think it's a swell idea).
*(the amount depends on how sweet you want your finished punch, add it to taste)