I'll spare you the same old boring chit chat as last time about how quickly this summer is going by and just cut to the chase. It's probably looking like 3 posts a month until I become a human again and cease being a Bride. Until then, spare time willingly co-opted, cooking relatively sparse, when I do show up around this old corner of the internet, I'll probably be a little less wordy, but still bring plenty of food. I'm sure everyone is fine with that.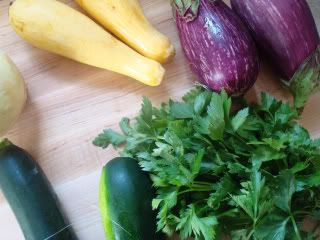 And plenty of food is what I've got here. This is a "drop off dish" if I've ever seen one. A delicious, satisfying casserole that's perfect for making ahead of time and freezing, or delivering to your friend that just had a baby, or moved, or anyone that's in need of a nice meal really. And a nice meal it is. Packed with all the best summer vegetables it's savory and satisfying and sneakily very healthy. I wanted to make a baked pasta inspired by ratatouille to take advantage of all the summer vegetables. This here's what I ended up with and I must say it came out real nice. Now if you'll excuse me I have to do a CSI report on the RSVP card which came back with no name but an "X" next to "delightfully accepts." If this is you and your reading this blog, please identify yourself immediately, there might just be a baked pasta casserole in it for you.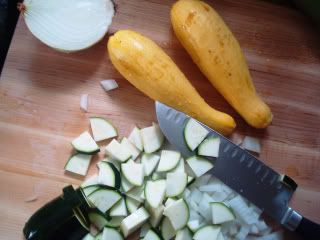 BAKED PASTA with RATATOUILLE SAUCE
1 white or yellow onion, minced
1 small zucchini, quartered and thinly sliced
2 small summer squash, quartered and thinly sliced
2 Japanese or graffiti eggplant, diced
1 jar roasted red peppers, drained and minced
1 tbs. tomato paste
1 small can pureed tomatoes
¼ cup olive oil, divided
1 box dried penne, elbows or cavatappi
3 cloves garlic, minced
3 cloves garlic, peeled and left whole
2-3 sprigs thyme
Salt, pepper
½ tsp. crushed red pepper
1 pinch sugar
Grated parmesan cheese
1 bag shredded mozzarella or Italian style blend
Fresh flat leaf parsley
Fresh basil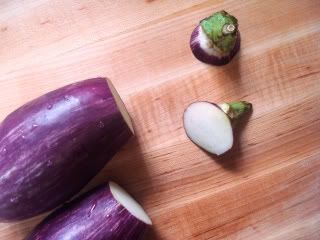 Preheat oven to 400. Heat half of olive oil in a large braising pan or Dutch oven over medium heat. Add onion and sauté until fragrant and translucent, about 5 minutes. While the onion heats, toss your diced eggplant with a generous sprinkle of salt and set in a colander in the sink to drain. Add the summer squash, zucchini and minced garlic to the pan, drizzling in a touch more oil if it seems dry. Salt and pepper and reduce heat to medium-low, continue stirring occasionally. Set a large pot of water to boil on the stove.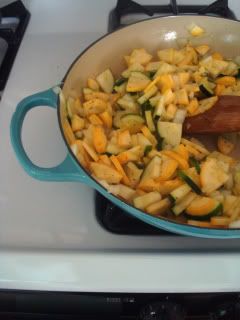 Toss eggplant on a cookie sheet with a drizzle of olive oil and plenty of salt and pepper. Set pan to roast in the oven, stirring once or twice, for about 20-25 minutes. While the eggplant roasts, add to your pan the minced roasted red peppers, tomato paste and pureed tomatoes. Add a generous amount of salt, pepper, the crushed red pepper, whole garlic cloves and your thyme sprigs. Bring the heat up so that the mixture comes to a boil then reduce to low and let simmer until the eggplant is finished roasting. Reduce oven heat to 375.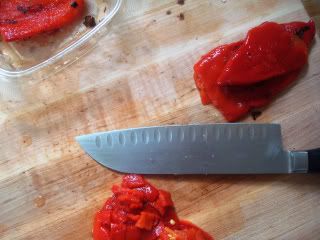 Once the eggplant is done, toss the lot of it right into your pan, stirring everything together. Taste and adjust seasonings. I found mine needed quite a bit of salt and a pinch of sugar because of all the raw vegetables involved. Let the mixture simmer on medium low heat so the flavors can come together while you make the pasta. Just before adding the pasta fish the sprigs of thyme out of the pan and add a bit of fresh chopped basil and parsley, reserving a bit of parsley to garnish on the finished dish.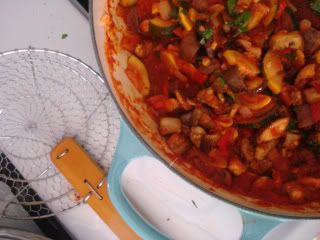 At this point, your pasta water should be ready to roll: salt the water generously and add pasta. Let the pasta cook for about 5-7 minutes. It will not be fully cooked, but the ends of the pasta should be white.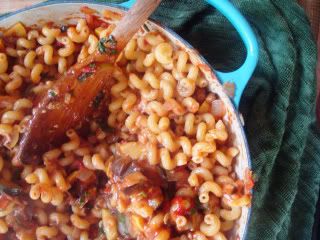 Drain pasta and add to sauce, tossing together (did I mention you need a very large braising pan or Dutchie here?). In addition, add 1/3 of your shredded cheese, toss together well, add the next 1/3 reserving the last of the cheese for sprinkling on top. Lightly oil a baking dish and spoon the pasta mixture in, top with remaining cheese. Set to bake in the oven for about 20-30 minutes until cheese is brown and bubbly. Garnish with fresh chopped parsley and serve with a simple salad for a hearty meal with a deceiving amount of healthy vegetables tucked inside