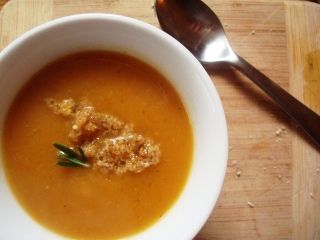 Well there's nothing all that sexy about today's dish, folks. This is just a straight up, simple to make, slightly spicy root vegetable soup. It kind of looks like baby food but I promise it tastes quite nice indeed. This was one of those occasions where I just sort of chucked a few ideas together and added stock to call it a soup. I was talking with my sister recently about how it's fun to do that sometimes when it comes to soup.
She admitted she likes to be a bit of a renegade when it comes to soup making but added how sometimes not having a plan can really blow up in your face. I have plenty experience in that department as well. With exploding soups that is. No just kidding, with soups that come out kind of crappy. Thankfully, this was one of those times when things worked out just fine. No explosions or crappiness of any kind. The resulting soup is quite spicy- so if you're not a fan of heat dial down the cayenne.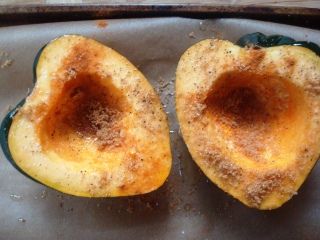 ROASTED ACORN SQUASH and SWEET POTATO SOUP
with WALNUT and ROSEMARY PESTO
FOR THE SOUP
1 whole acorn squash
1 large sweet potato, diced
2 small shallots, minced
1 medium sized yellow onion, diced
2 cloves garlic, chopped
Olive oil
2 pinches cayenne pepper, divided
2 pinches brown sugar
3 cardamom pods, crushed
1 tsp. cumin
1 tsp. garam masala
Salt, pepper
1 (32 oz.) container chicken or vegetable stock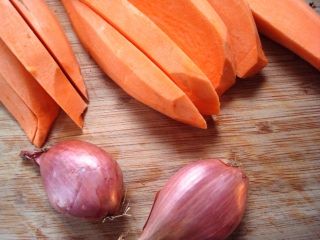 FOR THE WALNUT and ROSEMARY PESTO
½ cup walnuts, toasted
¼ cup grated parmesan cheese
Leaves from 1 small sprig rosemary
Juice from half a lemon
¼ cup olive oil
Salt
Pepper
Pinch sugar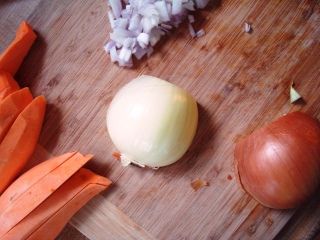 Preheat oven to 400 degrees. Half and seed acorn squash and rub 1-2 tablespoons olive oil onto the cut flesh. Sprinkle with one pinch cayenne, brown sugar, salt and pepper. Set to roast in the oven for 30-40 minutes, or until completely tender. While the squash roasts prepare the onion, shallot, sweet potato and garlic.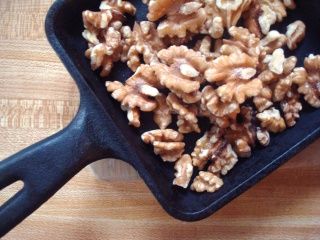 Heat olive oil (about 2 tbs.) in a Dutch oven over medium heat. Add shallots and onion and sweat until fragrant and translucent (about 5 minutes). Add garlic and spices and a generous pinch of salt and pepper and toss together for another minute. Add sweet potato and top with stock. Raise heat to high, bring to a boil and then reduce to a rolling simmer until sweet potatoes are cooked through (about 15-20 minutes). Reduce heat to low until all other ingredients are ready.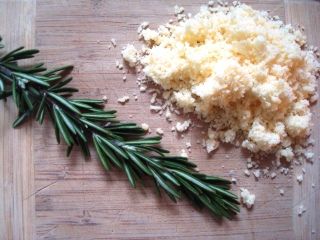 Remove squash from the oven and let cool for a few minutes. While the squash cools, place the walnuts in the oven to toast for a few minutes, until they are warm and fragrant (only about 5 minutes since the oven is so hot). Scrape the squash out of its skin and add to the soup pot. Puree everything together using an immersion blender, or in batches in a conventional blender (taking care not to overfill- hot liquids expand when blended). Let the soup simmer on low while you prepare the walnut pesto. Taste and adjust seasonings as desired. I wanted a real kick so I added a touch more cayenne, cumin, salt and pepper until it was to my liking.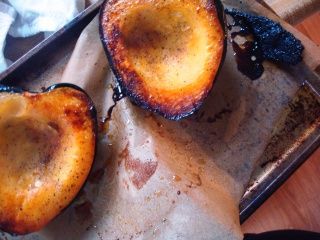 In a small food processor combine all of the ingredients for the walnut pesto and pulse together completely. Taste and adjust seasonings as necessary. Because parmesan is so sharp and salty and the walnuts are a touch bitter, I found a big pinch of sugar, a touch more lemon juice and some salt and pepper improved the taste quite a bit after the first processing.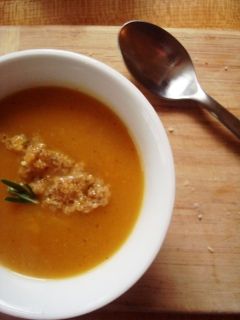 Serve soup hot and spoon in a heaping teaspoon full of walnut pesto on top. Yields: about 6 servings.