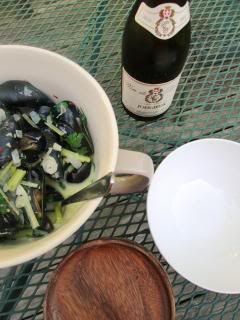 This bowl of mussels was enjoyed on the very first Saturday, of the very first heat wave during the very first week of June. JUNE. I am slightly horrified that it has taken me this long to share it with you. Since we sat on the back deck and slurped up this appetizer with big hunks of freshly baked ciabatta, we have gone to Spain and back for our honeymoon, looked at approximately 10 terrible apartments, slogged our way through two more heat waves, packed up the whole of our worldly possessions and placed them in storage to move in with my aunt and uncle; and, finally, begun the process of buying a house.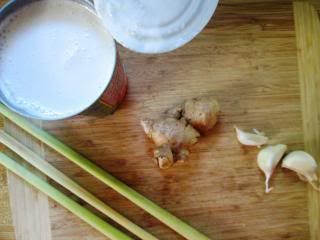 So it's been kind of a busy summer and one I have spent much of feeling overwhelmed, over heated and stressed out. When you aren't sure where you're going to live and you run into more problems finding a place than you ever possibly thought would happen you start to feel a little panicked and rootless. This feeling for me resulted in a stress-based reaction in which I combined equal parts laziness and avoidance with the addition of an increased intake of desserts.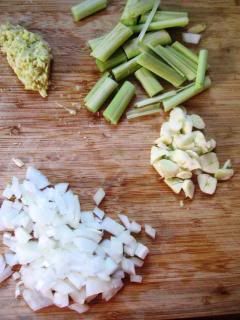 But now we are settled-ish. For a bit. And there's an exciting (!) light at the end of the tunnel. A place of our very own, where from we will never have to move. Ever again. We decided, at the invitation of my aunt and uncle, to come stay at their house for the month of August, because well, it's one of the nicest places to be and it's right near the beach. This proximity, as havoc-wreaking as it is on our commutes, is a reward to ourselves for a summer which was completely co-opted by the search for housing and the endlessly annoying task of sorting, cleaning and packing every single one of our worldly possessions and placing them neatly into storage.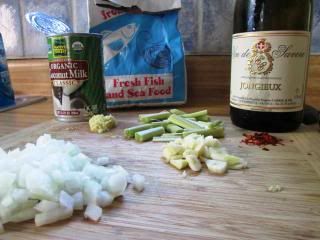 So we are here for the time being and living like bourgeois gypsies in a very nice house on a very nice street just three blocks from my very favorite beach. My aunt and uncle have a good kitchen: a nice, functional space which will host Porky for the next few weeks. They also have a screened in porch and a propensity for having cake on the counter and drinking wine every night. So I think we will fit in just fine here. Though we are slightly uprooted we are far from rootless and we will be cooking as usual, just in a different zip code.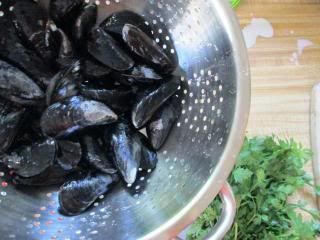 COCONUT LEMONGRASS MUSSELS
2 lbs. mussels, scrubbed
2-3 tbs. olive oil
3 cloves garlic, peeled and minced
1 2-inch knob fresh ginger, peeled and grated
3 stalks lemongrass, bruised and sliced*
1 can coconut milk
½ white onion or 1 small shallot, diced
1 ½ tsp. crushed red pepper or dried chili pepper
1 cup dry white wine (I recommend Chilean or French Sauvignon Blanc)
Juice from ½ lemon
1-2 tsp. lemon zest
½ chopped cilantro
Fresh baguette or ciabatta, cut into thick slices and toasted or grilled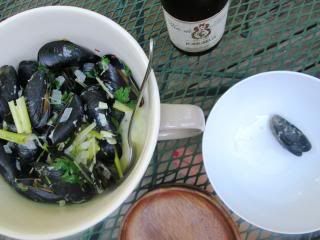 *to "bruise" lemon grass, Use the flat side of a chef's knife to wack it, cracking the tough, woody outer layer, then finely chop the stalks like you would scallions. Chop yours smaller than mine, those giant slices were a mistake.
Heat olive oil in a large pot over medium-high heat, add onion and sauté 2-3 minutes; add garlic, ginger, lemon grass and crushed red pepper and stir together. Let simmer a few minutes more (2-3). Turn heat up a touch and pour in wine and lemon juice, stir together well and let reduce for about a minute, scraping the bottom of the pan to loosen any browned bits of onion. Pour in coconut milk and add mussels, clamp the lid on and reduce heat a bit to medium. Let cook, covered, until all mussels are open and broth is reduced a bit.
To serve: spoon mussels into a large bowl and pour broth over. Top with lemon zest and cilantro. Serve immediately accompanied by lots of bread to sop up the broth, a few cold beers and at least one to two good friends. This is a perfect summer appetizer if it's not too hot to turn on a burner.