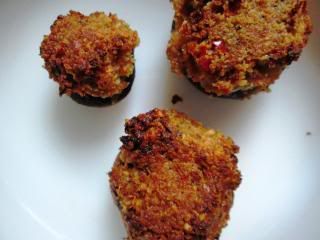 I have to say, for the first time in my life, I think I have something in common with Steve Perry. Something else, that is, besides awkward bang length, a penchant for high kicks and AMAZING vocal range. What we have in common is that I understand now, how he could love Sherrie so, so much. So much that he would risk alienating his fellow band members to maintain their relationship at all costs (we've been watching a lot of Behind the Music lately). What I'm saying is that I might risk everything to be with sherry, too; because it's just that good.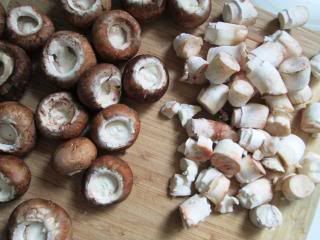 However I am not speaking of former Perry paramour, Sherrie Swafford, but sherry of the liquid varietal. I bought a bottle a few months back to make a particular chicken dish and since then have been splashing this sweet nectar into just about every savory dish I make. It adds a depth of flavor and complexity that is simply to die for and I feel like a fancy chef who's in the know whenever I uncap the bottle and splash it into the pan. It also elevates these regular old stuffed mushrooms from something tasty, to something worth writing a love song over.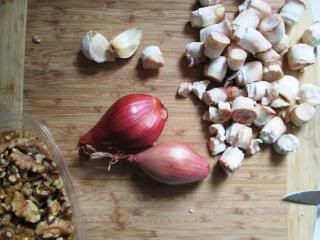 Now, I'm willing to bet that you judge sherry as an ingredient that is simply too fussy to stock in the pantry on a regular basis and I tell ya, I used to be one of you. As my sister-in-law said, "If I see a recipe that calls for sherry, I usually just look for a different recipe." It seems like a commitment, right? To buy that whole bottle only to use a half cup and then banish it to the floor of the pantry next to the crème de menthe. I get it. I really do. I try my hardest not to cook anything that calls for difficult ingredients. But let me tell you something: sherry is shelf stable and cheap (there's a reason it has been the chosen beverage of thrifty grandmas for decades) which means it can kick it in the pantry and come out a few times a year when you find one of those recipes that calls for it. But I can bet you'll be busting it out more often than that.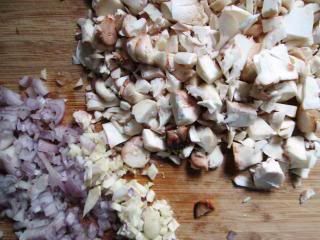 VEGETARIAN STUFFED MUSHROOMS
24 cremini or button mushrooms
2 shallots, minced
3 cloves garlic, minced
1 red bell pepper, minced
1 cup grated parmesan cheese
¾ walnuts, toasted
¾ cup panko breadcrumbs
3 tablespoons butter, divided
¼ cup sherry
¼ cup coarsely chopped flat leaf parsley
Salt
Pepper
Preheat oven to 375. Heat one tablespoon of butter in a large skillet over medium heat, add breadcrumbs and toast until golden brown and fragrant, set aside. In a small, dry skillet toast walnuts over low heat until fragrant and slightly browned, set aside. While the breadcrumbs and nuts toast: clean mushrooms by wiping with a damp cloth and snap out the stems, reserving. Any caps that break during this process can be relegated to the stems pile. Set mushroom caps aside and coarsely chop all of the stems. (Mushroom stems in fancy chef speak are known as "duxelle" I know this because on our wedding menu we had Marsala and Duxelle Stuffed Mushrooms and I was like "what's 'duxelle'?" and our catering manager was like "mushroom stems." I've been chucking perfectly good duxelle in the trash for years. Color me informed. If I was putting these on a restaurant menu I would called them Walnut, Sherry and Duxelle Stuffed Mushrooms, but since this is Porky Dickens, we're going with the easy search term, you can do as you please, depending on who you're trying to impress.)
Wipe out large skillet and heat remaining tablespoons butter over medium high heat, add shallots and sauté 2-3 minutes, then add garlic, red pepper and chopped stems, excuse me,
duxelle
. Sauté, stirring occasionally, until mushrooms are nicely browned and have released their juices; adding another half pat of butter if the pan seems dry at all (about 7-8 minutes). Raise heat just a touch and pour in sherry. Use a wooden spoon to scrape any browned bits of mushroom or shallot off the bottom of the pan as the liquor reduces, about another 5 minutes. Season with a generous pinch of salt and a few cranks of pepper. Remove pan from heat and let cool a bit.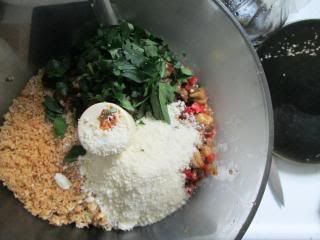 In the bowl of a food processor, combine sautéed mushroom mixture, parmesan, breadcrumbs, walnuts and parsley, along with another pinch of salt and pepper. Pulse to combine well, until the mixture resembles a super course meal, but individual elements are still visible (i.e. you can still see flecks of red pepper and parsley). Taste and season if necessary and pulse once or twice more to combine. Use a soup spoon to smoosh a generous scoop of filling into each mushroom cap. Lightly grease a baking sheet with a bit of olive oil and bake until bronzed on top, about 30-35 minutes.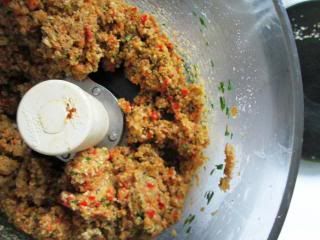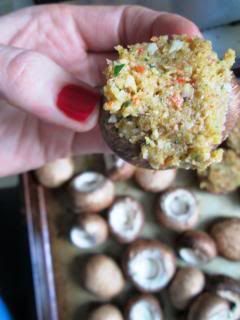 To make ahead:
Once my mushroom caps were stuffed, I placed all of them on cookie sheets and placed them straight into the freezer for a few hours. Once the stuffed mushrooms had frozen solid, I bagged them up for easy transport. They held together very well this way and can be baked straight out of the freezer; it may simply increase the cooking time just a bit.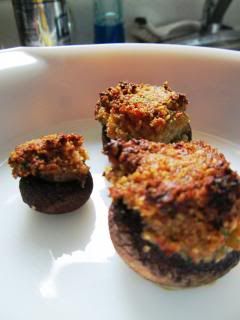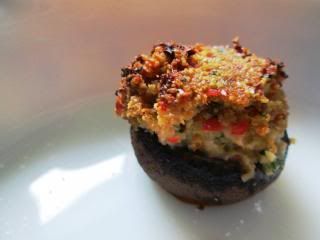 What kind of sherry?
Good question. You will typically find three popular kinds of sherry on the shelf: fino, amontillado and cream. Fino is the driest of the lot, amontillado is medium-bodied and the most versatile, but I prefer cream sherry, it has a silkiness I really like and enough residual sugar to make it useful in both savory dishes and desserts. The brand I have is Ivison, which is a solid choice and retails for about $11.