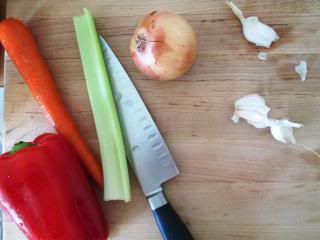 I'm quite sure my father may have been born with stew coursing through his veins in lieu of human blood. At least, his dietary choices certainly point to that. Whenever we find ourselves at a pub (which is incidentally where you'll often find us) if I see beef stew on the menu I can call without a moment's hesitation what he will order for his meal. On Friday, the seafood restaurant near his house serves fish chowder. So if you ever had trouble tracking him down, you should just head over to the bar at the Union Chowder House in South Weymouth on Fridays at noon. I will bet you $100 he will be tucked into a stool there with a cold Heineken in hand and a steaming bowl of fish chowder under his chin.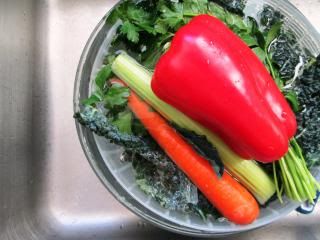 When my parents split up and my dad was in his own apartment, I felt like every single time I would visit for dinner, or ask him what he was cooking, the answer would inevitably be some sort of stew, but more often than not, it was chicken cacciatore. I started to suspect a bit it was either the only thing he knew how to cook, or perhaps his favorite food in the whole universe, even ahead of beef stew or fish chowder. In the end the answer I think is as simple as this: it's a meal you can count on. Simple to pull together, truly satisfying and given to producing a moderate sized pot of leftovers which are perfect for eating for the next few meals. Regardless of the reasoning behind his dedication for chicken cacciatore, I knew it was something I needed to make for him, as I did just a few Sundays back. This straightforward easy dish is perfect for dinner guests. Relatively inexpensive, easy to pull together and (my favorite) provides you with enough hands off time during cooking to make a martini and relax with your guests before getting it on the table.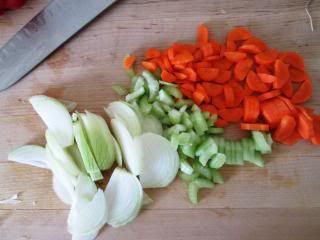 CHICKEN CACCIATORE
(from Marcella Hazan)
1 3-4 lb. chicken, cut into pieces
¼ cup flour
4 tbs. canola oil
1 small onion, thinly sliced
1 red bell pepper, seeded and thinly sliced
1 large carrot, peeled and sliced
1 stalk celery, chopped
1 bay leaf
1 tsp. rosemary
2 cloves garlic
½ cup dry white wine
1 can whole peeled San Marzano tomatoes
Salt and pepper
2-3 tbs. flat leaf parsley, coarsely chopped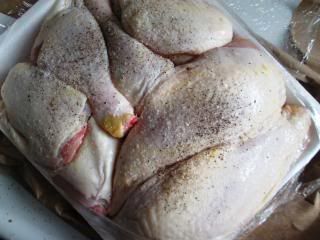 Heat oil in a large stock pot over medium high heat. Salt and pepper chicken pieces liberally and then dust with flour, shaking the excess off. Brown chicken in batches, about 8 minutes or so per batch, until the skin is crisped but chicken is not cooked through. Remove chicken from pan and set aside.
Reduce heat to medium and add onion, carrot, celery, red pepper, herbs and garlic to pan; stir constantly to prevent garlic from scorching for about 5-6 minutes, or until onions are golden. Turn heat up to high, add wine and use a wooden spoon to scrape up browned bits from the bottom of the pot, until wine is reduced by half (about 4 minutes). Pour in the juice from tomatoes and then add tomatoes one at a time, crushing each by hand before adding to the pot.
Return chicken to pot, reduce heat to low and cook, mostly covered, for about 30 minutes until chicken is cooked through. Salt and pepper sauce to taste and scatter parsley into pot. Pull chicken from pot with tongs, into a large, shallow bowl; pour sauce over, garnish with a bit more fresh parsley and parmesan cheese, if desired.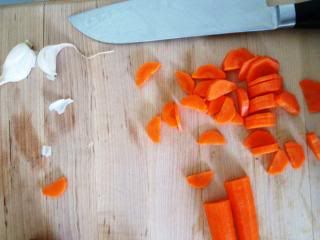 Serve with pasta, rice or garlic mashed potatoes.
EASIEST GARLIC MASHED POTATOES
Approximately 2-3 lbs. russet potatoes, scrubbed clean, peeled and cut into chunks
3-4 cloves garlic, peeled and left whole
Kosher Salt
Pepper
Butter
Half and half
My go-to mashed potato recipe is not so much a recipe as it is a loose framework. I use about one potato per person, depending on the size of the spuds. Scrub 'em clean, peel and cut into large chunks. Then cover with cold water in a large stock pot and add the whole cloves of garlic. Bring the pot to boil on high. Once boiling, remove lid and let cook until potatoes are tender when pricked with a paring knife. Drain water, return potatoes and garlic to pot and add a few pats butter, two super generous pinches (I'm talking a thumb and three fingers, potatoes need salt) of kosher salt and a few cranks of black pepper.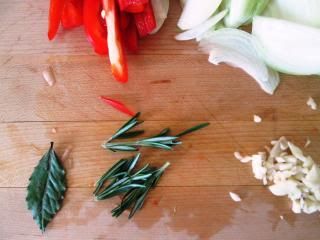 Splash in about a scant ¼ cup of half and half and mash, with a potato masher; or, use my preferred tool and pulse with an immersion blender. If the consistency is too dry, add another pat of butter and another splash of half and half. Taste and adjust butter/ salt/ pepper. Adding whole cloves of garlic at the onset of cooking gives it a mellow, delicious flavor throughout and using your instincts will get you the consistency of potatoes you desire. I like mine almost whipped, but some people prefer them a little chunkier and drier. Who am I to tell a man how to mash his potatoes? There are some subjects you just don't butt into.