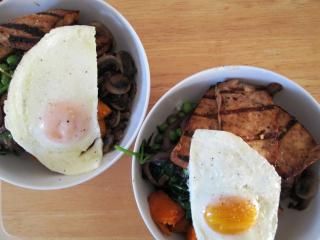 Oh haaaaay....guess I wasn't joking about slacking off and taking advantage of summer. Second week in September and I feel like it can't possibly already be this far into fall. The good news is I have an enormous backlog of deliciousness to share with you. Like to hear about it? Here it go... I cook without rules and often without any concept whatsoever. Like most households we tend to have our standard batch of groceries that we buy each week and that gets us through at least 5 breakfasts and lunch and maybe the one or two dinners we actually get to sit down to together. And it always, always has to be supplemented by additional trips to the grocery store. Fortunately, not a big deal for me since I am financially obligated to be inside not just a grocery store but the one we primarily shop at at least 35 hours per week.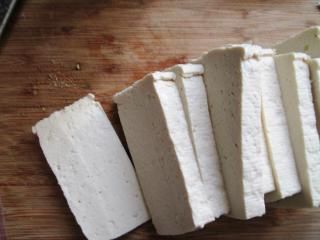 When you have a decently stocked pantry and a few odds and ends of veggies but no particular vision, that is when kitchen creativity gets cookin. At least if you're a geek like me. Day dreaming about the contents of your fridge and attempting to make a whole meal of food out of them is one of my most favorite hobbies and it's also the kind of free association thinking that creates such Benson family favorites as
Potato Tacos
or my most coveted
Transcendental Burritos
and pretty much any easy pasta dish that I've had cause to cook up in the past decade. One such invention that has been on recent rotation is this here. An amalgam of components that we have dubbed "Yummy Bowls" because basically, well, they come in a bowl and they are yummy. It's not that deep.
More a loose framework than an actual recipe this is one of my favorite things to make for lunch on a day off, or for a quick, but filling and healthy supper, or what I make for lunch when a vegan comes over (hi Ashley!). It ends up being a mish mash of whatever produce I have around, over a bed of starch (rice, cous cous or even farro) and always either some go-to crispy baked tofu or this here delicious and fast marinated grilled tofu. This preparation does everything I want a proper recipe to do to tofu- infuses it with mouth watering flavor and gives it an appealing texture – crispy on the outside, tender within. We like to garnish these with a dollop of hummus, some Sriracha and a sunny side up egg (but of course not when the vegans are coming). It's super filling and pretty virtuous, so I don't even feel bad when I eat a
half
whole entire caramel filled chocolate bar after dinner. If I make this for myself for lunch, I have enough leftover to make myself a smaller Yummy Bowl the next day as leftovers. If I make it for myself and someone else, we usually house it all. It's healthy after all and there's only so much virtue to go around.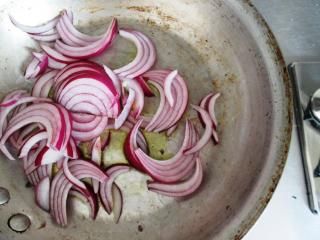 YUMMY BOWLS
(we're working on the trademark for this and Potato Tacos)
White or brown rice, prepared according to package directions
Grilled Marinated Tofu
Easy Baked Sweet Potatoes
Sauteed Mushrooms
Sauteed Spinach, Peas and Red Onion
2 Eggs, poached or sunny side up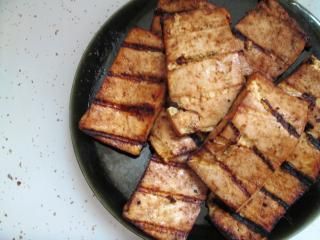 GRILLED MARINATED TOFU
2 scallions, minced
2 cloves garlic, minced
1-2 tsp. grated ginger
¼ cup soy sauce
¼ cup olive oil
2 tsp. honey
A few shakes rice vinegar
1-2 squeezes Sriracha or other hot sauce
1 package extra firm tofu, pressed, drained and sliced
To press and drain tofu: remove from packaging and place in a shallow bowl or on a plate with a bit of depth. Stack 1 or 2 plates on top and weight with two cans, or something equally heavy. Let press for 15-20 minutes before draining off excess water and slicing. This is a serious pro tip for getting a nice texture out of your tofu- even though it takes extra prep time I never skip this step.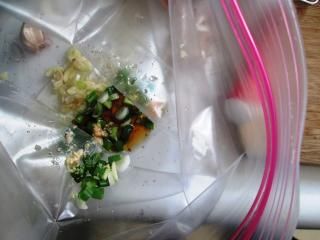 While the tofu is pressing, prepare your marinade in a large Ziploc bag. Combine all ingredients and squish together gently to combine. Once the tofu is pressed and sliced, add to bag, squeezing out extra air as you close and set to marinate in the fridge. 30 minutes, or up to overnight.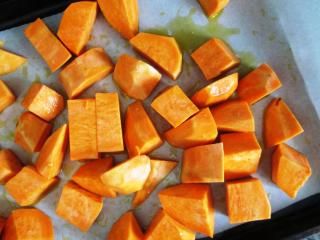 Heat grill to medium heat. Pour olive or canola oil onto a paper towel and using tongs, grease the grates of your grill. Place tofu on grill and cook, about 3-5 minutes on each side, flipping once. It may still stick a bit, becase there is no fat in the actual tofu itself. I simply jimmied it off with a nice sharp spatula and made sure to regrease the grill with a little bit more oil before flipping to the second side. Remove and enjoy, either in yummy bowls or as a salad topping or simply a quick, high protein snack.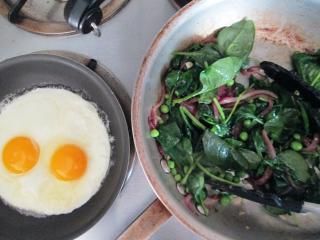 EASY BAKED SWEET POTATOES
1-2 large sweet potatoes, peeled and diced
Olive oil
Salt, pepper
You can't get much easier than this. Peel and cube potatoes and toss with a drizzle of oil, a healthy pinch of salt and a few cranks of pepper. Roast at 400 for 30-40 minutes or until tender, tossing at least once. These are always a delicious easy side dish or nice salad topper.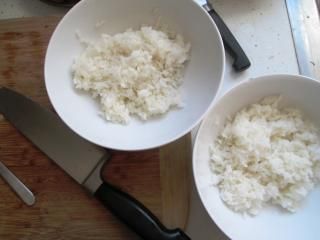 SAUTEED MUSHROOMS
1 bunch button or cremini mushrooms, wiped clean with a damp cloth
Olive oil
Butter
Salt, pepper
Stop me if I'm insulting your intelligence at any point..every component here is dead simple, but I also like to really follow through on the directions. These mushrooms, like the sweet potatoes and most other components of the Yummy Bowls are super easy, work as a simple side dish and require little more than trimming and chopping. Heat equal parts butter and olive oil in a skillet over medium heat (about 1 ½ tsp. of each depending on how many mushrooms you're cooking). Add mushrooms and a sprinkle of salt. Let brown, turning every so often until they have purged their liquid and darkened in color, about 8-10 minutes. Season again with salt and black pepper.
SAUTEED SPINACH, PEAS and RED ONION
1 bunch baby spinach leaves
½ red onion, thinly sliced
¼ - ½ bag frozen sweet peas
Olive oil
Salt, pepper
This component is totally the result of what I had on hand, if that wasn't obvious already. Once the mushrooms were cooked, I wiped out the same skillet, heated up a bit more olive oil and sautéed first the onion, then spinach and peas until everything was cooked through nicely. Plenty of salt and pepper for flavor and we've got ourselves a pretty packed, nice looking Yummy Bowl situation.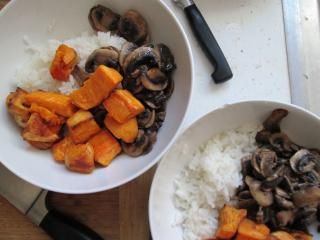 EGGS and RICE
I'm not going to tell you how the poach/fry an egg or make rice. We all have limits and I think I crossed mine with the spinach instructions.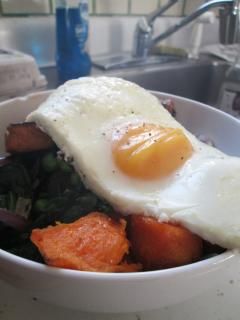 Layer all components in a big ass bowl, with the egg on top. Sprinkle with salt and pepper and maybe season a bit with hot sauce, Sriracha or any sauce you're into. Salt and pepper over the top, slice into the egg so the yolk runs down over everything and….you see we don't call it a Yummy Bowl for nothing.