Chilled avocado soup, chopped Greek salad, pan seared cod.
As a rule, I don't like cold soups. Gazpacho is the only one I have extensive experience with and eating that always makes me feel like I'm eating a bowl of salsa. And frankly, if I'm going to eat a bowl of salsa, I'll take the salty tortilla chips, glass of sangria and platter of mole poblano that should rightly accompany it. But still a creamy avocado soup called out to me yesterday. It was beautiful to make and super simple.
Two ripe avocados and one half a large English cuke, diced
Thrown into the bowl of my trusty cuis' (pronounced kweeze):
Add half a container full fat Greek yogurt,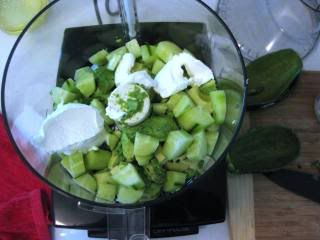 The juice of half a lemon,
And puree. My first taste test led me to add a lot more salt and pepper, a teensy splash of half and half, a drizzle of olive oil and a dash of Cholula and puree some more…
The end result was beautiful to look at…
I mean I couldn't stop taking pictures of it, but I ate about six bites and was all set. It was just a little bitter, I guess. My squeeze said it tasted like an under ripe banana, but he cleaned his bowl anyways. Nice work, buddy.
Fortunately some other exciting things happened in my dinner last night. Like a chopped Greek (sans lettuce) the making of which was easy and simple and no stove was required. Tomatoes and cucumbers: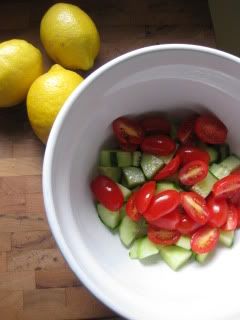 Finely diced red onion…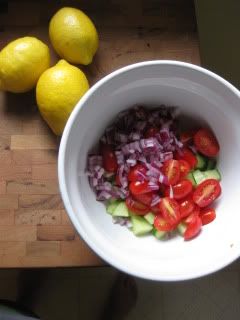 Coarsely chopped Greek green olives (pitted and marinated and kind of expensive), crumbled feta cheese, salt, pepper and a small drizzle of olive oil. Peep my action shot!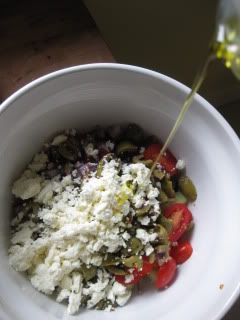 I did a victory dance after I captured that one and then chuckled out loud when right at that moment Paul yelled from the living room "you takin' pictures of this shit or what?" Am I taking pictures? Am I ever. That slick drizzle of olive oil in action just made my night (dork). I tossed my chopped greek together and placed it and my creamy green soup in the fridge to chill for a bit. Watched Gordon Ramsey call a couple a restaurant owners stupid cows and then made some pan seared cod. If you've got a nice piece of fish (or scallops) all they need are two things to make them delicious:
Old Bay before the cooking, lemons immediately after. Oh! And of course plenty of Salt n Pepa.
I generously salt, peppered and Old Bayed each side of this lovely cod fillet.
Then seared it in olive oil at medium high heat. It tended to fall apart and stick a bit, but once I plated it up and squeezed some lemon, it didn't look quite so messy. And it was delicious!