Holy cow. Do you EVEN KNOW what I just did? Something with enabling JavaScript and involving cookies. I got on the interweb this morning and tried to log in to post a blog. I got an error screen referring to both my cookies and my JavaScript. I wanted to slap it right in its fresh mouth, but instead I took a deep breath, did my best to focus my brain on the instructions I was shown to rectify the situation and you know what? IT WORKED! I know this is probably common knowledge for most people and the most basic thing ever, but for a technotard like myself, accomplishing this on the first try makes me feel like a Mad Genius! I didn't even swear once! Anyways, it's a good thing that worked itself out because I had one of those commutes to work this morning where you pretty much get convinced by what you see that the people of the world, specifically the people who drive Route 3 South from 7:45-8:45 (I'm talking to you Ford Taurus) are made of sheer liquid evil and I really get so mad at society and myself when I let a couple bad drivers make my blood pressure raise before my morning coffee. ANYWAYS, enough of that. I have been a neglectful blogger in recent days. Honestly, I swear, I had a full blog post with a recipe and everything set to go at the end of last week, but I just totally forgot to post it. Then when I read it again I deemed it unworthy. Honestly, it used Bisquik and I got embarrassed.
While we're speaking of my flaws as a blogga, let me just tell you what I did this past weekend? Saturday was my mans' 31st birthday and I thought it would be fun to throw him a little birthday dinner. So I lovingly sent out an email invitation to parents and buddies alike. I plotted, schemed and recipe planned. I decided on a delicious, inexpensive and somewhat low maintenance meal so that I could maximize face time with guests. I wanted to wow on a budget. I washed the floors, set the table and bequeathed upon my Squeeze, a fresh birthday tee shirt.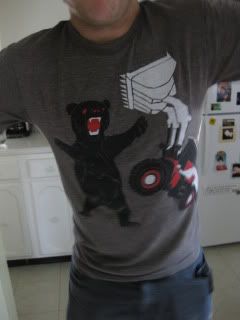 I brought my mom's china up from the basement and washed it, stacked it artfully on the table and set up a buffet.
I walked down to Michelle's and snipped fresh herbs from her window boxes, I used my mortar and pestle for the first time in my everloving life. I marinated pork tenderloins and made croutons and Caesar dressing from scratch. I prepped, prepared, cleaned and chopped. I garnished the freaking hummus for god's sake. And I smugly thought to myself, I could so totally write for Real Simple. I mean what is that magazine except common sense tips coupled with good art direction, really? I could do that, I thought.
And then, I took absolutely ZERO photographs. Of the food, of the people, of the cake, of anything. I completely failed to document the process all together. I got one shot of the macaroni and cheese as I made the sauce. That's it. I can go out and take 75 pointless photographs over the course of a weekend, but I actually do something I live to do, like throw a dinner party, with all intentions of blogging about it and then completely space. Apparently five two glasses of Sauvignon Blanc were more captivating than my little Canon. So sorry about that.

The food came out great. You'll have to take me at my word on this one, because well, that's alls I've got. My mom brought crab cakes and clams casino, which were fantastic. I found two incredible recipes on Pioneer Woman's website. One for a decadently garlicky Caesar salad and the other for the Most Ridiculous Mac and Cheese You've Ever Had. The only cooking photo I took that night:
You can find both these recipes, here and here. I made a big corn bread in my cast iron skillet, which I have been snacking on ever since and I made herb rubbed pork tenderloin with shallot jam along side. It was delicious, and fortunately was great for sandwiches, because even after packing up generous to-go containers for Paul's buddies, I was still swimming in leftovers, including a carrot cake from White's Bakery which could have been the death of me, if I had not brought the remaining half to my aunt's house for Labor Day. All in all it was a great success but next time, I'll remember to pay more attention to my camera and less attention to my wine. It's better for everybody.

HERB RUBBED PORK TENDERLOIN with SHALLOT JAM
(shallot jam was found on thekitchn.com, pork tenderloin, I made up on my own. I also tripled this recipe (okay, quadrupled) to serve my crowd)
For the jam:
1 tablespoon olive oil
5 shallots, peeled and thinly sliced
½ cup chicken broth
¼ cup balsamic vinegar
2 heaping tablespoons apricot preserves
salt and pepper

Heat olive oil in skillet over medium high heat; add shallots, season with salt and pepper and brown well, stirring often for about five minutes. Turn heat up to high and pour in chicken broth, simmer on high while broth reduces, using wooden spoon to scrape browned bits of shallot off the bottom of the skillet (again, about five minutes). Turn the heat down to med-low and pour in balsamic. Simmer for another five minutes and stir in apricot jam or preserves. My apricot preserves were low sugar, so I added a few generous pinches of cane sugar. The mixture will thicken a bit but remain very stirrable. I made this the day ahead and refrigerated it until I was ready to cook my pork. Then I heated it up and served it on the side. It was tasty. A little too tangy, so next time I might dial down the vinegar and up the pinch of sugar to a teaspoon. Or let the vinegar cook off more. This jam keeps well in the fridge. I have been putting it on leftover pork sandwiches all week.
For the pork:
1 pork tenderloin
Olive oil
Chopped fresh sage
Chopped fresh rosemary
Salt and pepper
I snipped my fresh sage and rosemary into a wooden mortar and pestle. I added a generous amount of sea salt and crushed black pepper and a light drizzle of oil. I then crushed it into a sort of chunky herby paste.

Remove pork tenderloin from packaging and pat dry. Generously salt and pepper both sides and then rub with the herb mixture. Place in a freezer bag and drizzle with enough oil to coat. Let marinate for anywhere from 30 minutes to a few hours.
Preheat oven to 350. Heat oven safe skillet over med-high heat and coat pan with olive oil. Sear the tenderloin on all sides until brown. Place skillet directly in oven. Cook until thermometer inserted into the thickest part of the meat reads 160 degrees. Remove from oven, let rest a few minutes. Slice and serve.