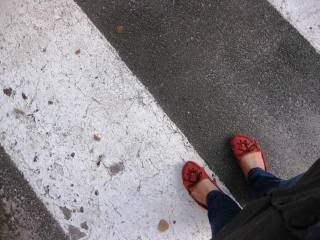 Last week I checked something off my list that I have been dying to try for a while. I finally made Indian food at home. Let me just say that the spices in Indian food make me go weak in the knees. I am in love with them. But I never really thought I could possibly reproduce the flavors in my very own kitchen.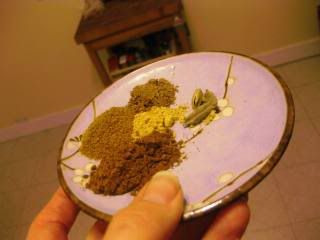 This love affair with all things saag is a pretty recent development in my life. I mean, I had Indian food before the spring of 2007, but I never really got into it until then. I have NO idea why… I mean I guess I'll just chalk up my lack of interest in Indian cuisine right up there with my former penchant for cargo pants: I was young, stupid and inexperienced hence, I had no taste. And jeez, let me just tell you that now Indian food is at the tippity top of my ethnic food echelon. Which is saying a lot because I have never met a drunken noodle that I didn't like.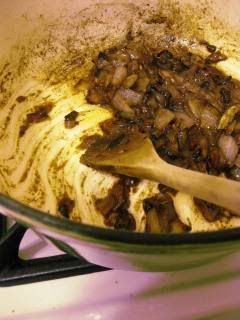 Fast forward to present day, when Paul and I go out for Indian food almost once a week. My spiral into malai kofta addiction has been aided in no small part by the fact that Paul's apartment is within spitting distance to the ORIGINAL, as in very first, Indian restaurant in all of Cambridge. Sweet, sweet
India Pavilion
. When a place has been dishing out anything since the early 1970s and still draws a crowd: that my friends, is the place you wanna be. The Pavilion is our textbook Old Married Couple spot, where we, without fail, order the same thing every time, scrape our plates clean and are in and out of there in under 45 minutes for less than 40 bucks, with tip. Booyah. It's a thing of beauty.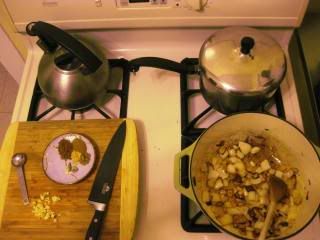 So eventually I just knew I would have to try my hand at making this cuisine in the comfort of my own home. And so I have been gearing up to make some homemade Indian food ever since my birthday when my dad's girlfriend got me the best spice kit eva. I mean, it's like a starter kit for all those great heady spices, and I love it because it means that I didn't have to go to the exotic spice store and drop a mortgage payment picking up more packages of spices than I would ever rightly need and then ending up with them languishing on my spice rack for eternity if I failed at making anything palatable. This kit was like Indian cooking training wheels and I'm all about it. It also meant that when I once again came across this dope recipe for Chana Masala that I had every single one of the spices it called for.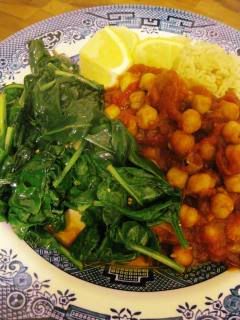 Now it's no secret that I really, really, really admire Orangette, the gorgeous, brilliantly written blog of Molly Wizenberg, and
this here recipe
is one that her main squeeze made for her and she in turn posted up on her site. Their love story is too cute for words and their collaborative recipes like this one are downright ridiculous. I made this last Thursday night after my millionth yoga class of the week. I felt so pious, sweating out my toxins with a few billion chattarungas and then whipping up some delicious Indian cuisine in my kitchen. I was a little nervous, I mean, what if it didn't come out good? But I followed this recipe to a T and it was so delicious! See that picture below? That is me running into the living room to sit down and eat this. You can actually SEE my idiotic little foot sprinting towards the couch. The only modification that I made to this is that at the end, I dashed in a bit more cayenne and coriander and also, I did not use any cilantro; because cilantro is my mortal enemy. Also, I opted for the variation with yogurt. Meaning I spooned about two tablespoons of Greek yogurt in right before I ate it. It was SO good this way. This recipe is so spot on and detailed, I'm not going to muck it up by offering my own interpretation, I simply wanted to point you in its direction and urge you to make this. It's also probably the cheapest thing I've ever cooked for dinner, I mean alls I needed was a can of tomatoes and two cans of chickpeas, hello! Perfect for the New Depression lifestyle.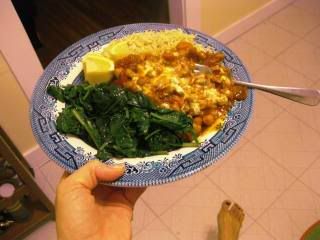 Why Mass Pike Masala you ask? Oh I'm just realizing right now that my title is kind of random and odd because I rambled so much about Indian food, I didn't even mention the Mass Pike. However, I would like to take this opportunity to tell you to go where we went on Sunday: out to North Adams in the Berkshires. It's a heck of a drive but the towns in that area are quaint to the max and you absolutely have to go to
Mass MoCA
at some point in time. It's such an excellent museum. The two main exhibits this time around were not as great as we had hoped (Hello, can some one put a ban on video art? Because I just feel like most of it sucks. Maybe that's the jaded media studies student in me. My apologies). But regardless, it's a beautiful drive and such a cool town and museum space. Let's just say I highly recommend. Also, on the way home you can stop for a couple pudding pops in
Shelburne Falls
, Bill Cosby lives there.
More recipes to come, later on. I swear it.