Last Saturday night I wanted to cook dinner and I wanted to do something sort of easy. I teetered and tottered back and forth between making meatballs and sauce or roasting a chicken. In the end chicken won because we really were feeling like eating something healthy. And if you don't eat a load of cheese and crackers before dinner (guilty) munch on the salty, crispy chicken skin (double guilty) and dip hunk after hunk of bread into the pan drippings (thrice guilty) this is sort of a healthy dinner?
EASY ROAST CHICKEN
You will need:
One whole chicken, preferably free range, organic, steroid free (seriously, I could go on about this but read Fast Food Nation, see Food, Inc. and you will never mess with chicken of unknown origin again. You might even become a vegetarian, but I am just not that good). A 3-4 pound gal will feed two to three people. There were four of us for dinner so I bought a 6 pounder.
Olive oil
One lemon
One white onion
A few gloves of garlic, peeled but not smashed or diced
Carrots (optional)
Salt and pepper
Old Bay Seasoning (optional)
Preheat oven to 400 degrees. Open your chicken over the sink, letting all the gnarly chicken water run down the drain. Remove the giblet bag (shudder) and toss. Some people save this for gravy because they know what to do with it, I am not one of those people. Pat chicken dry both inside and out and let sit while you prepare the vegetables. Now normally, I'm not much of a carrot fan. My mantra when it comes to carrots is "it's not that I hate them, I just don't prefer them" especially when they are julienned and therefore, impossible to remove from your salad plate in their entirety. My exceptions when it comes to carrots are this: perfectly roasted ones and carrot sticks are cool with me. Otherwise, I won't make a stink if they're in a dish but expect to see them laying in a limp reject pile on the side of my plate. I digress. But anyways, on Saturday I came up with another exception to my dislike-of-carrots rule: I like them if they're cute. I happened to find some adorable Bugs Bunny style cartoon carrots, complete with leafy greens attached. I decided that they would go well with some hunks of onion as a make-shift rack for my chicken to sit on while she roasted.
So I trimmed the ends of my carrots, peeled my onion and cut it into large chunks. I then quartered a lemon. The lemon quarters, along with a few of the chopped onions and few peeled garlic cloves (I used 4 or 5) went into the bum of my chicken.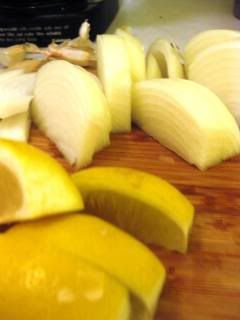 The remaining onions and carrots were tossed with a drizzle of olive oil and a sprinkle of salt and pepper and they got placed into a roasting pan in a single layer.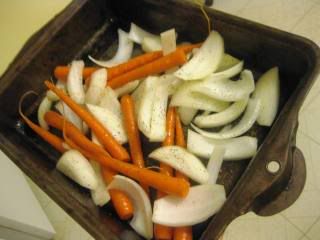 Once the veggie "rack" was in place, I tended to my chicken. If she's still a bit damp pat her dry one more time, drizzle olive oil over and rub it into her skin. Follow with generous shakes of salt and pepper. Normally all I use is salt and pepper on my birds and really, you can't go wrong. This particular go-round I decided to also dust her with Old Bay Seasoning as well. It was good, but I can't say I'm totally sold. It made the skin almost too salty. Completely oil, salt and pepper all sides of the chicken. Then place your chicken on top of your veggies and send her into the oven. Cooking times will vary according to the size of your bird, but it usually works out to about 20 minutes per pound. My bird was 6 lbs. so she took about two hours to cook (obviously use a meat thermometer you don't want undercooked chicken). This is what I call hands-off cooking. Your house smells delicious, a meal is forthcoming but you have plenty of time to indulge in a nice Syrah and the Top 100 Hard Rock Videos of All Time on VH1 Classic. I served my chicken with some garlic mashed potatoes and sautéed spinach. By the time the bird was cooked through the carrots and onions in the pan were melt-in-your-mouth caramelized, which made for some incredibly delicious pan juice to spoon over mashed potatoes and dip loads of bread chunks into.
HOMEMADE CHICKEN STOCK
Now when you eat a homemade chicken, chances are you've got a picked over, relatively meatless chicken carcass in your fridge. Do not throw it away, in a few hours you can have great homemade chicken stock and you will feel so superior to your store-buying counterparts every time you defrost a container of Your Very Own Stock, I promise you it's soooo worth it. No but seriously though, it's cheap! And easy! And less waste! And, between you and me, you can do it while you waste away on the couch watching DVR'd episodes of Bridezillas (we all have our guilty pleasures).
Simply take your chicken bones/body/carcass and place her into a large stock pot. Top with water and add a few whole black peppercorns, a few peeled, whole cloves of garlic and some dried parsley or thyme. You can use a bundle of herbs of your choice, but in my opinion, just the peppercorns, garlic and parsley do the trick, along with a good dose of salt and pepper. Another option is to add vegetables like carrots, celery or onion to the stock as well.
Bring your pot up to a boil and then turn all the way down to a simmer. Let simmer for a few hours. Last time I think I cooked mine for about three. Allow the stock to cool, skim any pools of fat off the top and transfer into Tupperwares to store in the fridge or freezer. Or, if you are like my friend Michelle, be extra Martha-y about it and freeze into ice cube trays so you have individual stock portions ready to go for when a recipe calls for it.
P.S. When you get a pickin' chicken pre-made from the deli at your supermarket (you know what I'm talking about, right?) you can use those to make stock too! I did. The first time I ever made my own stock it was from one of those birds and it came out just great.