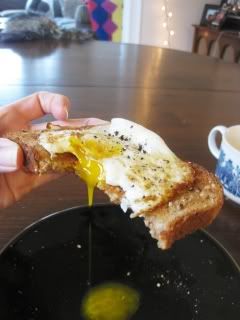 A single egg on toast. This is what I have found myself in front of for the last two weeks at breakfast time. I would like to say I'm embracing minimalism, but the truth is I'm flat broke at the moment, so an egg on toast is about as fancy as I can get. But you know what? Look at that egg on toast. It's absolute perfection and I haven't gotten tired of it once. Mmmm. I'd eat one right now.
I pride myself on being pretty frugal. I don't blow money on fancy lattes, and I rarely go out to lunch. I like to try my best to pay my bills early and on time. I try to resist the dangerous lure of Anthropologie online. I understand when a lady of my means (as in a decent income earner but with redonkulous debt/ bills) isn't rolling in dough, but I usually have enough leftover in the kitty for one grocery store splurge per week. So when I find myself flat broke as in, no I can't buy coffee if I want my rent check to clear broke, as in sob to my boyfriend about the oil bill broke, I'm like "what the heck is going on?" And then I'm like "what the heck am I going to eat?" The answer I found, is check out what you've got and make stuff up. And then eat it, because well, you sort of have no other options. And then you find that sometimes its our restrictions that enable us to be the most creative. Alls you've got is some garlic, stale bread and a dream, this is when kitchen miracles can happen.
But also sometimes, when we're too busy being lame-os boo hooing about our grocery budget and cobbling together meals, we also forget to take any decent pictures of anything. Like I did. So please forgive the lack of formal recipes or nice photos in this week's post. I'll get you back I promise.
So last week I unintentionally made some Halloween colored lunch. I cut up and roasted a butternut squash with some chunks of onion and some smashed, but not peeled, garlic cloves. Roasted at 400 for about 40 minutes. When the veggies were done, I squeezed the roasted garlic into a bowl, added a few splashes of sherry vinegar, some salt, pepper and sugar, whisked in some olive oil to make a vinaigrette. Then I made some Trader Joe's instant beluga lentils (in the micro—although I will say I get skeeved about cooking foods in plastic bags but you know you gotta do what you gotta do). Tossed the lentils with the roasted veggies in the vinaigrette. I then ate this for three days for lunch with a couple crumbles of goat cheese on top. Dynomite. Also, black and orange! So festive.
THEN, on Tuesday night I was making dinner for the mans and me. I listed him the options: I have this, that, this, that, and bacon. He was like "oh use the bacon and the gnocchi" and I was like "hmmmm…okay" and then I set to work making one of those meals you're kind of nervous the whole time you're cooking that the end result is going to be disgusting. You know the ones? I fried up a couple slices of bacon, crumbled them, set them aside. Poured the bacon grease out of the pan. Using the same skillet added a little olive oil and sautéed some diced onion. When the onion was translucent I added some minced garlic, then some baby spinach, the bacon crumbles. I tossed all of this over some TJ's gnocchi (oh btws, you do know that Trader Joe's is the budget gourmand's BFF 4EVA, right? If you didn't now you know) and added, guess what? Goat cheese. If I ever have a show like Emeril goat cheese will be my BAM! Except I'll have to figure out a good way to make it pop, like a real tag line. GOAT CHEESE! Maybe I'll just bleat, like a goat. Or not. We'll have to have a reader poll for that. And I also won't be as annoying as Emeril I promise. Anywho. To accompany the spinach and bacon gnocchi, I roasted some cauliflower. Guess what? I really like cauliflower. I did not know this until recently. This Winter's going to be cauliflower central, mark my words. So I sliced her up, drizzled some olive oil and balsamic vinegar and tossed with salt and peps. Into a 400 degree oven for 20-25 minutes. Flip the cauliflower about half way through. It should get nice and caramelized on each side.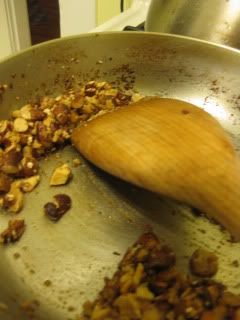 Meanwhile in a small pan toast some chopped almonds and bread crumbs (I used cracker crumbs, no diff.) in a tablespoon or so of butter. Just for a few minutes over med-low heat. When the cauliflower comes out toss in a bowl with the breadcrumbs and almonds. Say what? Do you know what butter toasted almonds and breadcrumbs can do to anything? Well, skies the limit.