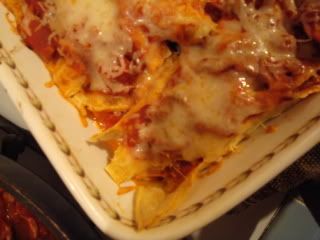 When I was 8 years old, my parents took us to El Torito for my dad's friend's birthday. In 1988 El Torito was the only game in town when it came to Mexican cuisine. Up until that point, the only foreign cuisine our young taste buds had sampled was at Cathay Hanover, the Chinese food place next to the mall. At El Torito, when a birthday is celebrated, the staff circles around you clapping in a festive manner as they sing "feliz cumpleanos." During this performance, the birthday boy or girl wears a giant sombrero and is served a plate of fried ice cream. Fried Ice Cream! My sister and I exchanged impressed glances. Mexico must be like heaven! I assumed in Mexico every birthday went down like this. I wanted to move there immediately. We were so jazzed about the incredibly exotic nature of this meal from afar. It was a pivotal moment for us. Finally, a glimpse into authentic Mexican culture! I believe, if memory serves correct, that I had the traditional Mexican delicacy of chicken fingers. As I pretty much exclusively ate chicken fingers until I was 12. I wasn't yet ready for the delights of mole poblano.
In the years since, I have expanded beyond a chicken fingers exclusive diet, but the glow of that exhilarating dinner stayed with me and I hold a special place in my heart for Mexican cuisine; although, I've since realized that much better can be had than that at El Torito. Last week when I was out west, Mexican food ended up on the agenda. In Southern California, it always does. Actually, a lot of food ended up on the agenda since my sister is eating about every hour and half these days. As you can imagine, I had little difficulty falling in step with her feeding schedule. On Monday night we were contemplating what to do with about 4 pounds of leftover fully cooked chicken from our Easter BBQ feast. After a small amount of brainstorming we settled on making enchiladas. We consulted a few recipes online and got a rough idea of the how's, why's and what's and set to work. Since we had precooked chicken ready to go, this was a very simple and easy supper. If you are feeling lazy, my suggestion would be to get a pickin chicken from the grocery store to make these, or just simply bake up the chicken when you have time and use the meat later on to concoct these savory little pockets of heaven. The original recipe we looked at called for cooking the chicken in the sauce until cooked through, you can do that if you want, but since I did not, I will omit that step here. Sorry, I'm lazy.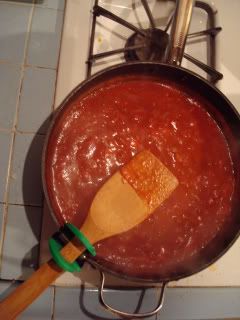 (The original recipe we found was on Annie's Eats, a very nice blog with some great recipes and beautiful photographs. While perusing her mouthwatering enchilada recipe, my sister and I read about Annie. She is not only a kickass food blogger, but also mother to a toddler and a full time actual medical doctor. These three pieces of information led us to believe that she may or may not be a robot or android of some sorts who subsists on achievement alone and has no need for petty human needs, such as sleeping (I mean, seriously woman, when do you sleep?). So we started to hate her a little bit, until we ate her enchiladas. I followed her recipe for the sauce to the letter. After that the instructions for assembly, technique and cooking time got a little too fussy for me and I just followed my instincts on the rest. I tend to do that. No offense, Annie.)
ENCHILADAS ROJAS
Meat from one whole chicken (or several leftover BBQ carcasses), shredded
1 medium sized white onion, diced
2 ½ jalapeño peppers, core and seeds removed, minced
3 cloves garlic, minced
2 tbs. Cumin
3 tbs. Chili powder
1 tbs. sugar
1 can tomato sauce
1 tomato, diced
1 cup water
2 cups shredded cheddar and/or jack cheese (or a combination of both)
12 corn tortillas
Heat a drizzle of oil in a large skillet over medium heat. Add the onions and jalapenos and sauté until softened (8-10 minutes). Add garlic, cumin, chili powder and sugar and stir together until fragrant. Add tomato sauce, diced tomato and water and turn the heat up slightly, letting the whole mixture simmer together and the sauce to reduce a bit. Add your shredded chicken and stir to coat. Try your best to keep a large section of the sauce on the side by itself, this will be the sauce to top your enchiladas with. Annie's original recipe calls for straining this whole thing, then prepping your enchiladas, then baking them at like two different temperatures, etc. I'm sure hers were better than mine, but it was 8 p.m. and we were hungry, so I streamlined.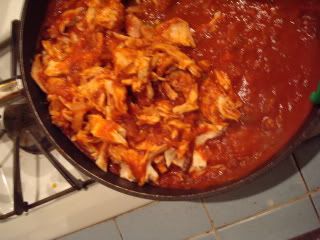 Preheat your oven to 425 while you prepare your enchiladas. One at a time fill your tortilla with an appropriate amount of shredded chicken, a healthy (and by healthy I mean large) amount of shredded cheese. "Appropriate" here means that you will have a reasonable amount of chicken to nosh on, but you will also still be able to close the folds of your tortilla. I found the easiest way to ensure each tortilla would shut was to fold one side over the other and then place them folded side down in the baking dish. This way they wouldn't act all annoying and come undone. Repeat this process with each tortilla until your baking dish is ready to go. I kept pressing my chicken to the side to make sure I had an adequate amount of sauce for the top of the dish, because if there's one thing I don't like, it's dry corn tortillas. Once your enchiladas are successfully nestled together in the baking dish, top them with the remaining sauce from your sauce pan and the rest of the shredded cheese. Bake for about 20-30 minutes, until the cheese is melted and browned and the sauce is bubbling.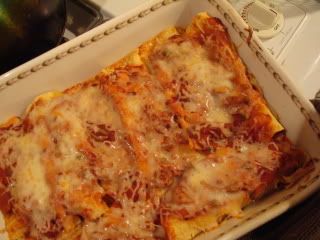 Also, any additional saucy chicken that won't fit into the enchiladas, makes an awesome deconstructed enchilada salad topper: