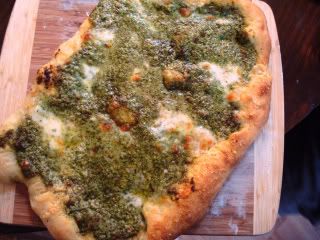 I've been having a steamy spring fling with arugula lately. It's getting pretty serious. If I was to calculate (and I won't because I hate math) I would venture to guess that over 75% of my vegetable intake in the past two weeks has been arugula based. I have been jamming so much of it into my body that I'm pretty positive it's going to start growing out of my arm pits. Sorry, that's kind of gross. Anyways, have I lost you? So yes, arugula, we are thick as thieves right now. Sometimes, people call it "rocket" which I think sounds pretty cool also but then I always get Def Leppard "Rocket" (
"YEAH! SAY IT LOOOUD"
) in my head…and then I get images of
Heavy Metal Parking Lot
in my head and before you know it I'm out of the kitchen and in the basement digging through my "costume" box looking for my black mesh football jersey. Where was I? Let's see arm pits, Def Leppard, mesh, ah yes! Arugula! Arugula is the bomb and you should try some. If you really dig its peppery kick, try this pesto.
I found this recipe on
Dash and Bella
. A truly beautifully made and inspiring blog that makes me want to have lots of babies and cook with them in a sun drenched kitchen. Seriously, this blog is visually stunning and the recipes are excellent! I found this pesto, quickly assessed in my head that yes, I pretty much had all of the ingredients on hand and made it that night. I tossed it with some brown rice rotini, added a sliced tomato as my side dish, poured a generous glass of white wine and quite enjoyed myself. A couple nights later, I dolloped it on a pizza with a little shredded gruyere, grated parmesan and hunks of fresh mozzarella. I would use less pesto than I did for this pizza (it was a bit intense and heavy) but if you make this pesto (and I suggest you do), toss it with pasta; smear it on a pizza or on some crostini with goat cheese. You can join me in my month long arugula intensive. Rocket! YEAH!
ARUGULA PESTO
(adapted, just barely, from Dash and Bella)
½ cup walnuts, lightly toasted (recipe called for pine nuts, I had walnuts so yeah)
2 cups spinach
2 cups arugula
2 cloves garlic, peeled
½ to ¾ cup olive oil
¼ cup gruyere, grated
¼ cup parmesan
¼ cup goat cheese
Juice of half a lemon
Salt and pepper
Combine all ingredients in your food processor. Process. Toss with pasta. Eat. So easy. The proportions listed above are from the original recipe. If you are a normal person you will most likely follow these and make a delightful pesto. If you are like me you will not measure anything toss it all in the Cuisinart and call it dinner. I used walnuts as a last minute sub. My pesto was tasty but I would advise against making this substitution. Walnuts are a bit bitter by nature so pine nuts would really have been best. I will most definitely make this again.