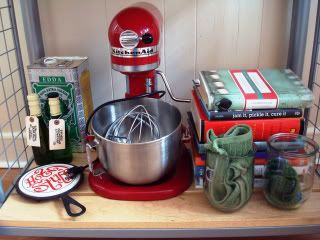 If a kitchen is not comfortable nor will you be. So make it suit you, and not the universal customer. Make it an extension of your personality. Above all give yourself, and it, over to the chaotic coziness that in a cold universe is the kitchen's soul-saving grace.
~Nigella Lawson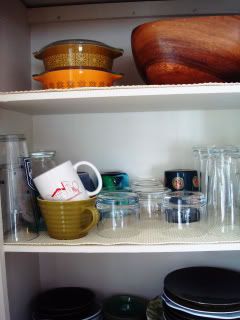 Nigella is, as the song goes, strumming my pain with her fingers with that statement. When I spend a few hours in my kitchen, I feel whole again. Soul, saved. Dinner, done. Far from being a chore, chopping, scraping and simmering are a few of my favorite activities and I think there is no greater scent in the world than onions and garlic hitting the pan. That is the smell of supper.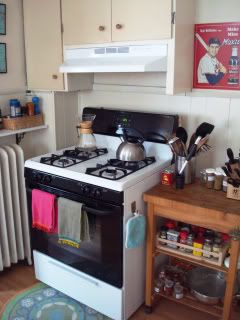 In an
article
written for the Wall Street Journal last week, Nigella detailed, in her poetic prose, what makes a kitchen cozy. I loved her words. She is, in addition to being an excellent chef and a total Brick House, a great writer to boot.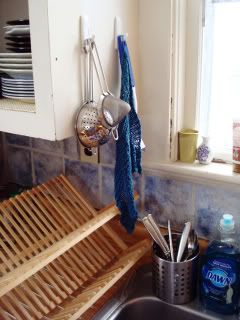 The only hitch with the article is that what was billed as a slideshow of "Nigella's Cozy Kitchen" was actually a bunch of stock photos of kitchen ware and gadgets that she recommends. Major false advertising. I don't want to see a gift guide. I want to see your crumpled up dish towels and what pictures you have on your fridge. So I figured, even though you didn't ask, that I would show you mine.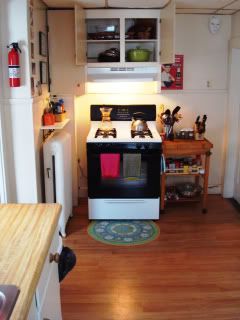 "A real kitchen is not a perfect kitchen" she writes. As we speak, the top of my stove is crusted with oil spatters and coffee grinds from breakfast. We rent, so the only real changes we can make is to add artwork and ourselves (and cute dish towels too, obviously). Perfect it is not. But consistently used, completely functional and definitely cozy, it is. I love this kitchen so much and I hope you like it too.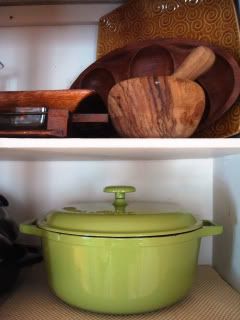 Pot rack made by my dad. Arguably, best use of space ever.
Bruce and Bea's chow station: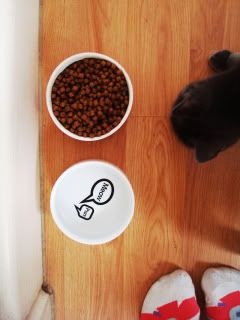 This high top desk is the perfect height to give extra counter space and is neutral enough that it doesn't hurt my need for aesthetic cohesion.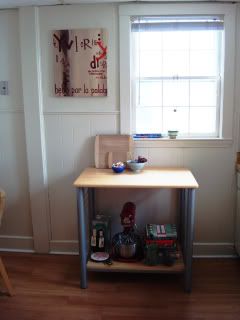 I have also created, in case you are confused about the layout from my crappy photos, an architect-grade, completely to scale drawing of the kitchen layout. As you can see you must have a seven inch waist line to walk past the fridge and get out onto the back deck: