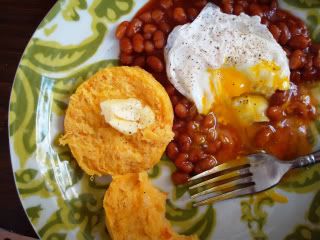 While I am by definition a Yankee lady, born and raised in the great Commonwealth with not a trace of Southern gentility or even the ladylike capability to wear nail polish without chipping it within the first 15 minutes, I do have a whisper of Southern roots about me. My Nana, Inez, was born and bred in Jackson, Mississippi and since I have inherited not only her ability to cry at a moment's notice, her old kitchen table and the better part of her set of pots and pans, I would say her spirit is alive in my kitchen on a regular basis.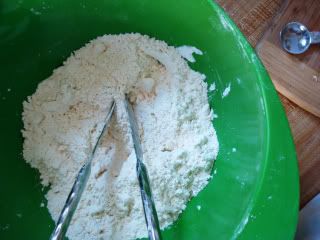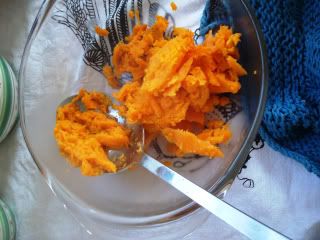 I couldn't help but think of her kitchen (pale green linoleum) and the last time she made me supper (fried chicken) as I baked up a batch of the Southern bread basket standard on Saturday afternoon. I have never made biscuits from scratch, but I hoped it would be somewhat like making scones (easy), but less British (their "biscuits" are more like those baby teething things). These biscuits come together in just a few minutes and they are totally delicious. I love that the addition of the sweet potato actually adds essential vitamins (A and C) to an otherwise normally nutritionally devoid food. Because the potato lends moisture, the end result here is moist without being overly dense or heavy. They are simply a very nice biscuit indeed. Nana would be proud.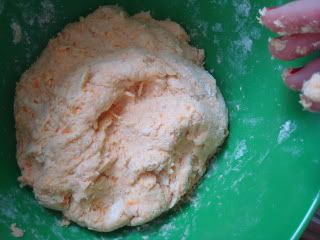 SWEET POTATO BUTTERMILK BISCUITS
(found on the kitchn.com)
2 cups all-purpose flour
4 teaspoons baking powder
1/2 teaspoon kosher salt
6 tablespoons chilled butter, cut into cubes
1 cup cooked and mashed sweet potato (approximately 1 large potato)
1/2 cup buttermilk, plus additional as needed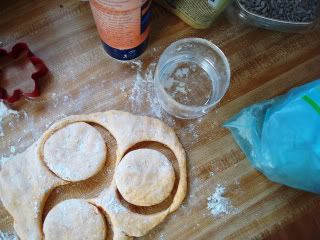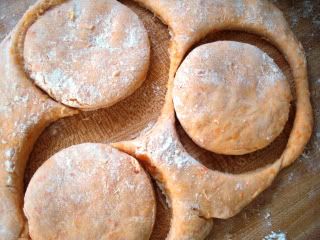 Preheat your oven to 375. In a large bowl, combine all-purpose flour, baking powder and salt. Using a pastry blender, two knives or your very own fingers, cut the butter into the flour mixture until the butter is a mix of small crumbs and pea-sized balls. I used a combination of two knives and my fingers. If you have never used knives to cut butter (raises hand), the method I came up with was to cross the blades close to each other, so they formed a tight X, then would drag the blades away from each other into a big X. I felt like a medieval swordsmith and my butter got incorporated just swell. This method is highly recommended.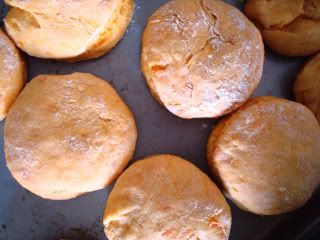 While you're doing your butter slicing, you can pop a large sweet potato in the microwave. Stab it a few times with a knife or fork and cook it on high until its ready. This will take anywhere from 6 minutes to 15 depending on the size and density of your potato. Mine was huge, it took 15. Once it's done, slice it open and let it cool for a few minutes to avoid hand scorching and buttermilk cooking. Once it's cooled slightly. Scoop the potato out of its skin into a medium sized bowl and mash thoroughly with a fork. Add the buttermilk and stir together completely. Add this mixture to your flour mixture and fold together. If you need to add extra buttermilk you can. I had to add about another ¼ of a cup. Your dough will form a nice ball and be just slightly sticky. At this point, you can chill the dough for a half hour, or proceed right to the baking. I chilled mine for about 10 minutes and then I got impatient.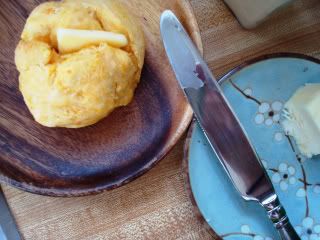 Flour your countertop or cutting board and pat (do not use a rolling pin) the dough until it's about an inch thick. Use a well floured biscuit cutter (if you have one- you will note by the photos that a floured rocks glass worked just fine for me) cut out your biscuits and place them on a cookie sheet. In the interest of not sticking I lightly spritzed my sheet with a little olive oil spray, but truthfully, I don't think these would stick regardless, because of the butter in them. Gather the scraps together and pat it out again, cutting more biscuits until you have used all the dough. Bake for 15-20 minutes. They stay a pretty pale orange color, so to check for doneness, I lifted up one and peeped at the bottom, when the bottom looks cooked, i.e. dry and browned, I took them out.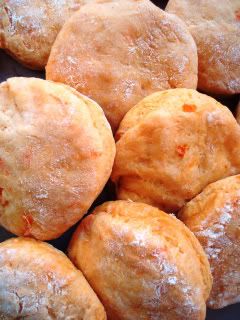 I can't believe it's this easy to make biscuits! I had one (alright one and half) of these right out of the oven, with butter; and the next morning we had some with baked beans and poached eggs. I have frozen the other half of this batch and when I'm feeling ambitious (and have run a 5K) I'm going to try my hand at making sausage gravy to reproduce a breakfast I used to order all the time at the B Side Lounge (R.I.P.) in Cambridge: sweet potato biscuits and sausage gravy. Holy mother. Now that is a (heart attack) breakfast. Happy biscuiting my friends. Now go listen to some Digital Underground.