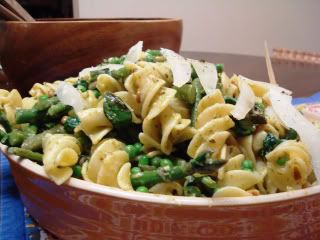 Did you know pine nuts are made of spun gold and the dander from endangered species? Well, they must be, because they cost $9.00 for a small container. I blinked my eyes several times and gasped out loud so that the lady standing next to me would wonder what I was upset about and I could say to her "get a load of the price on these pine nuts! How do they sleep at night?!" and we would enjoy a moment of grocery store camaraderie about food inflation; but she ignored me and may or may not have angled her fleece-jacketed shoulder farther away from me so as to make it completely clear that she was not interested in hearing my musings on the high price of pine nuts. Whatever lady, your loss. Because you should probably know they are expensive.
OUCH
But still, I splurged. I look at them as an investment, because truly, a nicely toasted pine nut. In the right recipe, there really is no substitution. And in the pasta I was scheming to make I knew no other nut would suffice. As I put them to toast over low heat I made a mental note "Jess, don't forget about the pine nuts." And then I sat down on the couch with Val and started yakking and completely forgot about the stinkin' pine nuts. But only a few were too toasted. The rest were salvageable, which is good, because I'm no Hercules Rockefeller.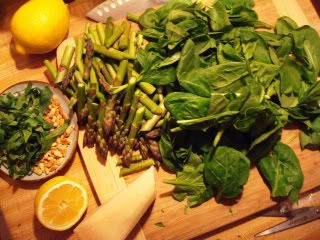 PESTO PASTA with SPRING VEGETABLES
One box pasta
One bunch asparagus spears, trimmed and cut into pieces
Half box frozen petite peas (defrosted)
Half bag baby spinach leaves, coarsely chopped
½ cup basil leaves, sliced into ribbons
½ cup pine nuts, toasted
¼ cup grated parmesan cheese, plus more shaved into strips
One jar store bought pesto, or homemade, if you've got it
Juice from half a lemon
Extra virgin olive oil
Prior to cooking, toast your pine nuts in a nonstick pan over low heat until they are fragrant. Set aside. Heat a large pot of water over high heat for pasta, once boiling, salt generously and add pasta. Meanwhile, trim and chop your asparagus, spinach and basil. Most pasta should take about 8-10 minutes to cook, check the box for cooking time and set your timer. When there is about 3 minutes left add the asparagus and let cook a minute or two. For the last minute of cooking add the chopped spinach. Then drain the whole thing together and dump it back into the pot. Add the peas (if they are still a bit frozen, the hot pasta will cook them through in no time), the pesto, basil, pine nuts, cheese, lemon juice and a drizzle of olive oil. Stir together; salt and pepper to taste. Shave thin slices of parmesan over for serving and more cheese on the side if needed.
This pasta dish was really delicious and came together in one pot, in about 15 minutes. Get a good pasta that has lots of surface area to catch the sauce and vegetables. I used an oversized rotini and it was perfect. When I make this again, I will use even more peas, spinach and basil, because the more vegetables, the better. By the time we were done with dinner we had picked them all out and mostly just pasta remained in the bowl.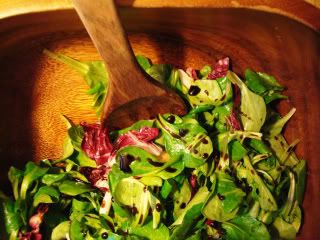 To serve with this, I made a simple little baby mache salad with a few shaved pieces of parmesan cheese and a light drizzle of olive oil and some aged Balsamic vinegar. Even if it doesn't look like spring outside, this meal tasted like it.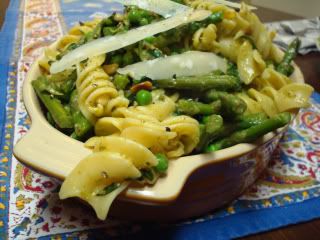 photo credits to Mish and Val. Who gladly assisted in the production of this post and also got to eat its contents. Thanks ladies.