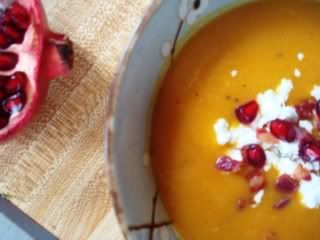 There's a lot of newness going on for me right now. I'm typing this post on my new computer, in a new place, where I have never written before, on a new day of the week where I never normally would have time to myself to work on a post. This is part of my new normal and I can report with full confidence after two weeks (plus a month and a half) of transitional life that the new normal is very, very good.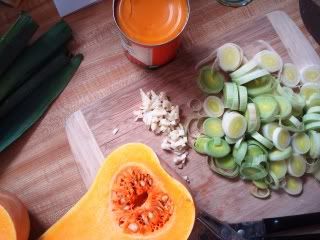 Speaking of very, very good, I looked at the calendar yesterday and realized that this time next week I will be sitting down to bust a grub at the Thanksgiving table (fist pump!). The foods and flavors of fall snuck right up while I was busy making Giant Life Changes. The good news on this front: the changes are all good and the flavors of fall are still delicious.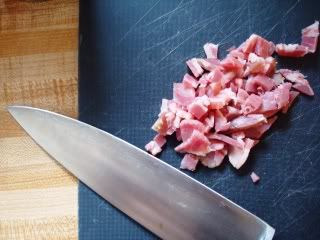 I got this recipe from a lady I work with at my new job. She was sampling both this soup and a butternut squash bruschetta last weekend and I tried both and swiped copies of the recipes. I just had one bit of constructive criticism that ran through my head as I scarfed down her samples: needs bacon. But really, what couldn't benefit from a couple crumbles of salt pork?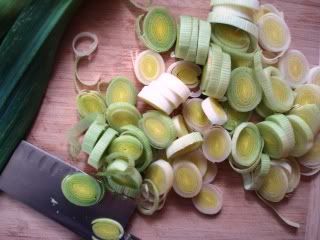 This soup is a delicious fix to start off your Thanksgiving week right. It comes together fast and easy and is, for the most part, both healthy and filling, so you can save the bulk of your calorie consumption for putting the hurt on next Thursday. It would also make an awesome starter if you were serving a sit down Thanksgiving meal and wanted to include a soup.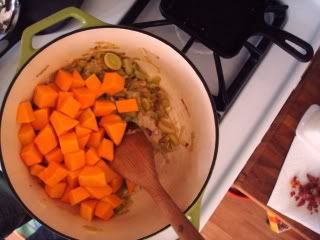 PUMPKIN LEEK SOUP with CRUMBLED PANCETTA,
HERBED GOAT CHEESE and POMEGRANATE SEEDS
(adapted from a Real Simple recipe)
¼ lb. pancetta, chopped into a dice
1-2 tbs. olive oil
1-2 tbs. butter
2 leeks (white and light green parts only) cut in ¼ inch
2 cloves garlic, minced
1 can pumpkin puree (not pie mix)
½ of a butternut squash, peeled, seeded and chopped into cubes*
6 cups chicken stock (store bought or homemade)
Salt and pepper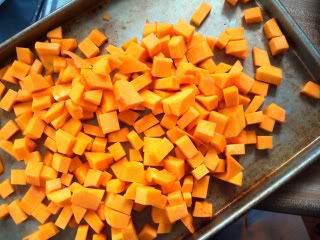 Heat a Dutch oven over medium-high heat. Add pancetta to pan and fry until crisped. Remove the crumbled pancetta and set to drain on a folded paper towel. Set aside for future use. Reduce the heat on your burner just a touch, add a bit of olive oil and the leeks. Add the butter and sauté the leeks for about 5 minutes, until wilted and fragrant, add the garlic cloves and cook together another minute or so.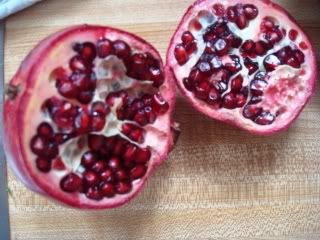 Add the cubed squash, your can of pumpkin and the chicken stock. Bring to a boil; reduce to a simmer and let cook until the squash is completely tender (about 20 minutes). Add salt and pepper (quite a bit of these- the original recipe called for 1 ¾ tsp. salt and a ¼ tsp. pepper) taste test for seasoning. Mine was plenty salty, because I started it with pancetta- which is an extraordinarily salty meat, especially when crisped up.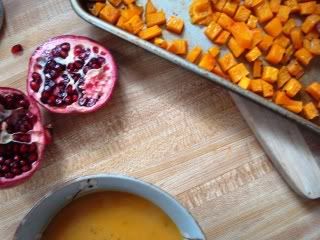 Reduce heat to low and using an immersion blender, puree the soup completely. If you don't have an immersion blender puree in batches in a conventional blender and return to the pot. But, be careful! Hot liquids expand. Ladle the soup into a bowl and garnish with a few crumbles of herbed goat cheese, some of the crumbled pancetta and a few pomegranate seeds for color. Admire the colors (soooo pretty) and devour immediately.
Make this soup vegetarian:
use vegetable stock instead of chicken, omit the pancetta and just sauté the leeks in oil.
Make this soup vegan:
by changing the stock to veggie and omitting the pancetta, butter and goat cheese.
*chop the other half into cubes, toss with a little olive oil and roast them in a 400 degree oven while you make your soup. They are delicious on salads or, on a pizza, like I'm making tonight. I'm going to top wheat dough with some of the roasted squash, some crumbled gorgonzola cheese, caramelized onions and maybe, just maybe, some more pancetta.