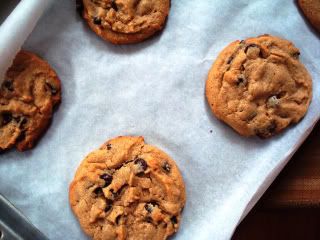 A couple weeks ago I bought some almond butter because sometimes I like to think I'm the kind of person who eats almond butter and enjoys it. This is the same as when I purchase a tub of yogurt thinking that I'm all the sudden going to be the type of person who enjoys plain yogurt because it's so gosh darn good for my bones.
The problem is I am not this type of person. I am the type of person who eats leftover Halloween candy lying on my futon watching terrible wedding industry propaganda (do people really like it when David Tutera turns their wedding into cirque du soleil? and basically takes all the things they have chosen so far and says: this is NOT good enough?) In my next life I will be more virtuous and I will eat apples and almond butter as a snack instead of Almond Joys and Rolos that have seen better days. And I will watch documentaries on important things or perhaps put down the clicker and read a book (that isn't young adult fiction) but until further notice it's stale candy and WE TV and you know what I'm more than okay with that. Self acceptance is an important trait.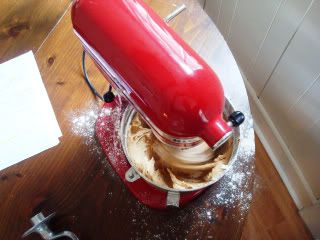 So about the almond butter: instead of cleaning out my household's peanut butter supply with one batch of these cookies (because Paul would abandon ship if I used the last of his Teddie's. You don't mess with a man's breakfast), I decided to see what would happen if I halved the peanut butter and added part almond butter. You know what happened? Awesome happened, that's what. These cookies are ridiculous good. Next Level. I mean it. And guess what? It turns out I am the kind of virtuous food hippie that eats almond butter, I just wrap mine in regular butter, brown sugar and chocolate chips. Which is fiiine.
SALTED PEANUT BUTTER COOKIES
(from
this recipe
featured on Orangette)
2 cups plus 1 tsp. flour
1 tsp. baking soda
1 Tbsp. plus 1 tsp. kosher salt
2 sticks plus 3.5 tbsp. unsalted butter, at room temperature
about 1 ¼ cup, packed, dark brown sugar
¾ cup plus 2.5 tbsp. sugar
2 large eggs
¾ cup natural salted creamy peanut butter
¾ almond butter
2 tsp. vanilla extract
Chocolate chips or chopped chocolate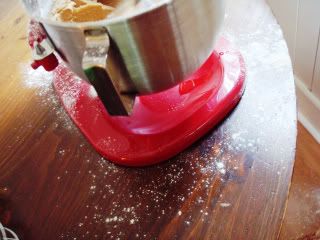 A quick note about the peanut butter: you absolutely must use good quality natural peanut butter for these cookies. Even if you're a Jif gal (or guy) in your day to day life. I strongly recommend Teddie's. It's a local company. The peanut butter is the best and it's available at most major supermarkets (at least in Massachusetts).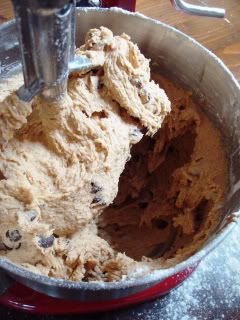 Preheat the oven to 350°, and line a baking sheet with parchment paper or a silpat liner. In a bowl, combine the flour, baking soda, and salt, and whisk well. Set aside.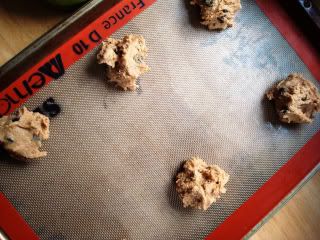 In the bowl of a mixer fitted with the paddle attachment, beat the butter with the sugars until light and fluffy, scraping down the sides of the bowl as needed. Add the eggs one at a time, beating between each addition. Add the peanut butter, almond butter and vanilla, and beat on medium-low speed to blend. Quick tip when working with peanut butter, or any nut butter (hee) for that matter: give your measuring cup a spritz of oil or butter spray before measuring, then it will slide right out.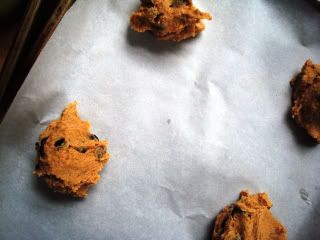 Add the dry ingredients in three batches, mixing on low speed until incorporated and scraping down the sides of the bowl as needed. Add the chocolate, and beat briefly on low speed, just until evenly incorporated.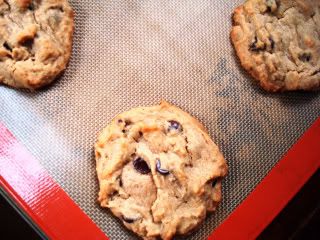 Use a big spoon or ice cream scoop to scoop the batter on to your prepared cookie sheets. You want the scoops of dough to be pretty sizable (almost ¼ cup) and be sure to space them far apart- they will spread.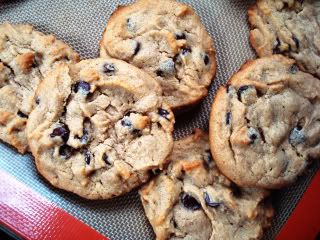 Bake for 15 minutes or until the cookies are puffed and a little golden around the edges- but the tops have no color. The key to successful peanut butter cookies is that you must err towards under cooking them. They will not look fully baked- but that is what you will want. Let them cool on the cookie sheets for a bit. They will not only firm up, but their taste will improve. If you try to move them while they are hot (or eat them- I did both) they will crumble and they also won't taste "all that." Patience grasshopper. These little guys are worth the wait.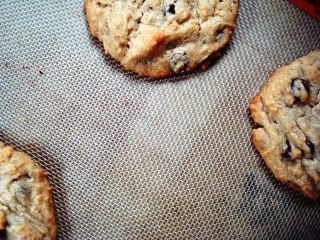 Repeat with the remaining dough. Makes a good batch of cookies (about 20).