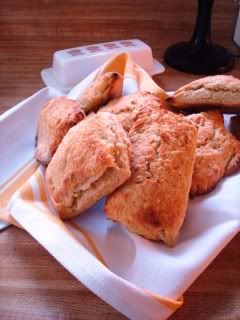 I'm here today to talk about scones. Scones are (in my mind) an often overlooked bakery item. They're not nostalgic like chocolate chip cookies, indulgent like a slab of cheesecake or hip and trendy like a miniature cherry pie or a new wave Hostess styled cupcake, but dude, look me in the eyes when I say this: scones are freakin' good.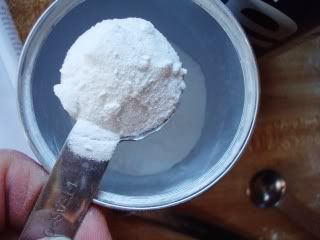 My mom got me a subscription to Saveur for Christmas and I ate up the whole first issue in one sitting. I like that it's part travel magazine, part food history, part food-food. And they put all the recipes at the back, which I just kind of dig. It means that I can snip out a one to two paragraph recipe with all the details I need without cutting out text that sprawls onto two pages and a giant photograph of a scallion or a lemon or whatever (I'm looking at you, Bon Appétit).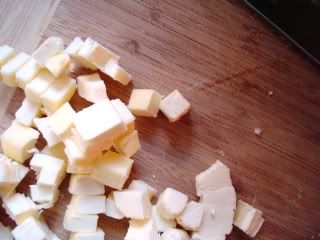 What's nice about a text only recipe is that it's simple and it works. Kind of like scones. I had a little extra time on Tuesday afternoon and I didn't even have to open my pantry door to know that I had all the fixings for these easy scones. There's really not much to them besides flour and butter and a few other supporting players. The Saveur recipe suggests eating them with jam and clotted cream, but since I am not a fictional British nanny, I have no clotted cream on hand. I ate them with salted butter and a slather of homemade apple butter that a coworker gave me. I paired the scone with some cinnamon tea and I can't recall a more satisfying snack in recent history. Do yourself a favor and battle back against these chilly grey January days by rustling up a batch of warm scones and making a nice cup of tea. It works.
SIMPLE SCONES
(from Saveur)
5 cups flour
½ cup sugar
5 tsp. baking powder
2½ tsp. kosher salt
14 tbsp. unsalted butter, cubed and chilled
2 cups milk
Salted butter, jam, and clotted cream, for serving
Preheat oven to 450. Whisk together flour, sugar, baking powder, and salt in a bowl. Add butter and rub into dry ingredients with your fingers until crumbles form (I always see the term "pea sized" used to describe when it's done, but I've never quite achieved that myself; what I do is rub together until all the large chunks of butter have whittled down a bit and the whole bowl of flour smells real buttery). Stir in milk until dough forms.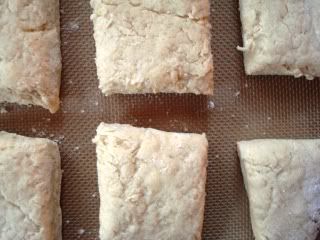 Transfer to a heavily floured work surface and pat into a square that's approximately an inch thick; cut that square into 16 smaller squares. Using a floured spatula, transfer squares to a baking sheet lined with parchment paper or a Silpat liner; bake until golden brown, about 25 minutes (when I halved the recipe*) cooking time was about 8 minutes less, so be sure to check on them. Serve warm with butter and jam, or maybe even a drizzle of honey.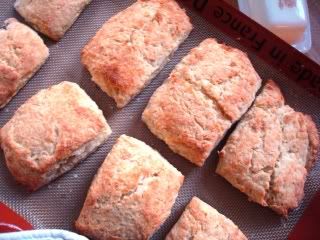 *This recipe makes 16 scones. Since I didn't think having 16 buttery scones around the house while I'm trying to eat healthy was a good idea, I halved the recipe right down the middle. It yielded 8. I enjoyed one out of the oven, one for breakfast the next day and then smartly took the remaining scones to work and doled them out to coworkers.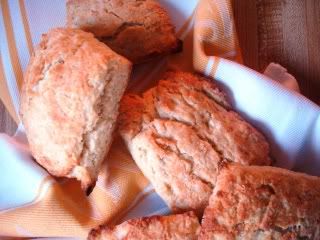 Perfect for brunch:
(a tip that is partly from each of my two fave blogs
Orangette
and
Smitten Kitchen
) many scone recipes bake up even better when you freeze the scones before baking. If you are hosting people for brunch, or just want to jazz up your Sunday breakfast, make a batch of these on Saturday and freeze the separated scones overnight. In the morning pop the frozen scones right in the oven and wow everyone with fresh, hot baked goods, with little effort required.