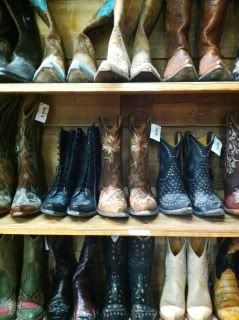 Well yee haw! We are back from a little jaunt last week down to the heart of Texas. Some good friends were tying the knot so we took the opportunity to wish them well and get our fill of Tex-Mex, BBQ, Shiner Bock and hot, sunny weather.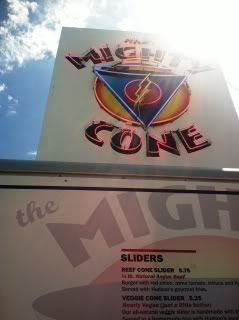 There is a lot of good food in Austin, much of it on wheels. I don't know if this is an actual fact, but I would go ahead and guess that this particular Southern city is the Food Truck Capital of the world. Everywhere you turn there are parking lots filled with trailers dishing out tacos and empanadas, bratwurst and fried chicken donuts. It's intense. And amazing. I would go back just to exclusively eat out of wheeled kitchens, I swear.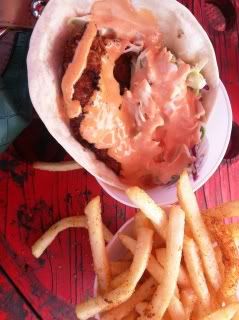 The first day out we didn't really have a whole lot of noteworthy chow, but we did go to a cool bar called the Draft House with our friends. What I love about Austin is that every place has great outdoor seating. When you come from a place that is tundra half the year, you tend to get heart palpitations when you see Christmas lights strung over table after table of people wearing tee shirts at night. At night!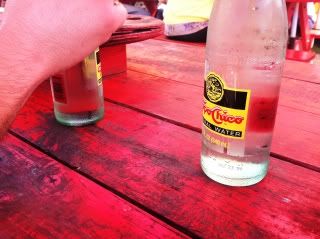 Our second day there we soaked up a lot of local flavor. We walked from our hotel down to the South Congress neighborhood, which is a haven of food trucks, vintage stores and a costume shop that may have been the most exciting retail space I've ever been in. We went to a truck called Mighty Cone, which serves all of its tortilla-wrapped snacks in paper cones for ease of eating. Crispy fried shrimp, chicken or avocado (say what?!) with crunchy slaw underneath and a generous drizzle of spicy sauce on top. Chili dusted fries and some ice cold bubbly waters made for a real nice lunch. I followed that meal shortly thereafter with a scoop of Amy's Ice Cream. Peanut Butter Banana. It was delicious. I love vacation eating.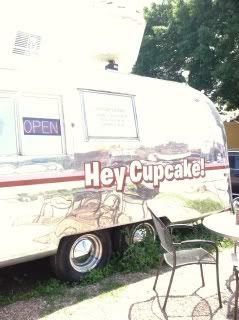 I had some solo time on Thursday so I spent an inordinate amount of time trying to find some vintage cowboy boots (great success!) and then on my way back to meet up with Paul I snagged a cupcake at Hey Cupcake! Now, I didn't really
need
a cupcake right then, but I couldn't resist trying. I snagged a strawberry cream cupcake that seriously changed my life a little bit. The frosting was perfection and the cake was moist and delicious. It's sincerely a very good thing there is not a Hey Cupcake! anywhere near me, because I would have to invest in some larger pants.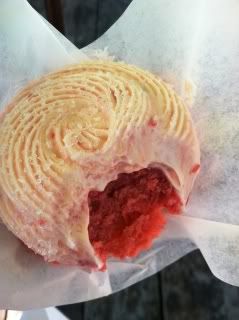 Speaking of larger pants, later on that day, we drove 30 miles outside of Austin to Lockhart, Texas- the, ahem, BBQ Capital of Texas. According to the food geeks on the Austin Chowhound stream, the most authentic and best BBQ in Lockhart is Smitty's Market. Since I trust my food nerd brethren, and had confirmation from our friends that live there that Smitty's was bomb, we decided that would be our place.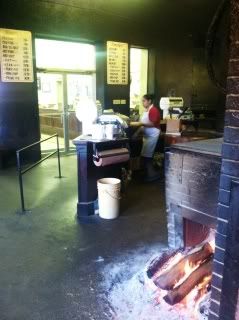 At Smitty's you walk through their smokers to order your meats. It was moderately intimidating because we didn't want to stick out as tourists by ordering the wrong thing. Turns out, when a 90 year old grampa named Virgil is hacking off the brisket and a friendly young high school girl is working the register, you don't actually have anything to worry about. You just ask what they've got that day (in our case, ribs, brisket and sausage) and you take a half pound of each.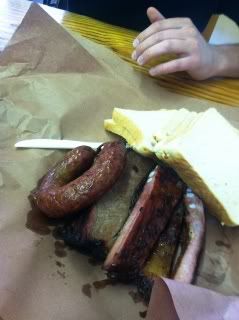 Once they slice off your meats they ask if you want crackers or bread. We went with bread and got like, six slices of plain white bread along side our pile of protein. After the meats were gotten we moved to the store front, where we nabbed a side of beans, potato salad and some drinks. The whole shebang cost about 13 bucks and the BBQ was truly amazing.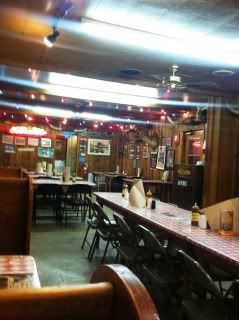 We shared the food, which was more than enough, but as we were finishing Paul jokingly said "save room, we'll go to the other place too." Which, you would think by now that he would know enough to not joke around with a former fat kid about seconds on BBQ. I was convinced we NEEDED to. So we headed over to Black's, which was the second most highly recommended joint I came across in my research.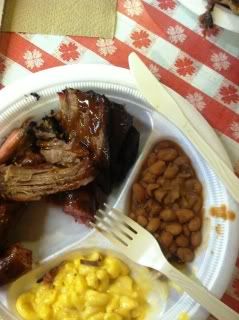 Let this be a warning to y'all. Yes, I just dropped a y'all, I soaked up the local flavor quite a bit I suppose. So LISTEN. Just because there is multiple BBQ restaurants in town and your vacation eating with the best of them, don't get cocky and think you can eat two adult servings of brisket, ribs and sausage. We were completely DESTROYED.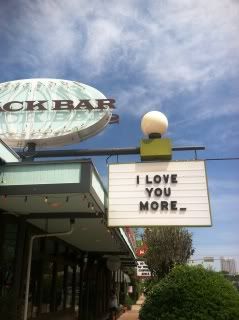 But destroyed in the best possible way. It was a fun binge to take and we certainly get our meat on in a major way. So much so that we couldn't do anything else that night because the idea of putting anything else down our throats, liquid or otherwise. That's some pretty impressive brisket stuffing, wouldn't you say. I hope your proud of me.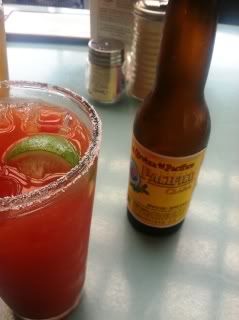 But while I'm mentioning liquids, I would be remiss to not mention the Michelada, which I had with brunch the next day at a tasty place called Snackbar. Micheladas are made with bloody mary mix, which you top with beer (usually Pacifico) and are served in a glass with a salt rim. It was super refreshing and felt like a total cowboy beverage. Also, on a related note, at a gas station I saw "Cheladas" which are 16 oz. stunners of Bud mixed with Clamato. That sounds more like a one way trip to Barfsville than the refreshing Michelada I enjoyed with my brunch, but you know, to each his own.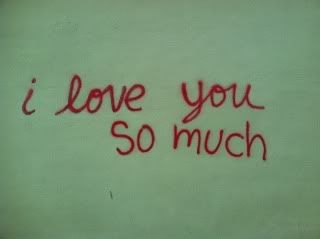 All in all Austin was a cool town with a really vibrant food scene. I kind of wish I ate more, but my jeans are relieved that I didn't. But most of all, we got to see two great friends marry each other in a gorgeous ceremony at the Ladybird Johnson Wildflower Center, so eating my weigh in brisket, was just the icing on the cake.