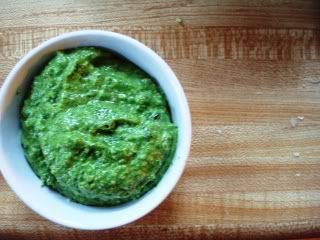 I try my best to keep it fresh on here and not recycle recipes from Porkys past. And this particular pesto is totally the first cousin of
one I made about two years ago
; however, it's so stinking good that we need to talk about it again. I made a batch of this last week for a quick pasta dinner and then proceeded to drop it into salad dressing and smear on egg sandwhiches until the lot of it was gone.
It's my new favorite right now for a lot of reasons, the least of which is that it costs a fraction of what regular pesto costs to make and the most of which is that it's so dang tasty. Last night I made it again to spread on grilled foccacia with a grilled vegetable salad and a bottle of rose. Pink wine and green food: spring has sprung!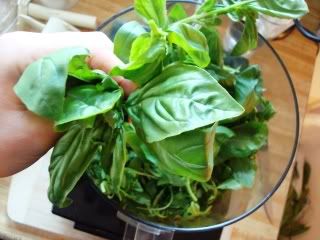 Standard pesto uses basil and pine nuts, here I used just a few leaves of basil to add to the flavor and three cups of peppery, pungent arugula. I thought that I had walnuts in the freezer, which I was planning on subbing out for the pine nuts, because you need to take a mortgage out to buy a thing of pine nuts and I've got a lot more pressing things to spend my duckets on right now. When I realized I didn't have walnut, or any nuts for that matter besides peanuts, I grabbed some hulled sunflower seeds. They were a perfect addition to this budget pesto, adding just a little fat and texture without offering any sort of overpowering
flavor. Win!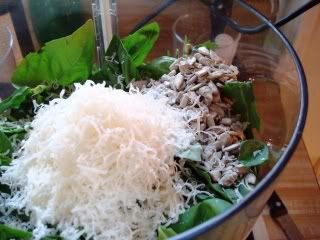 ARUGULA PESTO 2.0
2-3 cups arugula
Handful basil leaves
¼ cup roasted sunflower seeds
¼- ½ cup grated parmesan
1 clove garlic
Juice from ½ a lemon
¼ cup- ½ cup olive oil
Salt
Pepper
Combine all ingredients up to olive oil in the bowl of a food processor. Pulse together to combine well. With the machine running, drizzle in the olive oil until it looks pesto-like. Stop, taste.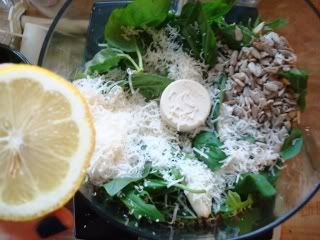 Add salt, pepper, more lemon juice, a sprinkle more cheese and another drizzle of oil if necessary. Pulse a few more times, taste and season again if necessary. Because this is a true arugula pesto, it will be quite peppery, but the lemon, cheese and oil cut into that pretty nicely.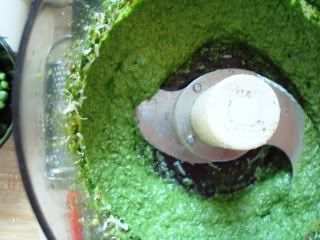 Uses: the night I made this, I roasted a head of broccoli/cauliflower (a fluorescent green hybrid of broccoli and cauliflower that tastes mostly like cauliflower), a bunch of asparagus and some fresh peas.
I put a pot of pasta water on and cooked up some cavatappi. Toss the pesto with the hot pasta and roasted vegetables for a delicious, easy dinner.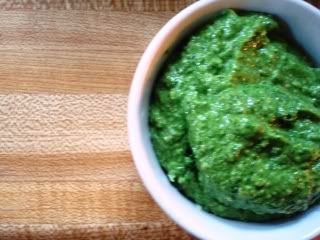 Try this pesto in place of sauce on a pizza, top with mozzarella and prosciutto. Spread a thin layer on an egg and cheddar sandwich or simply put out with antipasto to spread on bread or crackers. If you're like me, you might eat it with a spoon standing in front of the refrigerator (don't judge).