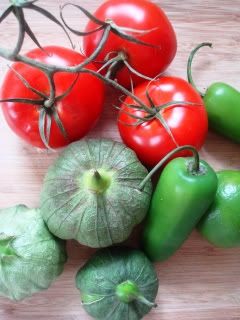 This post is long overdue. If I'm being completely honest, all my spare time is being swallowed whole by the black whole of time suck that is wedding planning. Forgive me if I alienate anyone with this next statement here: but any chick that likes this process may have a bit of a sadistic streak. Planning a wedding is like going shopping all the time. Except unlike normal shopping where you maybe end up with a cute top that makes you feel adorable every purchase carries with it the terrifying emotional weight of a tiny voice in your head that says "Yes but will this be good enough for YOUR WEDDING? Will you like this on the BIG DAY? Will anyone be offended if I don't have this, that or the other thing??" Who started all this anyways? I believe it was Martha Stewart and at this point, she can kiss my grits because I just want my spare time back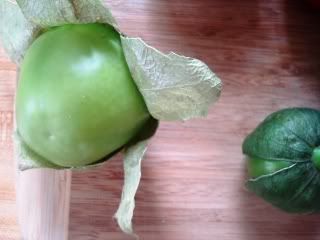 Because you know what I usually do in my spare time? I make delicious foods and then talk about them with you (and anyone with ear holes). And in my spare time the other day I tried on some heels that I got in the mail, wore my bathrobe (seriously, I want you to see this mental picture) and made a tomatillo salsa fresco that was so good I almost pulled my rotator cuff patting myself on the back. At the end of the process I kicked the heels off, put some normal clothes on and breathed a little easier. Because being in the kitchen, slicing things with my giant knife, clomping around in over priced heels made me feel whole again. And I happen to know the heels had nothing to do with it.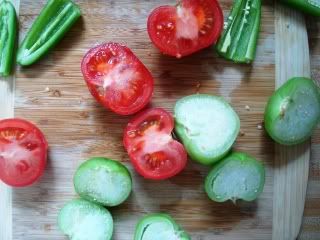 So I had to share this hot spicy salsa on this hot spicy summer day because it really came out so good it inspired my whole entire Wednesday night menu. I grilled up some fajita fillings, made a batch of guacamole and a simple corn and black bean salad and ate a big old plate of redemption. My kitchen confidence had been quite rattled after a string of crummy meals over the past few weeks and a supper like this was just what I needed to get my mojo back. Perfect fare for a sultry summer night: it was fresh and fairly healthy with plenty of spice to help us sweat through the heat. In good faith, I'm providing all three recipes here to make up for the serious lack of Dickens over the past two weeks. Enjoy.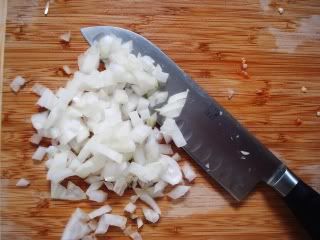 TOMATILLO and TOMATO SALSA FRESCA
(tweaked slightly from a recipe found on
the kitchn
)
3 tomatillos
2 tomatoes
2 jalapenos, split and seeded except for one half
¼ white onion, finely minced
One small garlic clove
Juice from one lime
¼ cup water
Splash olive oil
Sea salt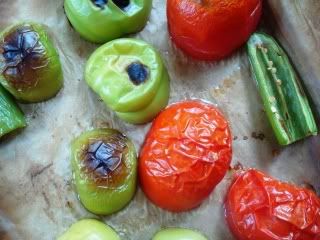 Preheat your broiler to high. Peel the papery outer skin off your tomatillos and wash them well, as well as the tomatoes and jalapenos. Cut all of the vegetables in half and remove any stems. I left the seeds in one half of only one of my jalapenos because I wanted my salsa to have a kick. Leaving this amount of seeds in made it considerably spicy in a good way; the kind of heat that leaves your mouth tingling, but doesn't have you reaching for a glass of milk in agony. If you are a mild salsa person, I would recommend using only one jalapeno, removing the seeds completely or, using a milder pepper, like a poblano.
Place the veggies on a baking sheet and broil, until browned or blackened in spots, about 4-5 minutes per side. Remove veggies from the broiler and let cool for a few minutes. Meanwhile, mince your onion and place it, along with the garlic, water and lime juice in the bowl of a food processor or blender. Add the vegetables and pulse until it reaches the desired consistency. You could certainly leave this salsa a bit chunky, but I think it's best pureed fairly well- it reminds me more of restaurant-style salsa this way. Taste, and add more salt, pepper, and lime juice if necessary. Makes a generous sized jar full. Store in the refrigerator. It tastes great right out the gate but much, much better the next day and the day after that.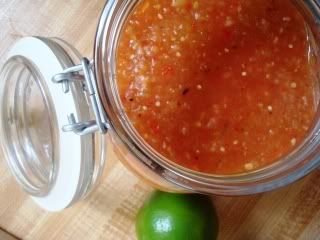 CHARRED CORN and BLACK BEAN SALAD
2 ears fresh corn
1 can black beans, rinsed and drained
¼ bell pepper, minced
¼ Vidalia onion, minced
Diced tomatoes (optional)
Fresh Cilantro (optional)
Juice from one lime
1 tsp. cumin
Salt
Pepper
Hot sauce
Olive oil
Peel and husk your corn cobs and set them on the grill, or over the open flame of a gas stove to char. Stay nearby, turning frequently, until blackened in spots. Be careful, some kernels like to burst open, sending hot corn juice spewing in various directions. Remove corn and let cool for a few minutes.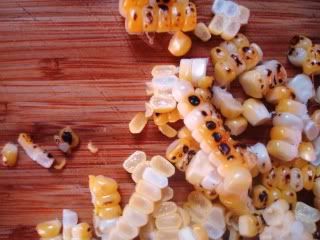 In a large bowl, combine black beans, onion and pepper. Slice the kernels off each cob of corn and add to the bowl as well, along with the tomatoes and cilantro, if using (I did not use cilantro but it would certainly work well here). Add the lime juice, cumin, salt, pepper, a few shakes of hot sauce and a small drizzle of olive oil. Stir together well and taste. Season with more salt, pepper and hot sauce if desired. Set in the fridge until ready to eat. Like the salsa, this tastes even better after the flavors have had a chance to meld.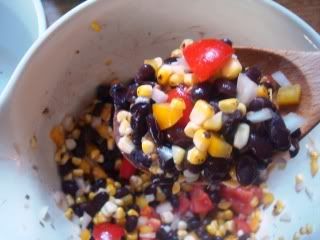 GRILLED CHICKEN FAJITAS
Boneless skinless chicken thighs
Yellow or red pepper
Large white onion
Seasoned salt or spice rub
Cumin
Juice from one lime
Olive oil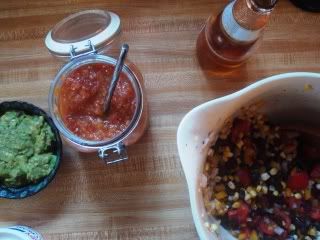 I don't make chicken all that often, but if I do, it's chicken thighs done on the grill. Thighs are not only cheap, they are delicious when grilled because they rarely, if ever dry out from the high heat. They stay juicy and tender and cook up quick. And when you're grilling in oppressive 90 degree heat at 8 at night, you really want to minimize your time in front of an open flame, right? Season each side of chicken with seasoned salt (I use Penzey's 4S on anything I grill), cumin and cracked black pepper. Set into a bowl and add sliced bell pepper.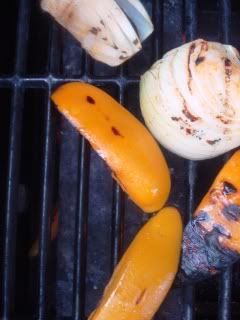 Trim your onion so that the root end is intact (so it will stay together on the grill), cutting it into large quarters, or eighths and add them to the bowl as well. Pour over the chicken and vegetables the juice from one lime and a generous drizzle of olive oil. Set in the fridge until you're ready to grill. I only marinated this for about 15 minutes and the flavors came through very well, so while it's not necessary to marinate for 30 minutes or more, it can't hurt, just depends on your timing.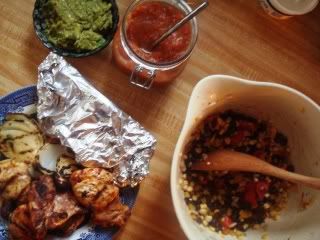 Grill over medium high heat until chicken is cooked through and the veggies are charred in spots. Serve with warm tortillas, guacamole, sour cream and tomatillo salsa, with black bean and corn salad on the side (and a six pack of ice cold Negro Modelos for good measure)