I'm not sure I have anything clever to say about these recipes. I'm actually not even sure that my brain is working right now at all. I just tried to do two spreadsheets. If you know anything about me, you know that doing spreadsheets at 8:00 a.m. is not exactly my proverbial cup of tea. Heck, I don't even drink tea. Well, that's a lie, I just had some tea this morning because we're out of coffee filters and I have to make a special trip to get coffee filters, because of course I have some stupid gourmet coffee pot that only sells the filters online or at Whole Foods. That Folgers Crystals guy in the commercial with the French press, well, he would really hate me.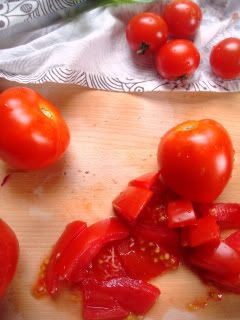 Anyways, where was I? Ah yes, my under developed baby brain that's not working too much these days. Let me use it to tell you about food. These two recipes here were dinner on a weeknight last week. It's the time of summer when the mornings are a little cooler and there are backyard tomatoes everywhere. If you can, make this salad with tomatoes picked from someone's yard because it's kind of fun and old fashioned and they taste like pure sunshine. These kinds of tomatoes can be eaten with just a sprinkle of salt, but of course, my job as a food lover and purveyor of recipes is to bulk fresh ingredients up and make them more delicious and more fattening (right? That's what we're all looking for, yes?).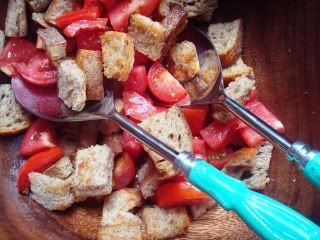 So instead of a straight tomato salad, I added a bunch of big giant, crusty croutons for a panzanella, because everything can be improved with lots more bread. And then to the pasta, which I kind of threw together based on something I had heard of once, I added a bunch of buttery toasted breadcrumbs. I essentially turned a simple weeknight meal into a carbo load- as though we were planning on running a cross country race the next day or something. If you have seen the Tim and Eric* movie (which I might be isolating all readers that aren't high school aged boys here/ revealing to you confirmation that I am a 32 year old woman with the sense of humor of a 13 year old boy) there's a scene where they go out to dinner at a restaurant called Inbreadables and there is bread in absolutely everything. Like you dip your bread into breadcrumb spread and your fork and knife are made of breadsticks and it's bread as far as the eye can see- truly, imbreadable- get it? Anyways, Paul and I were laughing as we ate dinner because this meal was essentially my version of a Wednesday night trip to Inbreadables. And it was also totally easy, cheap and delicious, and came together in about 20 minutes- so if I do say so myself I think this meal was pretty imbreadable indeed.
*Tim and Eric are ridiculous, surreal, silly and as my mom would say "very fresh."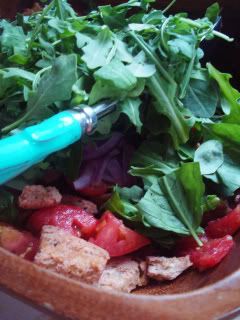 CLASSIC PANZANELLA
Tomatoes, preferably from someone's backyard
A few slices of good quality, day old bread
Basil leaves
Arugula
¼ red onion, diced
Boiling water
Olive oil
Red wine vinegar
Pinch sugar
Dijon mustard
Salt
Pepper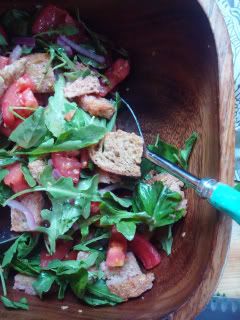 Preheat oven to 375. Chop bread into crouton sized cubes and toss with olive oil and sea salt on a cookie sheet. Set to toast in the oven 15-20 minutes, turning once. Remove pan and let cool. Meanwhile, Dice onion and pour boiling water over. Let sit until cool, drain and set onion aside.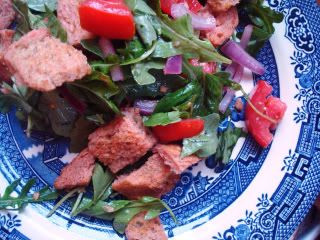 Slice your tomatoes over your salad bowl to catch any juicy drippings; cut them into bite sized chunks. Toss croutons with tomatoes and their juice, salt and pepper generously. In a jar or small bowl combine red wine vinegar, sugar, mustard, salt and pepper. Whisk olive oil in a steady stream to emulsify- or use my preferred method- combine in a jar, clamp the lid on and shake like the Dickens (no pun intended). Tear basil leaves from stems and add, along with a few handfuls of arugula to your salad bowl. Add onion and a drizzle of dressing. Toss together well, taste and adjust seasonings if necessary. Serve immediately.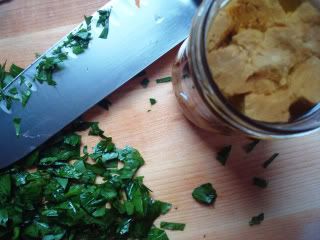 INBREADABLE PASTA
One jar good quality Italian tuna, in olive oil
Fresh flat leaf parsley
Breadcrumbs
Olive oil
Salt
Pepper
Crushed red pepper
Parmesan cheese
½ box pasta, prepared according to package instructions (I love cavatappi if you can find it, but this would also taste great with straight up spaghetti).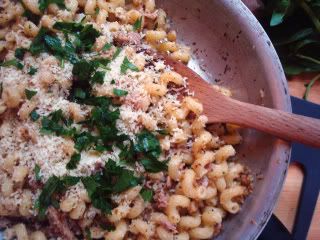 Bring pasta water to a boil, salt generously and add pasta. Cook until al dente, according to package instructions. While the pasta cooks heat olive oil in a skillet over medium heat. Add breadcrumbs and toast, until golden brown. Drain tuna from oil and coarsely chop, add to pan and stir together. When pasta is ready drain, reserving ½ cup pasta water. Toss pasta with tuna and breadcrumbs, add salt, pepper, crushed red pepper, a drizzle of olive oil and a splash of the reserved pasta cooking water. Toss together thoroughly, remove from heat and sprinkle with lots of parmesan cheese and fresh chopped parsley.