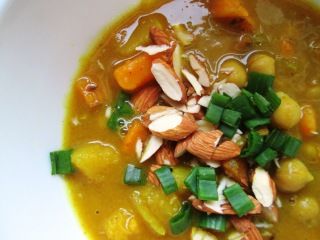 I was speaking with a student at my yoga class Tuesday night and as we exchanged pleasantries and Happy New Years and all that jazz she said to me that she was feeling "super pumped about 2013." I was excited to hear it because she was the very first person I've encountered that was actually greeting the New Year with unbridled enthusiasm and energy, myself included.
It's not that I have any particular beef with 2013, I mean, we're just getting to know each other after all. I just haven't yet taken the year by its collar and roughed it up a bit. Maybe it's because of the way I welcomed it: on my couch after a delicious dinner, a bottle of red wine and a long day at work. I would have been super pumped; but I was semi unconscious as the clock struck 12. However, when Dorothy came in the other night hyping on 2013, I jumped on board. I just like the idea of saying with complete confidence that yeah, "THIS is the YEAR". The year that we do "IT", whatever "it" is. As I said on Tuesday, "Who cares what 'IT' is? I say: enthusiasm first, specifics later!"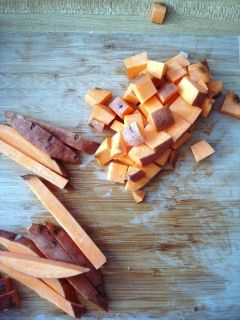 So THIS is the year that we do it, guys. This is the year that we branch out. This is the year that we maybe do crazy things, like drop coconut milk into our soup and try and cook like we're from Thailand. I wasn't super confident about this soup as it came together, but I just kind of rolled forward with the knowledge of what I kind of sort of wanted it to taste like, the fact that I knew a few select spices I wanted to jam in there, and that I kind of wanted a sort of vegetarian soup that was the soup-like equivalent of creamy, savory Massaman curry. The resulting soup was exactly that, only with lots of yummy root veggies and bright yellow hue, thanks to a heaping bit of turmeric. It really exceeded expectations. Dudes, this is totally our year.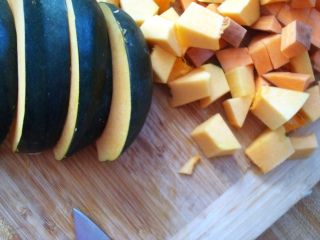 COCONUT CURRY SPICED SOUP with
ACORN SQUASH, SWEET POTATO and CHICKPEAS
1 small acorn squash, peeled and diced
1 sweet potato, peeled and diced
1 onion, diced
3 cloves garlic, minced
1 one inch knob ginger, peeled and grated
1 can chickpeas, drained and rinsed
2-3 tablespoons olive oil
1 ½-2 cups chicken or vegetable stock
1 can coconut milk (I used light)
1 heaping teaspoon turmeric
3 cardamom pods, cracked open
2 tablespoons curry powder
½ teaspoon cayenne
Juice from half a lemon or lime (I think lime would be better, but I only had lemon, no big whoop)
Optional garnishes:
Sliced almonds or cashews, chopped and roasted
Scallions
Fresh cilantro
Farro, rice or cous cous for serving, cooked according to package directions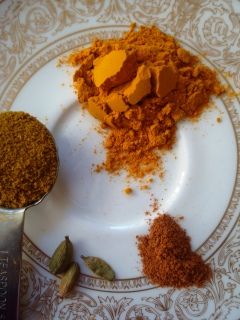 Heat olive oil in a large Dutch oven over medium heat. Add onion and sauté until fragrant softened, about 5 minutes. Add garlic, and ginger, stirring together for another minute. Add spices and stir everything together to coat onion, garlic and ginger in spices. Salt and pepper generously and add the squash and sweet potato, stirring well to coat with spices, adding a drizzle more oil at any point if it seems too dry. Cover with stock, enough to submerge all the vegetables: I used about 2 cups. Bring up to a boil and reduce to a hearty simmer, stir in the coconut milk and let everything simmer until the squash and sweet potatoes are tender (about 15-20 minutes).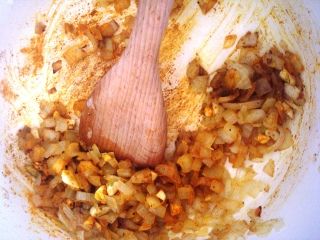 Add the chickpeas to the pot along with more salt and pepper. Taste and adjust other seasonings as well. I really like a lot of flavor and my curry powder is not super fresh (i.e. it's been open for quite some time), so I added another spoonful of that as well as a bit more cayenne, because I like-a the spice. Add the lemon or lime juice and if you'd like a squeeze of Sriracha. Taste and adjust seasonings again if necessary.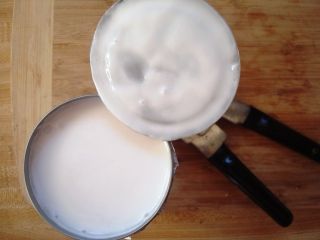 Prepare some basmati rice, cous cous or even pearl (sometimes called Israeli) cous cous to serve the soup over. Because I had some in my pantry that I was dying to eat, I used farro. Farro is kind of hard to find. I got mine at an Italian speciality store. If you ever see some grab it. It's so yummy and cooks much faster than it's cousin, the wheat berry (which you can readily find at Whole Foods and other health stores). While you prep your grain, toast the almonds in a 350 degree oven for about 8-10 minutes, until fragrant.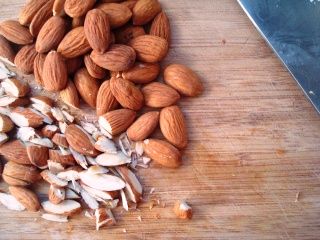 To serve:
spoon rice, cous cous or farro into a large bowl. Ladle soup over. Garnish with sliced, roasted almonds and freshly chopped scallions. Serve immediately. (yields: 4 generous servings).
Do ahead:
to make this soup ahead of time, follow all steps through adding the lemon/lime juice. When ready to serve: prepare your rice or grains as you reheat soup on the stove top. Stir the citrus juice in just before serving, taste and adjust spices if necessary.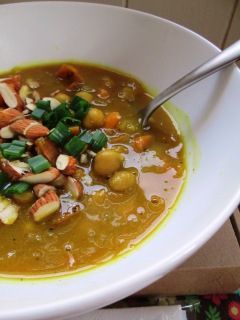 This is one of those soups that takes very well to a day in the fridge. It was tasty right out the gate, but even tastier three hours later at dinner, still tastier the next day reheated for lunch and even tastier still three days later for an afternoon snack. I think the reheating compounds the spices and the nuttiness of the coconut milk.