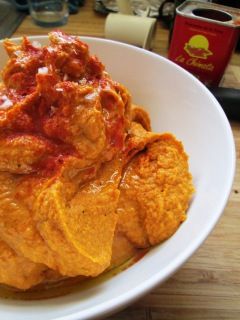 I have a tempestuous history with carrots. People that know me well may even be shocked to see a carrot-centered recipe featured here. But when they say to me, "oh right, you don't like carrots" or the even more extreme "Jess hates carrots" I do defend my stance. It's not that I don't like them, you see. It's just that I don't prefer them. Like Deniro said in Taxi Driver "It's not that I don't like him. It's just, I think he's silly." I think carrots are a little silly. I think it's silly how every house salad in these United States comes with a pile of sad, dried out julienned carrots a top, mucking up the whole entire thing.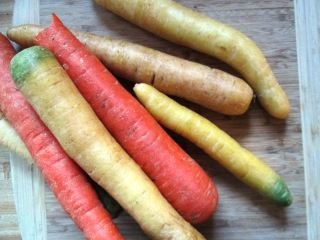 And then there's the abomination that is baby carrots. Don't. Get. Me. Started. I mean don't EVEN get me started. While I hate to rip on something titled "baby" because it feels like borderline bullying, I must say that I think baby carrots are the skeeviest thing out there. To me, they taste like they are washed with bleach and it terrifies me that they have a shelf life longer than some breakfast cereals despite, by all appearances, being a produce item. They are just something I really won't eat. And trust, there aren't many things on that list. But to be clear: I wouldn't go so far as to pick carrots out of a chicken pot pie or anything so particular as that, I just think that they need to be cooked well, treated appropriately and used in dishes where they really belong.
Like this creamy, sweet and smoky Roasted Carrot Hummus, which is exactly the kind of place where they not only belong, but they SING. Like most hearty root vegetables, carrots take well to a high heat roasting in the oven. Then, they get even dreamier when paired with mellow, roasted garlic, smoky Spanish paprika and nutty sesame tahini. This hummus was good out the gate, but I have to admit, I've fallen deeper in love with it all week long, using it as a spread on sandwiches and snacking on it by the scoopful with tortilla chips. Packed with antioxidants and rich flavors it is both deeply sweet and perfectly savory. Textured and creamy, this hummus has me feeling like they're pretty silly alright, but silly in a good way, because it's stupid good.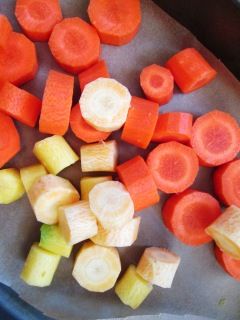 SWEET and SMOKY ROASTED CARROT HUMMUS
(altered slightly from
this recipe
)
1-2 lbs. carrots (about 6 large)- I used yellow and orange "Rainbow" carrots
3 cloves garlic (whole with skin)
¼ cup olive oil, divided (plus more if needed)
1 tsp. ground cumin
¼ cup sesame tahini *
1- 1 ½ tsp. smoked paprika*
Juice and zest from one lemon
A few splashes of milk or half and half (about 2-3 tbs.)
Flaked sea salt, or kosher salt
Black pepper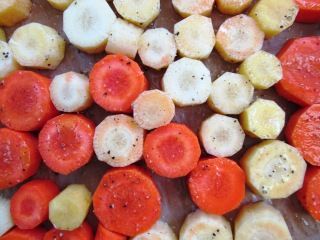 *You can usually find tahini in the ethnic food section of most grocery stores and certainly in any gourmet grocery store worth its shakes. Smoked paprika can be found in most spice shops and gourmet food stores, but may be difficult to locate in your everyday grocer. If you live in the Boston area I cannot recommend Christina's in Inman Square, Cambridge enough. They have every spice you could ever want and some salts that you didn't even know existed and they are SO reasonably priced. Plus, they also own the ice cream shop next door and it is the best ice cream in the state of Massachusetts (yes, even better than Toscanini's or J.P. Licks).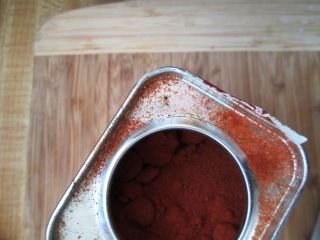 Heat your oven to 450. Peel and slice carrots into ½ - ¾ inch rounds. No need to get the ruler out, just eyeball it. Drizzle carrots and garlic cloves with olive oil (about 1-2 tbs. here, saving the remainder), salt and pepper generously, and scatter on a baking sheet. Set to roast in the oven for about 25-30 minutes, until carrots are completely tender and a bit caramelized on the bottom; stirring and rotating the pan once during the cook time.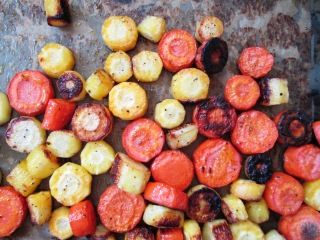 Remove carrots from oven and let cool. Squeeze the garlic cloves from their skins and add garlic and carrots to the bowl of your food processor. Add tahini, lemon juice, lemon zest, cumin, smoked paprika, a big pinch of salt and about half your remaining olive oil to the bowl and puree for at least a minute, stopping once or twice to scrape down the sides of the bowl. Assess your moisture level and drizzle in a bit more oil and approximately half of your milk or half and half.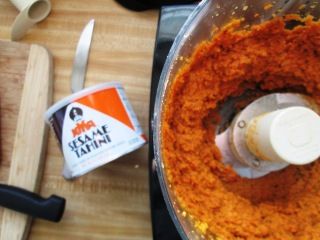 Salt and pepper once more and puree again for at least a minute, scraping the sides of the bowl down as needed. Take another peek in and taste. Adjust the seasonings if necessary and add another drizzle of oil and the remainder of your dairy if it's still too thick for your liking. Then puree again for another solid minute or so. I believe the extra time you take to really wizz the crap out of this stuff in your food processor makes the resulting hummus light and fluffy, with great texture. Don't be too scared to add even a touch more oil or half and half if you want a thinner end result. I know, it seems like a lot of oil but this recipe makes a large amount of carrot hummus (upwards of two cups) and I do believe the extra moisture helps it come together.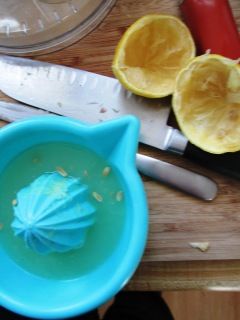 Do ahead:
The hummus tastes great day of, but even improves with a day or two in the fridge, so feel free to make it ahead of time. An optional step would be to let it come up to room temperature before serving. Not necessary, but I just like to do that.
To serve:
scoop into a bowl and drizzle with a touch more of good quality olive oil. Your everyday oil will work here as well, but if you have any fancy ones lying around, hit the hummus with a touch of that, it will be worth it. Dust the top with another pinch of smoked paprika and sea salt. Serve with pita chips (a simple homemade version can be found in
this old post
), tortilla chips or cut vegetables (but not carrots, 'cause that would just be weird). Keeps for about a week in the fridge.
Yields:
about two cups.