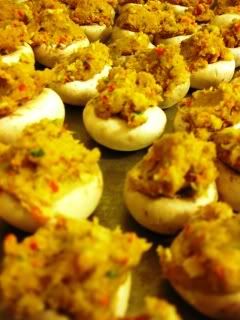 As in snappy appetizers. Yes, I know, I'm the world's biggest cheeseball. Speaking of cheeseballs, I am making one for my Christmas party on Saturday night. Apparently my cousin Jenny made this cheeseball for Thanksgiving and nobody could shut up about how good it was. They even went so far as to curse her name the next day when they mistakenly thought she had taken the cheeseball leftovers home with her. When she cleared up that rumor we forgave her. So anyways, I'm already taking up too much time. No time for witty banter this week kids, it's crunch time. December is sort of beating the tar out of me right now. Does anyone else feel this way? It seems like about ten seconds ago, it was Thanksgiving and I was going to blog "over the weekend" or "early next week" about my stuffed mushrooms. Obviously, because I am a proven liar, "over the weekend" meant "definitely not this weekend" and "early next week" meant "probably not for two weeks" but anyways, I digress. It's December 10th already! We're into double digits and there's no more time for dilly dallying: onward! To the appetizers!
These are two Sue Pithie classics that I am generously gifting upon ye. My mom has never met a savory appetizer she wasn't able to conquer. I hope to continue this legacy for the next generation of party snackers. I'm telling you right now, if you make these, you will get compliments.
STUFFED MUSHROOMS
Two large packages white button mushrooms. (Baby Bellas would also work well)
One red bell pepper, diced
One small bunch scallions, chopped
1 ½ to 2 sleeves Ritz crackers (as with all recipes calling for Ritz, let me just tell you right now, there simply is no substitution)
½ - 1 stick butter, melted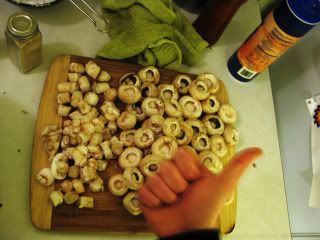 Brush mushrooms off with a damp cloth. Snap out stems and set aside onto your cutting board. The intact caps can be set aside into a bowl. The caps that don't make it, well they can join the stems. Heat a skillet over medium high heat and drizzle a bit of olive oil in. Coarsely chop your mushroom stems. Add the stems, along with the diced red pepper and chopped scallions to the sauté pan and cook a few minutes, until it smells fragrant and the mushrooms have purged a bit of liquid.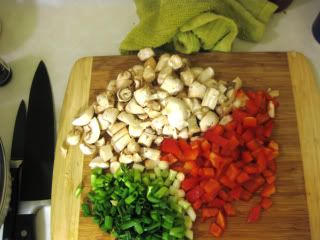 Dump the lot of this mixture into your Cuis' Food Processor. Add the Ritz. Pulse mixture until it reassembles a stuffing-ish mixture. Return your skillet to the heat, lower the stove a bit, to medium and melt your butter. When the butter is melted, pour it over the stuff in your Cuis', pulse some more. Until all the Ritz are chopped up well and there aren't any large, identifiable half crackers floating around in there. Stuff your mushroom caps with the stuffing mixture (der). Bake at 375 for 15 minutes.
TOMATO, BASIL & FETA SALSA with PITA CHIPS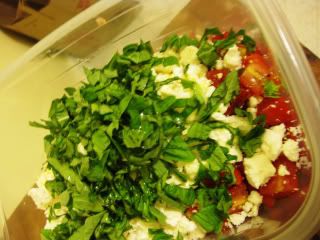 For the Chips:
One package large or small pita. This is a great thing to do with pitas that are too stale to eat. When you bake them up, they're like a whole new beast.
Olive Oil
Sea Salt
Garlic Salt (optional)
For the "Salsa"
Tomatoes*
Fresh basil
Feta Cheese
Salt, pepper
Olive oil
*Any type tomato will do here. Since it's winter, I use any good looking cherry tomatoes I find at the store and cut them into halves, or quarters, depending on their size. The last batch I picked up were gargantuan, so they got the quarter treatment.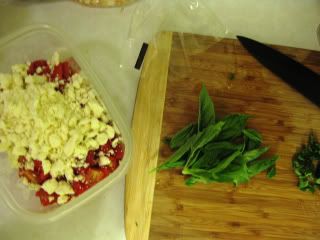 One of the good things about this recipe is you can make a huge batch for a party or just a small amount for yourself. It gets tastier as it sits overnight in the fridge, but is also great immediately after you make it. It's a very forgiving and versatile, like my long grey sweater, that's why I like it. I also whip this up a lot in the summer as a side dish, sometimes adding diced purple onion.
Preheat oven to 350. Cut your pitas into triangles. The option here is to split them, to make thin chips, or leave them together. Your call. My mom likes them thicker and therefore leaves them together, I like to split them so they're lighter and you can make more of them. Arrange cut pitas on baking sheet. Pour a palm full of olive oil into your hand and rub both hands together. Using your hands distribute the oil over the pita slices. Repeat if necessary. I don't like mine too oily, so I go light. My mother makes her pita chips not with olive oil, but with melted butter, because well, she's trying to kill us all. Sprinkle with sea salt and garlic salt. Bake for 15 minutes, flipping half way through.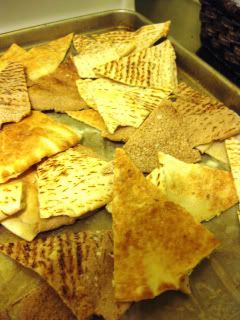 Meanwhile, rinse your tomatoes and slice into halves or quarters. If using full size tomatoes, cut into a chunky dice. Chiffonade a couple handfuls of basil. To do this, take a few leaves at a time and roll them up, then cut thin, vertical slices across your rolled up leaves. The result is delicate ribbon-y threads of basil that look cute. Add basil to tomatoes, and add feta. Drizzle with olive oil, add salt and pepper and stir everything together. Refrigerate until ready to serve. Serve with pita chips. Open your ears to hear the compliments, and try not to pull a muscle patting yourself on the back!