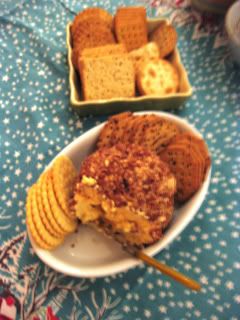 December is an insane, mad person sprint of a month. It is not, in any way shape or form, a normally timed month. I know this because I don't have time for much. Like last week's post, there's no time for love, Dr. Jones. Straight to the nitty gritty.
Remember my cousin's cheeseball. Well, I made it and it's a total knockout. You should know about this cheeseball, you're going to want to be alone with it.
2 packages cream cheese (don't even think about getting reduced fat)
2 jars Kraft Olde English OR 1 tub Cheddar Wis-Pride spread*
5-6 ounces crumbled blue cheese or gorganzola
3 tablespoons white wine vinegar
couple shakes of garlic salt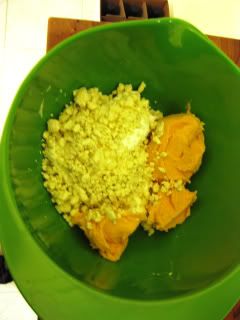 Combine everything in a bowl and beat together with an electric mixer. Divide cheese amalgam in half and shape into two balls. It was helpful to lightly spray my hands with olive oil spray before doing this. Roll each cheeseball in crushed nuts (I used pecans) or chopped, fresh herbs.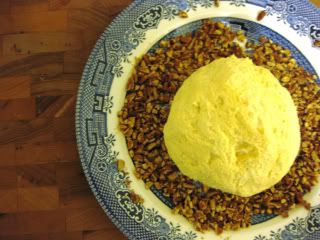 Wrap tightly in plastic wrap. Refrigerate for at least two hours before serving. I made mine the night before. I used one at my party and the other five days later. Both were delicious. Do it!
* Kraft Olde English was not at my grocery store. I improvised and used Wis-Pride. I figured, well, it's orange, so it must be the same thing. It was.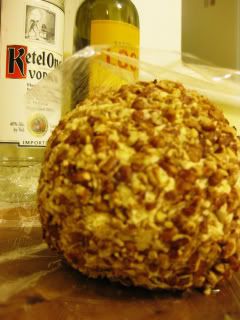 Hey cheeseball, meet your two new friends, red wine and vodka, you guys will be seeing a lot of each other this holiday season.