I hate to complain about the weather. Because really, if we chose another thing that we could possibly have any less control over it would be what the sky is going to do on any given day. We got married outside in late September with not much of a backup plan to speak of. And while September is arguably the nicest month of the year in Massachusetts, it was a slightly risky thing to do. It could have been 50 degrees and cloudy, it could have been unseasonably sweltering but you know what it was? It was f*cking perfect. It was 70 degrees without a cloud in the sky or nary a ripple on the surface of the Atlantic Ocean.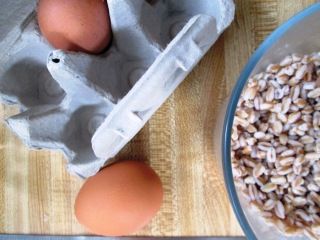 People asked me a LOT in the weeks leading up to the wedding if I was worried about the weather or if I had checked the forecast. I responded the same every time: I can't control it anyway, so why am I going to stress myself out about it? I'm actually impressed in hindsight at this Zen-ness I had embraced and I know that a lot of that 'letting go' mentality was thanks to a devoted and regular yoga practice and a devoted and regular wine drinking practice; and also, the fact that I just really did not want one more iota of information to manage in my overtaxed bridal brain.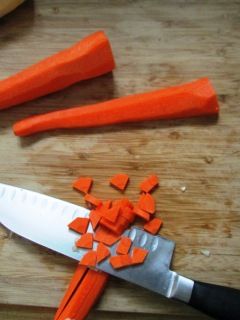 So I feel like a traitor to my former Zen self when I admit that I have so had it up to here with this winter. I spent the better part of last Friday morning in a snowstorm induced mini meltdown during which I may or may not have chucked my snow shovel to the ground in frustration once or four times. I mean, get over it, really. Today, yes it is still cold, but the sun will be in the sky until well past 6 o'clock tonight and that, that my friends, is a win for US. This savory bowl of comfort food is a nod to this in between place that March occupies. Not quite yet finished with winter, but still we can see spring ahead. Healthy, practical and jazzed up by a verdant drizzle of deeply green infused oil that is both earthy and bright, it was the perfect lunch for right now.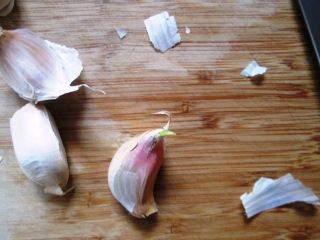 SAVORY VEGETABLE BROTH with VINEGAR POACHED EGG,
FARRO and PARSLEY SCALLION OIL
1 leek, thinly sliced (white and light green parts only)
2 carrots, peeled and finely diced
1 parsnip, peeled and finely diced
1 small onion, minced
4-5 cloves garlic, minced
1 (32 oz.) container chicken or vegetable stock
1 ½ cups water
Salt
Pepper
Olive oil
1 cup farro or small pasta, prepared according to package directions (optional)
1 egg
White wine or apple cider vinegar
1 small garlic clove, peeled and left whole
½ bunch flat leaf parsley, loosely chopped
2 scallions, chopped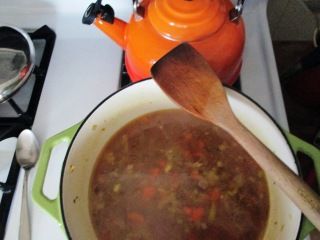 Warm a few tablespoons of olive oil in a Dutch oven over medium heat; add leeks and onion and sauté until fragrant. Add carrots and parsnip to the pot and sauté another few minutes to soften. If it starts to get dry, add another small drizzle of olive oil. Add garlic to the pot and stir together until fragrant (about 1 minute). Pour in chicken stock and 1 cup water, season with a large pinch of salt and plenty of cracked black pepper; bring to a boil then reduce to a simmer and let cook until the root vegetables are cooked through (about 20 minutes). If your broth had reduced substantially, feel free to pour in another ½ cup of water. Test vegetables for doneness and season again, generously, with salt and pepper.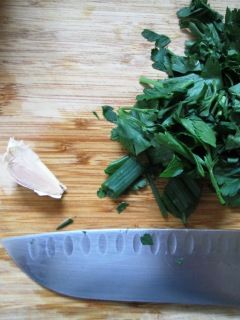 While the stock simmers, prepare the Parsley Scallion Oil: rub the garlic clove all over the inside of a small food processor. This sounds a bit weird but somewhere along my food obsessed travels, I saw someone do this trick with a salad bowl and rather than imparting the bracing, almost hot flavor of raw garlic into your oil, it really just sort of shows the garlic to the product. It's a little bit coy in that sense. Combine parsley, scallions and ¼ cup olive oil. Top with a large pinch of salt and a few cranks of pepper. Puree this for several minutes, pausing to scrape the bowl down a few times.
The end result should look like a slightly darker version of your favorite pesto, only even more mashed. Using a small mesh strainer (I have one for cocktails that is perfect here) drain the oil into a small glass or ramekin. Use the back of a soup spoon to press down, releasing more oil. Feel free here to work it a little, leave it to drip, then come back to it and press a bit more. You really only need a small drizzle of the finished product, so don't stress if you're not getting more than a few teaspoons. Infused oils like this one are a pretty and sophisticated way to jazz up a dish. I think this particular oil would be so delicious on a piece of poached or broiled white fish or salmon.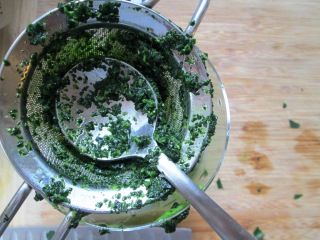 To vinegar poach an egg: bring a few cups of water and about 2-3 teaspoons of vinegar to simmer in a small sauce pan. To me, simmering is when the entire bottom of the pan is covered in little air bubbles and the water is steaming steadily; i.e.: almost boiling, but decidedly NOT boiling. Use the handle of a spoon to stir a whirlpool into the water and gently slide your egg into the vortex (side note: Slide Your Egg Into the Vortex would be an excellent R&B song title for baby making). Let the egg simmer for about 3-4 minutes and use a slotted spoon to gently remove it from the water. I like to lift my egg out of the water at the 3 minute mark, jiggle the spoon slightly and see what it looks like. If it's uber jiggly: slide it back into the water for another minute, you want your whites gently cooked but the yolk nice and gooey.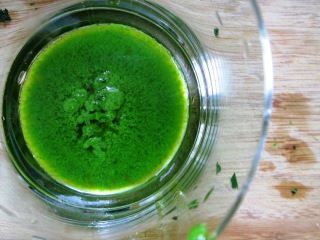 Mound cooked farro or pasta into the bottom of a wide shallow bowl; spoon the finished vegetable broth over the top and gently nudge your poached egg into the middle of the bowl. Drizzle a few drops of bright green Parsley Scallion Oil on the top and enjoy immediately.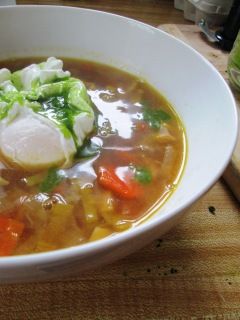 Say, check out all this green and orange. I must be channeling my Irish roots and prepping for St. Patrick's Day. Here's a
classic recipe
if you want to recreate some yummy pub-style fare at home from the PD archives.