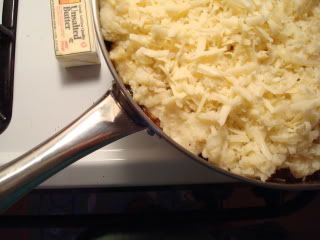 I spent many St. Patrick Days past gassed up pretty good, bedecked in Kelly green mardi gras beads with bud light logos on them, chugging back Guinness in a bar full of New York firefighters (that was a fun one), or drinking green mimosas and mixing shots before noon at East 7th Street between K and J (that's South Boston to the non-native). These St. Patrick's revelries were fun, I mean, I had a really good time. However, because March weather in Massachusetts is historically manic and unpredictable, parade attendance would result in either (a) a mild case of hypothermia or (b) sun poisoning. And drinking before noon usually meant by 3:00 p.m. I was on a one way trip to Bedsville with an extended layover in Calzone City. Additionally, more often than not trying to get a cab in South Boston on Parade Day would result in a belligerent fleece jacket wearing couple who was fighting in the street taking a few moments to shift their anger towards me and my friends over what appeared to be the only cab in Boston at the moment. I wish I was joking, but I think this happened to us two years running. It's not that it wasn't all good fun I mean I love almost getting punched by strangers just as much as the next guy, it's just that a couple of years ago I simply decided I was OVER it. Over braving the swaying crowds of Irish knit sweaters, the unpredictable weather, the right-hand wrist drenched by beer (an unavoidable result of walking down the street with a full keg cup). I was over the scene, but still, I am a large percentage Irish and I do love St. Pat's and the fun it brings. I wasn't done observing The Holiday, I was just done with The Parade.
Last year, we did a "bar crawl" with my mom and aunts in Brighton Center. The crawl lasted only as far as three establishments. Trust me with this crowd, three was enough. We tossed back some black and tans and some poorly poured Irish flag shots and then the aunties started to get fresh with Paul. We then retired to my aunt's house for boiled dinner and malarkey pie. Which is a "traditional" Irish pie that my mom completely pulled out her you-know-what because she's full of malarkey. Hence, the name. So this year when no plans on tap, I started thinking I would like to make a nice dinner inspired by Irish cuisine. I wasn't about to make boiled dinner because I am not into corned beef and I'm certainly not into boiled cabbage. If I wanted my kitchen to smell like farts, I would just invite my brother over. I wanted to make something comforting and delicious and definitely something with booze or beer in it. Honestly, I just wanted a good excuse to buy some Kerrygold and Baileys for my house.
So I made a shepherd's pie with Guinness and some chocolate stout cupcakes with Baileys frosting. My mom, who I put in charge of a side dish, made lobster mac and cheese (you know, a nice light side dish) and the most picture perfect Irish soda bread you have ever seen in your life.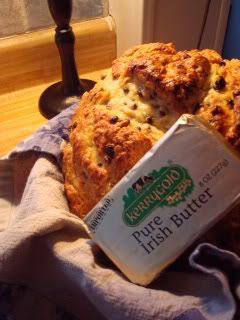 We had a lot of food, plenty of beers and a lot of laughs. I rigged an old spoon so I could pour homemade black and tans and we sat around after dinner drinking Baileys and listening to records. I ate two cupcakes and we left the dishes to do until the morning and the best part: I didn't have to fight anybody for a cab ride home.
Drunken Shepherd's Pie
(I found this recipe a couple places, but most closely followed the one I found on The Hungry Housewife, because it was delightfully simple and unfussy)
1 ½ lbs. ground beef or lamb (I used half of each)
1 medium onion, minced
1 ½ c. carrots, diced
1 package frozen peas
1 package frozen corn
Worcestershire Sauce
1 tall (16 oz.) can Guinness
2 tablespoons tomato paste
2 packages brown gravy mix
3 lbs. potatoes
1 stick butter
Whole milk
2-3 cups shredded cheddar cheese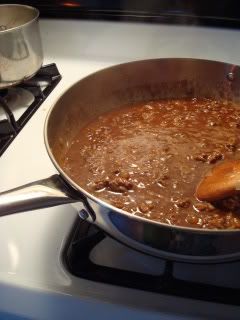 Peel and slice potatoes and set them to boil in a large pot of water. Heat large skillet over medium heat and sauté onion in a bit of olive oil until translucent. Raise heat a bit and add ground meat to brown. Once meat is browned drain off the liquid and add a couple splashes of Worcestershire, the tomato paste, 1 ½ cups Guinness and a few cranks of salt and pepper. Raise heat a bit to allow the beer to reduce. Meanwhile, prepare two packages of brown gravy with 1 cup water and 1 cup Guinness (a large can works perfectly for both. If you use bottles, you will have to drink the leftover Guinness. Chef's rules). When gravy is sufficiently thick pour it into the skillet with the meat. Lower heat a bit and let simmer. Your potatoes will probably be done by now. Drain potatoes and return to their pot with a stick of salted butter and a few healthy splashes whole milk. Mash potatoes, but don't annihilate them. They should be thick and almost on the drier side of normal mashed, a little lumpy even.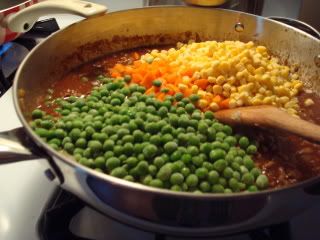 The directions for most shepherd's pies I saw indicated you were to layer the veggies over the meat and then the potatoes over the veggies. My mother, who was acting as my Sue Chef (because her name's Sue, get it!) was like "that seems unnecessary, they're all going to mix together anyways." Where I tend to be fussy and follow directions when cooking the unknown, she tends to be no nonsense and wise, working by instinct. We make a pretty good team. She also advised me rather than using two baking pans that I should just bake the whole dang thing right in the skillet I was using. Another ace trick. Not only did it save dirtying extra dishes (a huge plus for those of us dishwasher-less cooks) it also saved me the headache of trying to slop the massive quantities of gravied beef I had prepared into my two puny baking dishes (FYI, I used 2 ½ lbs of beef and lamb and upped the ante on everything else, because I was serving 11 people that's why these photos show a LOT of beef). Add the vegetables* to the beef mixture and then slowly spoon the potatoes over the top. I worked slo-o-o-w-ly to avoid two things: uneven potato distribution and potato sinkage. I was convinced my spuds would just sink right into the beefy gravy mixture, but they ended up nicely suspended on top. Top potatoes with shredded cheddar and bake in a 375 degree oven until the cheese is slightly browned and everything is bubbling.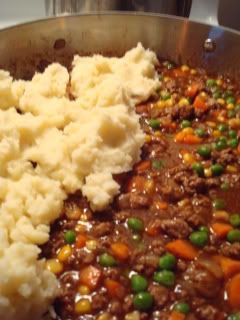 This was the easiest thing I have ever prepared for a dinner party. It took about 40 minutes start to finish to make (with the assistance of my Sue Chef) and then once in the pan it's going to be baked in, it can just hang until everybody has arrived. This is hearty pub fare, not a light meal but let me tell you, the dudes (and my friend Kerri) loved it. People had seconds. My favorite! Happy belated St. Patrick's Day. "May you live as long as you want and never want as long as you live."
*A note about the carrots, I would advise pre-cooking. Mine stayed a bit crunchy because I didn't. Blech.