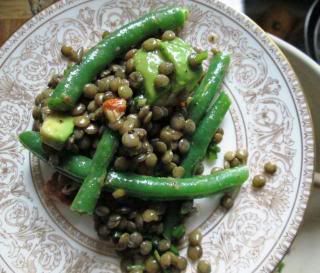 If you have been here before and you're paying attention, it should come as no surprise that I'm moderately obsessed with lentils. This winter, the obsession has been elevated to something worth being concerned about thanks, in whole, to this lentil salad. I had this salad for the first time at a baby shower/brunch for one of my main ladies back in early November. I then spent the entire ride back from New York to Boston and the next three subsequent conversations with my boss trying to reverse engineer its exact components. It was
that
good.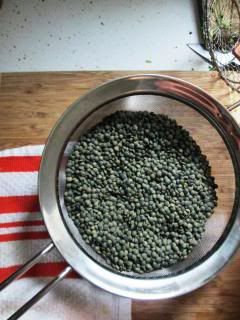 The brunch was held at Public on Elizabeth Street and we had a choice from a fixed menu of French toast, a few tasty egg dishes, or this lentil salad. I chose the lentil salad without much hesitation since I don't mess with sweet breakfast foods and the egg dishes weren't jumping out at me. Later, seeing plate after plate of savory eggs being laid down in front of my dining companions I was momentarily seized with regret: "what was I thinking! Lentil salad for breakfast?!" Thankfully this cloud of doubt was eradicated the moment I scooped a forkful into my mouth. My friend Sandra and I took a pause in our conversation, locked eyes and murmured through full mouths something along the lines of "WHOA- good salad" and "mmm srsslyreallygoodsalad" Now, it takes a special kind of salad to get two college girlfriends that don't see each other often to shut their yaps and stop talking for a moment. This is particularly that kind of salad.
HERBED FRENCH LENTIL, GREEN BEAN and AVOCADO SALAD
with POMEGRANATE MOLASSES VINAIGRETTE
1 cup French lentils, cooked til al dente and drained
Small bunch green beans, trimmed and blanched
½ cup toasted pecans or walnuts
½ avocado, peeled and diced
5-6 chives, finely minced
Leaves from one sprig tarragon, minced
Salt
Pepper
POMEGRANATE MOLASSES VINAIGRETTE
½ cup avocado oil*
1 tbs. pomegranate molasses*
½ shallot, minced
Juice from ½ lemon
½ tsp. Dijon mustard
1 tsp. honey
Pinch sugar
Salt and pepper
*avocado oil can be tough to find, but it makes this dressing out-of-control good, so seek it out if you can (you can sub extra virgin olive oil or grapeseed oil). You can find it at most health food stores and probably Whole Foods; it's usually about $6 and is great for dressings and roasting vegetables. As for pomegranate molasses, most well stocked grocery stores will carry this (near the regular molasses) as well as any Middle Eastern food markets.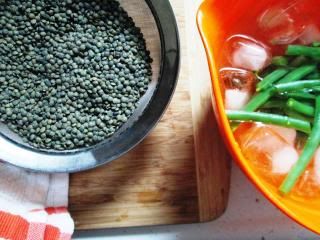 Bring lentils to simmer in a medium-sized sauce pan (You can use water or vegetable stock to cook them, both work equally well). Let simmer about 15 minutes and then begin checking the lentils for doneness. They should be cooked, not crunchy, but still have just a touch of bite to them. Drain and rinse with cold water, set aside. Blanch green beans for approximately 2-3 minutes in boiling water, and then drop them into a bowl filled with ice water in order to stop the cooking and retain a nice bright green color.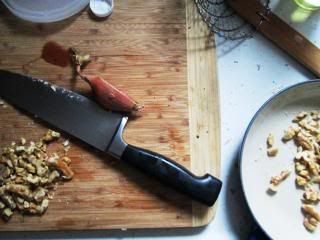 Combine lentils, green beans, avocado, herbs and nuts in a bowl. If you have an immersion blender, use it to make the dressing by combining all ingredients in a wide mouthed mug or jar and then pulsing until completely combined. If you do not have an immersion blender, combine all dressing ingredients in a blender and pulse to combine completely. Taste the dressing and adjust if it needs more seasoning. Pomegranate molasses is super tangy, so it may benefit from a touch more sugar or honey and a little more salt and pepper. Dress the salad with a drizzle of dressing and serve warm or at room temperature.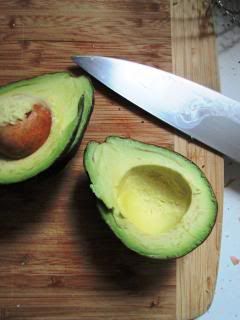 This is a delicious, hearty side dish with poached fish, or grilled chicken breasts. You will have extra dressing, try using it on mixed greens with roasted Brussels sprouts and butternut squash- it works perfectly.