When Paul and I lived with my aunt and uncle this summer while we were waiting to close on our house, we quickly adapted to their household lifestyle. We realized after nights one, two and three that these folks ate dinner. A proper dinner, seated together, with conversation (and usually wine) every single night. Even if we didn't get to the table until 9 p.m. As you can imagine, we were super into it. I mean, you know, a nice well rounded meal every evening along with some good conversation can really hit the reset button on your day. It was a recalibration of sorts, with side dishes (and usually rolls!)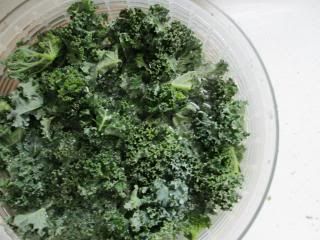 My favorite thing about Eric and Linda's dinner ritual was this: the Kluz family meal time did not stray from the protein/vegetable/starch trifecta. Not once. Coming from our house where we often have say, a pizza and a handful of wasabi peas, or 8 varieties of vegetables folded into taco shells, this return to the classic meal format was seriously a real treat. I also realized that it just works. It's easy and it's GOOD. Not that I don't like adventurous meal planning. We all know that. I mean you're talking to a woman who spent all of my afternoon yesterday mentally composing what kind of tacos I would make for dinner. Some days you just don't have time for that. Bake some chicken thighs, slowly wilt a green vegetable and mash the crap out of a starch. Don't over think it. Because at the end of it all, the most important thing is sitting down together and enjoying the meal. These two side dishes are my absolute favorite right now. They're both so easy it hurts, very healthy and all you have to do is add a protein of your choice. How easy is that?
BRAISED KALE with GOLDEN RAISINS,
PINE NUTS and SHAVED PARMESAN
1 bunch kale
1-2 tablespoons olive oil
2 cloves garlic, minced
1 ½ cups chicken or vegetable stock (approx.)
Juice from ½ lemon ¼ cup pine nuts, toasted
¼ golden raisins
Parmesan cheese
Salt and pepper, to taste
Let's just address the fact that kale is really having a moment right now. It's also, in my opinion, kind of gross raw. I love, love, love it braised or gently roasted, though. It feels less like a punishment and more like a nourishment. This recipe serves 2, if you're cooking for a crowd keep in mind kale wilts down substantially, you want to purchase about one bunch per 2 people.
To prep the kale:
tear leaves off of their thick stems by holding it at the root end and ripping up, with gentle force. Then, rip the leaves into smaller pieces and wash thoroughly by soaking in cold water, draining once, soaking again and either giving it a spin in a salad spinner or towel drying a bit.
In a braising pan or Dutch oven (i.e., something that works on the stove top, with a lid that fits) heat olive oil over medium heat. Add garlic and sauté for about a half a minute, until fragrant. Add kale and stir together, then pour in the chicken stock until it comes just about an inch up the side of the pan. Clamp the lid on and let the kale braise for about 12-15 minutes, lifting the lid and stirring about once or twice. While the kale braises, toast the pine nuts over low heat in a non-stick pan, squeeze and strain your lemon juice and measure out the raisins.
Raise the lid and add lemon juice and golden raisins. Return the lid and let cook another 2-3 minutes, until the kale is quite wilted and cooked down. Remove the lid and let cook another minute or two to allow most of the residual cooking liquid to evaporate. Remove from pan and scatter pine nuts over, then use a vegetable peeler to shave parmesan on top. Serve immediately.
MASHED SWEET POTATOES
with BUTTER and COCONUT OIL
1 large sweet potato, peeled and cut into large chunks
½ tsp. coconut oil
½ tsp. butter
Kosher salt
Black pepper
In a stock pot or sauce pan, cover potato completely with cold water and bring to a boil over high heat. Remove lid and let cook until potatoes are completely tender when pricked with a knife. Remove from heat, strain off water and return potatoes to pot. Add coconut oil, butter, a generous pinch of salt and a few cranks of pepper. Equal parts butter and coconut oil, plus the right amount of salt make these potatoes taste creamy, a bit tropical and sweetly decadent. I am legitimately obsessed. I want to turn these into pancakes and falafels and pretty much anything else where they might fit.
Use a potato masher or pulse with an immersion blender until smooth. Serve immediately with another small sprinkle of salt and pepper.