Riiight, so it's Wednesday. In my last post, I said on Monday I would finally write about the Taste of Chicago. Welcome to my web of lies. Please forgive me. I'm going to try to get us all back into the trust tree. A few weeks ago, a few of my very favorite ladies and I went out to the Windy City to check out the Taste of Chicago. The Taste is apparently the largest food festival in the U.S. Basically, for us girls, it was an excuse to check out a (mostly) new city and eat our way through it. The event of the Taste itself was just our jumping off point. We planned on stuffing ourselves in every corner of the Windy City and we did just that. Deep dish was in order:
which we found at Gino's East. I am aware that Gino's is a bit of a tourist trap. I also know that we most likely could have found better deep dish or stuffed pizza in outer lying neighborhoods (I had my eye on Baccinos in Lincoln Park in particular). Deep dish pizza in a city known for deep dish pizza. These are the sorts of things I research extensively. But we happened upon Gino's our first afternoon there. We were starved and they have a very cute looking roof deck (not to mention a line around the block). The pizza was good. It was not life changing in any way, and, combined with two pitchers of beer on a hot sunny afternoon, left us feeling a little bit destroyed. We ordered a small cheese and a medium sausage. This was more than enough food for five of us. The sausage had a patty on top that was the same diameter as the whole entire crust. This is intentionally done so that you get some sausage in every single bite (heart attttaaack).
That night we headed out for a light dinner and some heavy drinking. Tavern on Rush had come highly recommended from few friendly people we had spoken with over the course of our day, so we headed there to start the night off. I had an incredible dirty martini. I prefer mine filthy with olive juice, so that it's more like taking a sip of sea water than vodka. They served their's with blue cheese stuffed olives. Holler.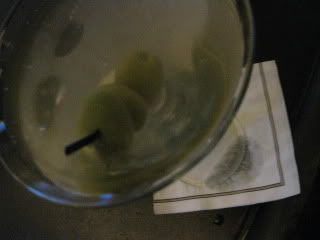 After our fancy martinis we retreated to a table outside. It was great people watching and conversation but the food there was pretty horrible. Not to mention the fact that we had a rather aggressive waitress who kept trying to remove drinks and wine glasses before we were finished with them. For shame. Due to our deep dish hangover, we opted for a few appetizers and salads. I ordered a warm vegetable salad with melted asiago. It was one of the worst things I have ever gotten at a restaurant. The veggies were all over cooked and came on a bowl of wilted spinach, drowning in a pool of greasy melted asiago. It was something I could have made myself at home about 1,000 times better. Fortunately Sunday night wasn't about food, it was about fun and we had that: lots of it. A few cocktails, some giant jenga at a divey bar and few million creepy dance moves later, we shuffled home to our hotel and hit the hay.
For breakfast the next day, we headed to Yolk. A breakfast spot I had found at some point during my extensive online research of where to eat in Chicago. Yolk was amazing breakfast and dammit if I don't love me some breakfast. I had the eggs Benedict, the house special, and they were fantastic.
Amongst all the yelp rants I read about how bad the Taste is, I found one girl's suggestions for getting the most out of your visit. It is so totally helpful when people use yelp to offer suggestions and tips rather than solely as a forum for bitching. Following her directions, we cruised through at lighting speed. Is it crowded? Yes. But we went on a Monday and barely waited in line at any of the food stalls. Most of the gripes I saw were made by people that live nearby saying that it completely screws up traffic and overcrowds the area and makes that part of downtown thoroughly unbearable for a dull week. I dunno if you have been to Chicago ever, but have you SEEN how wide the avenues are? I kind of want to take those people and put them behind the wheel of my car two weeks ago when I had to navigate through the North End on the Friday night of the Tall Ships Weekend. I'll show you crowded streets you whiny Midwesterners! ANYWAYS, we easily snuck in the back side, bought our tickets (they come in rows of 12 for $8 each. We each got two rows and it was more, much more than we even needed. At the Taste each food stall offers full size portions of a few things for about 6-9 tickets and then two "taste" options for about 3-4 tickets. The taste options are perfect for sharing, everyone can get a good bite that's interested. Straight away Val purchased herself a deep fried, barbecue saturated turkey leg that was the size of an adult human's femur. It was bigger than her head!
So that kept her quiet and occupied for the next hour and 45 minutes, while we went on to sample Jamaican style goat with jolie rice, mustard fried catfish, beef and cheese empanadas, homemade potato chips with hot sauce, Chicago style hot dogs, Taiwanese shining noodles, chocolate and banana egg rolls, churros, chicken kabobs with a mango chummichurri sauce, curried fries with date chutney, homemade fudge, chocolate covered strawberries and a chocolate dipped frozen banana. Hello, diabetic coma. It was total gluttony and I felt greasy and stuffed afterwards. I would love to say that I was floored by the food but honestly the best thing (in my opinion) was the frozen banana. And that's weird because if French fries and anything chocolate had a battle for my heart, it would be a no contest match up with fries sweeping the series. I am all about the savory. I do love me a sweet after dinner, but I could easily live without. Everything felt heavy and under seasoned, but I will say that some of things were inspiring. First, I was really proud of myself for going for the goat instead of the jerk chicken and second, the mustard fried catfish did taste really incredible but I was sicked out by the fact that there was black-blue catfish skin in it. Erica, a hot dog connoisseur of sorts, really loved her Chicago style dog, which is piled on a seeded roll with pickles, tomato, lettuce and some sort of spicy green peppers that are dyed a color not found in nature. The peppers turned me off as I tend to shy away from foods in the fluorescent category, but I will say it did taste alright. Regardless, she loved:
Once we were sufficiently feeling ill, we strolled through Millennium Park, which may be one of my favorite urban spaces ever. From the wildflower gardens to the shiny silver bean (Anish Kapoor? I believe) to the intensely cool Crown Fountain we drank in the scenery and attempted to digest the ridiculous food extravaganza that we had just consumed.