The food contingent in my family is pretty competitive. Not outwardly so, but we all love to eat, love to drink and love to try making new things. Great dishes are praised and talked about, bad dishes gain you notoriety. The end result of this healthy obsession with good food we all have is that we all eat very well when we're together. But the shared enthusiasm can at times create a mildly competitive atmosphere. My mom almost throttled my dad one time because he told her- after eating a warm crab dip made by my cousin Jenny- that she was being usurped as the family's number one chef. My Aunt Linda is still trying to live down a dry chocolate cake she baked in the mid 1980's, despite 10 plus years of subsequently moist baked goods. This is the environment we, my sister, cousins and I, are coming into. We want to carry the torch, but we're not sure if the veterans like Piz will singe us with it as we try to grab it from their hands. My "Aunt" Sally doesn't help things. I feel like she could teach the Barefoot Contessa a thing or two about making cakes. She once made a tuxedo cake that caused me to ask her to politely leave the party, because the very existence of that cake in the universe is extremely dangerous to the continued maintenance of my goal weight. Sally also makes a hot fudge sauce that could best be described as molten brownie batter often provides us with a signature cocktail. This year is was blueberry mojitos with ginger simple syrup.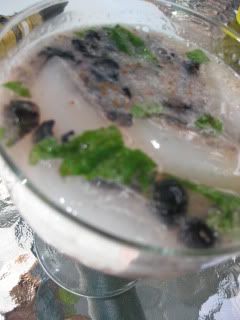 She also brought brownie pops and pistachio blondies which were made with pistachio butter that she had leftover from making some pistachio ice cream. Sweet fancy Moses.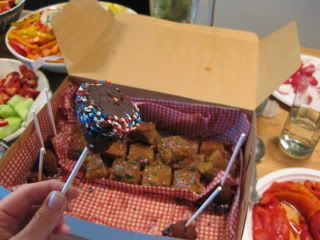 Then there's my cousin, Sallyann, who puts the rest of us in the younger generation to shame. Last year for my mom's 60th she was in charge of the appetizers. Since Heather and I were planning the whole menu we received an email from her detailing her contribution- antipasti spread that could rival any at a fancy rustic Italian restaurant and an herb infused vanilla lemon cocktail which I am still drooling over one year later. With so many talented cooks at the counter, everybody wins. But that doesn't mean that there isn't a bit of competition. Even when we are gladly stuffing our faces, we still want our dish to be the standout. My mom spent most of the dinner hour demanding people tell her which potato salad they preferred, hers or Linda's. A wrong answer yielded a verbal assault and schooling on how cooked potatoes should properly be for a good potato salad.
My sister and I came clean to each other long ago that the best thing about cooking food for other people is the attention that inevitably comes along with being the cook. The praise for delicious food is one of my life's great joys. So naturally, when we decided to tag team the assignment of "appetizer" for my aunt's 4th of July party, we were looking to impress. We decided to make a summer salad found in this month's Gourmet. The original recipe included marinated grilled chicken; green beans with almonds in a vinaigrette; grilled, marinated mushrooms; tomatoes with fresh pesto; a cucumber radish salad; and, a chickpea and mint salad. It all seemed like pretty straightforward preparations and we thought bringing a healthy but fancy appetizer to the table would be a good thing. Our first modification was to nix the chicken. Upon arrival at Trader Joes we found ourselves performing the standard "okay they don't have this, let's just get this" dance, that I more often then not find myself performing in the TJ's produce department. Radishes were out, as were tomatoes. We figured if my mom already had tomatoes we would use them and we would just use red onion in place of the radishes. We would include a jar of store bought roasted red peppers to add a little color. We made our substitutions quickly and with precision. Frankly, it had taken us WAY too long to drive over there; we were absolutely refusing to go to any other store to get even one more item. And perhaps most pressing of all, there were cold beers, BLTs and episodes of Mad Men on demand waiting at home. We figured with the groceries bought and ready to go we would whip together our food in the morning and have time to take a walk before heading to Linda's at noon. What happened in the morning instead was four chaotic hours in my mother's viciously unorganized kitchen, involving chopping, dicing, blanching, brining, grilling and at least two accidents, the details of which I will spare you of here.
Okay, now let me just take five to tell you about the "breadsticks" and by "breadsticks" I mean three varieties of bread product we decided would accompany our platter of veg.
Originally, we had designs on making breadsticks out of pizza dough. Said dough which was to be rolled into artful twists with an herb mixture and some parmesan. As I read the excruciatingly detailed instructions for making the twists Heather waved her hand cut me off and said "No. Just no. No, okay?" We decided grilled pitas would suffice. We also grilled the pizza dough we had on hand, coating the hot dough in the herbs and cheese mixture. Oh, and used a random can of Pillsbury crescent rolls we found in my mom's fridge which we also jazzed up with the herbs and cheese. What ended up accompanying our veggie platter was a bread flight of sorts. Don't like chewy undercooked pizza dough? Well, try a crescent roll with herbs jammed in it. If that doesn't suit you, then go for the crunchy grilled pita (which are only really good grilled when they are fresh and hot otherwise they end up chewy as all get out). The whole bread aspect of this meal was like a bad episode of Semi Homemade.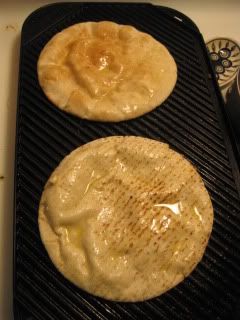 After this marathon cooking session we found ourselves driving over to the party, platter of food in the back feeling less than triumphant. Heather dismissed our failure as essentially "Crudités on crack" because for all the hours, all we really had was a bunch of different vegetables on a plate with nary a cheese or dipping sauce in sight. Virtually every vegetable was prepared in a different, time consuming manner. On the original recipe there was no denotation of how long this was supposed to take us. After our experience we concluded that if the magazine doesn't tell you how long it will take you to make something your best estimate is approximately four to five hours of backbreaking labor.
As we hashed over the ridiculousness of what had just happened to us in the kitchen Heather was like "wait, what did you do to the cucumbers?"
Me: I pickled them I think. But like, fast.
Heather: You pickled them. You flash pickled cucumbers. What the hell were we thinking?
At least it looked pretty.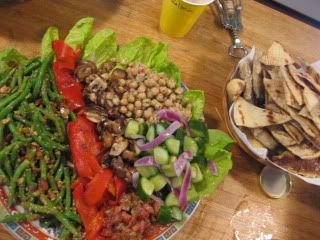 For all of the effort I would like to tell you crudités on crack was a runaway hit, but alas, it was not. It didn't help that it was c-o-c was put out at the same time as the cheese and crackers plate and piping hot grilled kielbasa. Veggies will never beat meat and cheese. It's sad but true. I need to learn my lesson with my family and just bring pigs in a blanket like I did on Christmas Eve. I can't tell you how tragic it is to me that my most successful culinary contribution to a family get together from the beginning of the world to this date is pigs in an effing blanket. Those things disappeared while still steaming and almost caused a fist fight.
All in all it really doesn't matter that our vegetable platter went over like a lead balloon. We still had many cocktails, hours of sunshine, loads of fireworks, burgers, dogs, Grand Old Flag singing (wish I was joking) and dessert!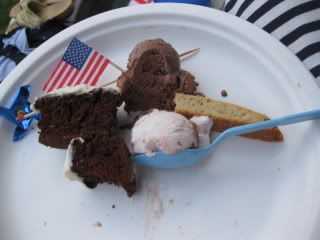 (L-R: chocolate cupcake, chocolate and strawberry ice creams and cinnamon biscotti)