This soup is like a big hug for your belly. It's filling, soothing and comforting yet totally January appropriate, because it's very low calorie. I saw a few recipes for "detoxifying" soups online over the past few weeks. Apparently, I'm not the only one that feels like Chunk from the Goonies following all of the holiday excess. A contributor on
the Kitchn
made a potato and roasted garlic soup.
David Lebovitz
made a version with potatoes and leeks. They both sounded delicious, cheap and easy and since I like soup but I
love
complex carbohydrates I decided to try a variation of my own.
I wasn't interested in a roasted garlic soup because well, I was making roasted garlic white bean dip this same night to take to a dinner party the next evening; and, roasting and consuming over four heads of garlic in a 48 hour period would be rude not only to my boyfriend, but pretty much anybody within a five mile radius of me during yoga class. So I sat there, befuddled, in an extremely crowded and annoying Trader Joes produce zone and grabbed for the scallions. Why not? Right? Leeks are awesome, but truth be told, they are a lot of work to clean and I feel like whenever I set out to cook with them, the store never has the suckers. Scallions are small and tidy and they are essentially onion-ish, like leeks, and more importantly in this case they were immediately available. Sold.
This soup was so easy to put together I have to admit I had my doubts about it. I thought surely something with this much potato would end up a little bland. I thought it would necessitate a heavy dose of salt when served. I thought these five piddly ingredients surely can't make something bowl-scraping good. I love it when I am wrong about things like this. The scallions rounded out the flavor and making the end product really full bodied and savory. It's exactly what I hoped it would be. Low on calories, but high on satisfaction. I really love the flavor the scallions added. Sometimes a poorly stocked produce department can be a blessing in disguise.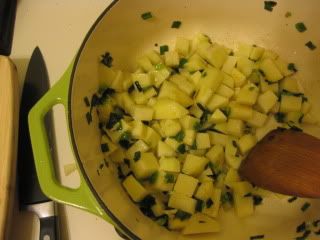 POTATO SCALLION SOUP
One bunch scallions, fuzzy ends discarded, chopped
Two large potatoes (I prefer russet), peeled and diced
3 small cloves garlic, minced
3-4 tablespoons olive oil
3 cups chicken stock
Salt and pepper
Heat olive oil in a large Dutch oven or stock pot over medium heat. I used a couple good glugs, since the oil is the only fat in this soup and I didn't want my scallions to burn or stick to the pot. Add scallions and sauté until fragrant, a few minutes; add garlic and sauté, stirring constantly for a minute or two. Add potatoes and stir everything together to coat potatoes with oil. Add another drizzle of oil, if necessary. Pour in your stock. I used a bit more than 3 cups, as long as your potatoes are covered, you're all good. Add a generous sprinkle of salt and pepper. Turn heat up to high and let boil until potatoes are cooked through, about 10 minutes, depending on how small you diced them.
Check a chunk of potato for tenderness. When potatoes are nice a soft remove from heat and blend soup with an immersion blender.
Alternately, you can puree this in batches in your blender, just be very careful, because it's super hot and hot liquids expand when pureed. Return soup to pot and off heat stir in a few tablespoons of half and half.
This is totally optional, but I liked how it turned my soup a nice pale moss green. Serve immediately garnished however you like. I used chives and a dollop of Greek yogurt, but I found the yogurt totally unnecessary. Crème fraiche might be nice though or some parmesan croutons or nothing at all. Yields about 6 servings.
I fixed this soup for myself with a big arugula salad topped with prosciutto, goat cheese,
sherry vinaigrette
and a poached egg. Every time I took a bite I did a small dance of victory. Best dinner I've had in a long time.