A word about bananas and me. We have a tempestuous history. It's not that I don't like bananas it's just that well with me and bananas,
it's complicated
. It's like bananas are an ex boyfriend that I remain tied to like maybe we have a kid together; or, at the very least a shared cat or a Netflix account that was never properly closed out. I do not like bananas but I love banana flavor. Banana pudding? yes. Banana cream pie? yes. Banana oatmeal cookies? yes. Banana ice cream with hot fudge sauce? good god, yes. But when it comes down to the real deal, I simply can't. Paul assures me that this makes me a completely weird person. "What kid doesn't like bananas?" but I simply don't. And it's not for lack of trying. Every few years I'll grab a banana convinced this aversion will have mysteriously disappeared into the ether. I will focus my intention as I peel the yellow skin (and I do love peeling them) "mmmm, I like bananas. I do" And then I take two bites and gag on the second. And…adios, banana. Lying to yourself never works.
So what does a gal do when she hateth bananas but loveth banana flavored goods? She buys a bunch of bananas for the sole purpose of letting them brown on her countertop and eagerly waits until Sunday afternoon when she can make a honking loaf of banana bread with chocolate chips. Yeah, that's right. Chocolate chips. You can thank me later.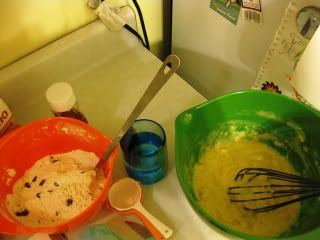 I already loved Molly Wizenberg's book A Homemade Life by the time I got to her recipe for banana bread with chocolate and crystallized ginger (and it's like, the third recipe). When I read her brief history of her own childhood aversion to bananas I thought "just like me!" Although, hers was more of a phobia, mine was, as with all past bouts of picky eating, a textural thing. The irony is not lost on me that the very thing that makes me not want to eat a banana plain- i.e., their mushy texture- is the exact quality that makes banana themed baked goods so damn good.
This bread for me is not without regret. I regret to inform you that even at two separate grocery stores, I could not locate crystallized ginger. So instead of driving myself crazy with another errand I decided to skip the ginger altogether. I added a few shakes of dried ginger into the dry ingredients, but truthfully, I don't think it did a damn thing, but I do think the crystallized ginger would have made this bread transcendentally delicious. I suggest you make this bread as Molly directs. Because when it comes to baked goods, this chick knows what she's talking about. She baked her own
wedding cakes
for Christ's sake. Someday, maybe I will have the skill to be a baking powerhouse of this level, but for now, I'll settle for the banana bread.
BANANA BREAD WITH CHOCOLATE AND CRYSTALLIZED GINGER
(from A Homemade Life, by
Molly Wizenberg
)
6 tbs. unsalted butter
2 cups unbleached all purpose flour
¾ cup sugar
¾ tsp. baking soda
½ tsp. salt
¾ cup semisweet chocolate chips
1/3 cup finely chopped crystallized ginger
2 large eggs
1 ½ cups mashed banana (about 3)
¼ cup well stirred plain yogurt (whole fat)
1 tsp. vanilla extract
Preheat oven to 350. Grease a standard loaf pan with butter. Melt the butter, either in the microwave, on medium heat, in intervals, or, as I did: in a heat proof bowl placed in the preheated oven. It melted while a mashed the bananas and I didn't have to worry about the inside of my microwave looking like some sort of butter coated murder scene.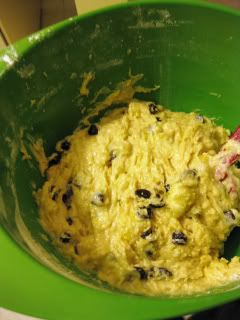 In a large bowl whisk together the flour, sugar, baking soda and salt. Add the chocolate and ginger and stir to combine. In a medium bowl, lightly beat the eggs, add the mashed banana, yogurt, melted butter and vanilla and stir to mix well. Combine both the wet and dry ingredients in the larger of your two bowls and stir to combine. Do not overmix. The batter is thick and lumpy, but all of the flour should be incorporated.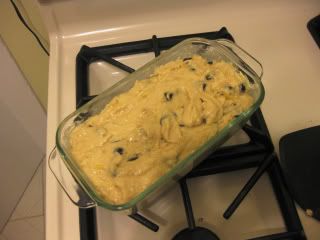 Bake 50 minutes to 1 hour. I checked mine at 50 minutes and it needed another full 10 minutes. Do the toothpick test. When it comes out clean your loaf is cooked. Eat a slice of this while it's still warm, fresh out of the oven. Or, alternatively, choke down another slice a few nights later as you watch a republican senator win Teddy Kennedy's senate seat and try not to have a panic attack at the fact that our state, the one state with health insurance reform in effect at the state level may have just screwed the pooch for everybody else in the country because the democratic candidate didn't know who Curt Schilling was. Sweet, delicious banana bread: mandatory, bitter political aftertaste: optional.