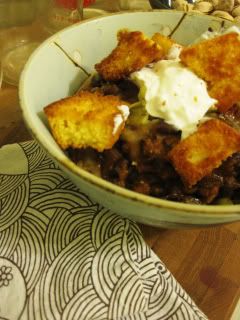 One of the easiest things ever. Perfect for over hyped snow storms that do not produce early releases or delayed start times. Takes about 25 minutes, with 15 of it "unattended." By unattended in my case, I mean, in the bathroom putting your makeup on.
for the chili:

Olive oil
1 onion, chopped
3 cloves garlic, minced
3 cans black beans, drained and rinsed
1 can crushed tomatoes
2 tbs. cumin
1 tbs. chipotle puree*
1 tbs. vinegar (the original version I saw rec. rice vinegar, I used sherry)
salt, to taste
Sauté chopped onion over medium high heat in olive oil. When onion is translucent, add garlic and sauté about two minutes more. While onion is cooking, drain and rinse black beans. Add black beans and crushed tomatoes, along with the cumin and a pinch of salt. Lower the heat to a simmer and let the flavors meld for about 15 minutes. Meanwhile, make chipotle puree but tossing a can of chipotle chilies in adobo in your food processor or blender. Measure out one generous tablespoon (I like-a the spice), store remaining chili puree in a container and freeze for future use (I'm thinking enchiladas). Stir chipotle puree and vinegar into chili. Salt to taste.
for the croutons:
Cut leftover cornbread, or mini cornbread loaves into crouton-sized rectangles. Lightly spray cookie sheet with olive oil. Place croutons on sheet and lightly spray their tops with olive oil. Bake at 350 for about 15 minutes. Turning over halfway through, so the edges are nice and golden brown.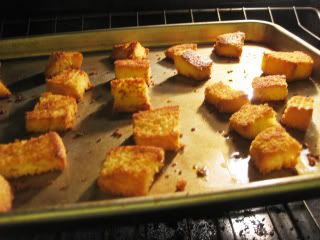 Garnish chili with shredded cheddar, a dollop of sour cream and couple of these little nuggets of heaven. Add more hot sauce if you dare.
Sidebar: wow, I just misspelled "chipotle" about 4000 times. TGI spellcheck.