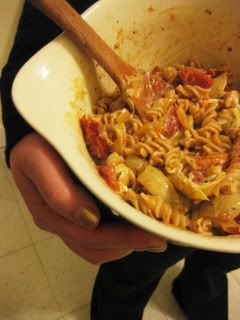 There is a special place deep within my heart for this particular recipe. The first time I ate this, it was prepared on a hot plate, in a dorm room in the Bronx. The pasta water was boiled in one of those plug in tea kettles made for ramen and drained in the bathroom sink. The room was in Martyrs Court, on the Rose Hill Campus of Fordham University, and I was a sophomore in college and more likely than not, probably wearing cargo pants. The meal was lovingly prepared for me by my future roommates, eternal best friends and my pseudo parents, Michelle and Val. Michelle and Val were always good at talking me through difficult things like the housing lottery and registering for classes. They listened to my sob stories when I was bullied out of the financial aid office for the millionth time and they laughed at me when I fell down (both of which happened more often than I would care to remember). They always threw the keys out the window when I buzzed up; they never seemed bothered by the fact that I basically lived in their room. They excelled at dorm living and were unyielding in their efforts to make even the crustiest dorm room feel like home. Only Mish would have ingredients such as goat cheese and artichoke hearts on hand where other college students store crates of Cup O Noodles and granola bars purchased with flex dollars at the Ramskellar. Only Val would have enough appliances and gadgets to make a full blown meal in a suite without a kitchen. I was just glad they were willing to share.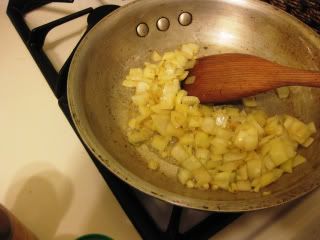 At the time, this meal was a bright spot in a culinary landscape that otherwise consisted of pizza, chicken rolls, bagel sandwiches and malt liquor (not that there's anything wrong with that). Today, this meal still remains a gold standard in my stable of weeknight suppers. This is the kind of dish every person should know how to make. In the time it takes to boil the pasta, the sauce can be completed. It's creamy and tangy with a little kick of spice. It's a satisfying and deceptively hearty meal that is both healthy and vegetarian. It might make people think you are a culinary mastermind when alls you really did was combine a few things in a sauté pan and boiled some pasta. I have subsequently prepared this meal for every new roommate I have ever had, usually in an effort to both satiate their hunger and dazzle them with my ingenuity. It usually works. I think.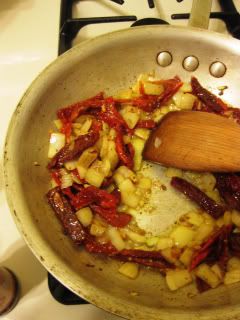 Last night Michelle and I made this dish for dinner and as we sat down to eat, we couldn't stop talking about how good it was and how it always makes us a little bit nostalgic. Every time I set about to make this for dinner I think "ah yes, this old thing" and then I take a bite and I think "damn. Why am I not eating this more often?" It's that easy and it's that good. We recommend pairing it with a simple salad and an episode of The Michael Vick Project on BET. Which for some reason outside of our control, is our new must-watch Thursday night show.
tomato and artichoke pasta with creamy goat cheese
olive oil
2-3 cloves minced garlic
1 small onion, diced
1 can whole, peeled tomatoes in sauce
1 jar marinated artichokes, drained
½ tsp crushed red pepper
1 tsp. dried basil
1 tsp. dried oregano
1 tsp. dried parsley
2-3 ounces goat cheese

Bring pasta water to boil. Meanwhile mince garlic and dice onion, open your tomatoes and drain the artichokes. Heat a few drizzles of olive oil in a skillet. Sauté onion and garlic over medium heat for a few minutes, until onion is translucent. Coarsely chop drained artichokes and add to pan, along with tomatoes in their juices. Once in the pan, mash the tomatoes into bite sized chunks, either with a potato masher or (carefully) with your big knife. Add salt, pepper and spices. If using fresh herbs in place of dried (which is a nice option when it's not February and I actually have fresh herbs) simply up the portion to a tablespoon instead of a teaspoon. Truth be told here, I probably use a good deal more than a teaspoon, but add them to your degree. I add a few aggressive shakes of crushed red pepper and a palmful of the basil, just because I like them both here. Let your sauce simmer over medium to medium-low heat while the pasta cooks. This dish is best with a whole wheat spaghetti or rotini. I also really like to cook it with brown rice fusili, but the rice pasta can be a little mushy so avoid that if you're not down with mushy pasta. Me personally, I am. When pasta is cooked, drain and dump into a large bowl. Add sauce, crumble half of goat cheese over and stir together, add other half of goat cheese and serve. Serve with additional goat cheese, if desired, or some sprinkled parmesan.
Another option with this dish is to add some diced sundried tomatoes. We did this last night and it was great. Just be sure to sauté the sundrieds with the onion and garlic so they have lots of time to soften.