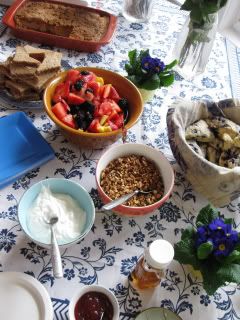 Over the course of my life I have now been to oh, over 20 showers of all different sorts. Most were of the bridal variety but as I lean my elderly bones closer towards the 30 year mark, more and more of these showers are of the wee bitty baby variety. A fact of life is this: if you were invited to the wedding, you're probably going to be invited to the baby shower and if the people you know are like the people I know, they're all going to be squirting out babies in short order pretty soon after the I do's and the mortgage ink is dried. You might get one year of relief in between, but depending on their age when they married, no guarantees.
Baby showers, by definition, are lame. Yeah I said it. My apologies to anyone that feels differently but you need to be careful if you're spearheading an event such as this. Even the most baby-liking among us get a little tired of ooing and aahin over onesies unless they are being fed good food. Almost every single one of my buds that have had one (a baby and a shower, that is) have been like "ugh, I know baby showers are lame, but seriously, I swear, I'm going to have mac and cheese/chicken parm/open bar, so you'll like it."
One cool thing about kicking it with pregnant ladies is this: they are way into meal planning. They can't get excited about a frosty martini, so they transfer all of their cocktail passion and enthusiasm into planning their next meal. I prefer food to booze anyways (by an ever so slight margin) so this kind of constant state of meal plotting is just the kind of lifestyle I can fall into quite easily. You know, to be a supportive sister. I mean, when in Rome, right? Riiiight.
Me, I plan everything around food and with food in mind, so, as you can imagine, my central focus in planning a baby brunch for Heather was this: light on the baby, heavy on the brunch. No pacifier bedecked favors, no bows stapled to paper plates and for the love of God, no baby bingo. We just don't really roll like that in my fam. We roll like this: enough food to feed an army and more mimosas per head than party guests. Upon your arrival to said baby brunch, you will be immediately greeted by an alcoholic beverage and an assortment of snacks. The main course comes shortly thereafter, a brief gift opening sequence is then followed by coffee and cake and then you are freed back into your weekend, to do as you please. Most of you will stay to drink more mimosas, go in for seconds on the scones and catch up and have a cackle. A select few will stick around into the evening when we order enough Chinese food to kill weaker people. Eating like a pregnant lady, I could get used to this.

our menu:
homemade granola (of the porky d variety), fruit and yogurt
sour cream coffee cake (made by my mom)
blueberry scones* (made by me)
spinach and cheese strata with gruyere (made by me courtesy of Gourmet/smitten kitchen)
peanut butter and jelly triangles (for all the kids)
crispy rosemary roasted potatoes (mom)
baked ham (mom)
rubber ducky cake (made by Aunt Sally G., our own family Ace of Cakes)

cocktails y mocktails:
traditional mimosas (by traditional I mean, my way and by my way I mean essentially clear champagne with a whisper of orange juice)
sparkling blueberry lemonade (equal parts lemonade and pure blueberry juice, topped with sparkling seltzer like Poland Springs or Polar)
*these scones were incredible. Yet another stellar recipe from Molly Wizenburg's book. Forget everything you thought you knew about scones, cast aside your memories of crumbs stuck to the back of your throat and dry, crumbly, stumpy scones. These are rich and creamy and moist. I made these a few nights ahead of time, flash froze them, chucked them in a freezer bag and then baked them the morning of the shower. They were still warm when the guest of honor arrived. Let me tell you, you get nothing but love in return when you hand a hungry pregnant lady a freshly baked, still steaming blueberry scone.