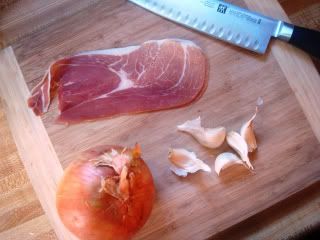 I love that expression. It reminds me of when I was little. It's like a cute G rated way of saying "you're totally lying a/k/a you're full of s#!t." But so cute. "I think he's full of beans!" It almost makes me like the liar in question. I don't know why having a belly full of beans would make you prone to bending the truth. When most people are full of beans they're just more prone to cut one, but hey, liars and farters, the world is full of them. Good thing I'm neither. So this soup is, quite literally, full of beans. I've had this recipe on the brain for a while now and hm, wow, two weeks ago (good lord, we are officially in the holiday time warp zone) I finally worked it up and put it together.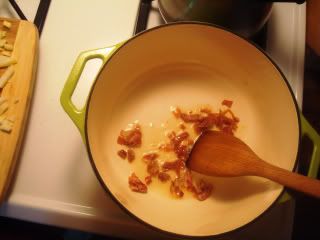 However, we are about to tread into untasted territory. I did not make this soup with the ingredients that are set forth below. I did use the prosciutto, onion, garlic, sage and beans, topping it all off with chicken stock, but I did not use the potato or the wine/vinegar. Or did I? I might have used the vinegar. Crap, I should start writing things down. Anyways…in its first incarnation this soup was very good; however, it was a little too
soupy
. I had visions of a creamy, decadent, yet healthful soup and what I got was, well, not exactly that. It tasted like beans and chicken stock that had seen the business end of an immersion blender. Don't get me wrong, I did eat it and the flavors
were
great and like so many soups it got better as each day went by. So I endorse this soup, I just am not sure if the tweaks I've made to the recipe will work or not. You will have to let me know.
The recipe I'm providing here allows for some thickening by way of potato. I'm basing this adjustment on my experience making potato-based soups in the past and finding them to be hearty, thick and satisfying without having to drop a cup of heavy cream into the mix. There's a time and a place for heavy cream and it's not in my lunch on a Monday, know what I'm saying?
As for the addition of vinegar or wine (whichever you have on hand, really) I believe cooking the solid ingredients down with a bit of acid or alcohol will add another layer of flavor here and due to the large scale presence of white beans- which, admittedly are great, but need work to be really tasty- an extra layer of flavor in this soup is a good idea.
CARAMELIZED ONION, GARLIC and WHITE BEAN BISQUE
2-3 slices of prosciutto, diced
1 large onion, diced; or, 3-4 shallots
5 cloves garlic, minced
Sage, dried or fresh*
½ cup dry white wine; or, a splash of white wine vinegar
1 potato (I prefer russet), peeled and diced
2 cans cannellini beans, drained and rinsed
Chicken or vegetable stock (a 32 oz. container or two cans will do ya)
Salt and pepper, to taste
Splash cream or half and half (optional)
*y'all know that when you use dry herbs you half the amount you're using, right? Dried herbs are a bit more intense (not in a good way) than fresh when it comes to their flavor. In this recipe, if you are using fresh sage, simply mince a few leaves (removed from the stems). If you're using dried, as I did, use about a teaspoon and crush it up into a fine powder in your palm before adding it to the soup.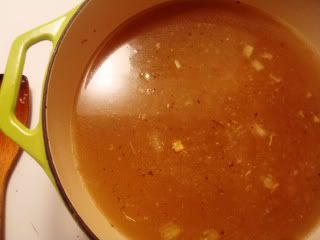 Heat a large pot or Dutch oven over medium heat. Brown prosciutto. Add onions, lowering the heat just a touch. Cook onions for about 20 minutes to a half hour, or until deeply caramelized, stirring often. Add garlic, sage, salt and pepper; sauté a minute longer, stirring constantly, until fragrant. Turn heat up a bit, splash in wine or vinegar and let cook off (about 1 minute for vinegar, a touch longer if you're using wine) using your wooden spoon to scrape up any browned bits on the bottom of the pot. Add beans and potato and then top the whole pot off with chicken stock. Set heat at medium high and let cook about 15 to 20 minutes, or until the potato is completely tender. Taste and adjust salt and pepper accordingly. I used a good amount of salt, but if you are using prosciutto to start the soup, that will give you a nice salty base from which to build on. Lower the heat and let simmer on low until you are ready to serve. Before serving, you'll need to puree the soup completely. If you have an immersion blender, use it to puree the soup to a smooth consistency. If you are pureeing the soup in a blender or food processor be very careful and do so in batches, because hot liquids expand. Once pureed taste again and adjust seasoning if necessary. Just before serving, feel free to swirl in just a bit a cream or half and half, if you'd like. Serve with a big salad or some grilled cheeses. I made a grilled ham and cheese using smoked Gouda and prosciutto. Highly recommended. Also, if you were to omit the prosciutto and make this with vegetable stock it would be a great vegan soup as well.