Sometimes the food speaks to you and tells you what to do with it. I had barely any groceries in my house on Sunday. It was cold and grey and windy outside and all of my roommates (the one human and two kittens) were nestled on the couch reading. Bruce and Bea were reading Dostoevsky and US Weekly, respectively. Me though, I was ansty. I desperately wanted to cook something but I would rather die than get back in the car. My grocery inventory was nil. I didn't even have eggs. EGGS. So I started to putz. I pulled out the remainder of a roasted chicken and began to shred the remaining meat off, so that I could use the carcass to brew up some stock.
I looked over my pile of shredded chicken and said "speak to me" it whispered back in a throaty tone, voice dripping with sex appeal, "Buffalo sauce." Could I? Would I? Checking in with the fridge contents I quickly determined no…Buffalo chicken dip would probably not be happening today; but the ship had not quite sailed. In my freezer I possessed a package of corn tortillas; in my pantry, a can of black beans; the cheese drawer held a sack of shredded cheese, just ready to rock. I also had some sour cream and a gallon sized jug of hot sauce. Somewhere in the background a Mariachi band began to softly play.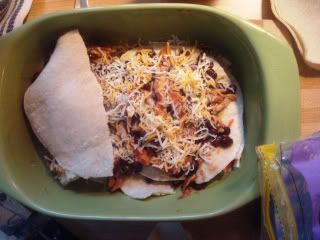 I simmered the black beans with a half can of tomato paste (which you will need to break up to incorporate), a generous douse of cumin, salt and pepper. Then I gushed a whole lot of Frank's Red Hot in. Probably about ¼ cup at least. Then I stirred in the chicken. I layered this spicy black bean and chicken concoction in a baking dish, alternating layers of tortillas, the chicken and beans mixture and cheese until the pan was filled. Then I baked it at 350 for about 15 minutes, or until the cheese was bubbling. It was delicious. Not a groundbreaking work of food craftery, but all the same, a satisfying easy way to utilize my leftovers. Leftovers deserve love too. Even though they seem lame because you have already eaten them, if you repurpose them just slightly, they take on a whole new meaning and get exciting again. It's just like Can't Buy Me Love*, how all she does is rip his sleeves off and add mouse to his hair and suddenly Ronald Miller is a stud. Make your used up nerdy chicken a stud again. Add some mousse. Have some fun.
A real recipe tomorrow.
*I think I have made Can't Buy Me Love references on here before. Clearly that movie had a strong impact on my adolescent sensibilities. I blame the suede fringe outfit. I have always been powerless to fringe.