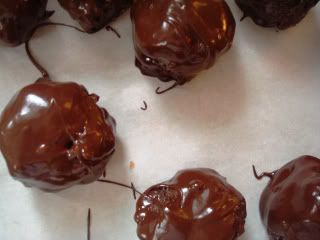 Does anyone else feel like you're living in a time vacuum where everything is either WORK, TRAFFIC or DRUNK? Right. Welcome to December, it's like this every year. For some reason my job, which under normal circumstances allows me adequate time to both Take Care of Business and Slack Off is on Take Care of Business Overload and the lack of time to slack off is not cool; especially since I'm behind on a lot of things, this here blog notwithstanding. But anyways, there's not much we can do now, right? It's December 20th. TWENTIETH. Which means there really is not much time now. This also means it's time for me to remind myself to BE REALISTIC about time constraints and above all, not try and be a hero with the DIY and the home cooked blah blah blah. It's time to get focused, pick up a couple of gift certificates and serve cheese and crackers.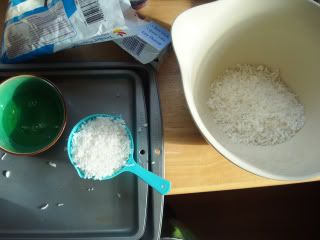 The blogosphere is filled with psychotically talented people that are apparently, far better at time management than I. They are also adept at baking, have nicer handwriting than the average person and have, apparently, limitless access to mason jars. These are the people whose very existence will inevitably make you feel like you are a little bit less-than if you are unable to spin wool, craft artisan cheeses in your basement, make homemade bread for breakfast on Wednesdays while simultaneously weaning your twins off of breast milk and sewing handmade, yet stylish, ties for your husband. These people may or may not be robots and I'm here to tell you that if you are not one of them, congratulations, you probably have a social life and/or human heart.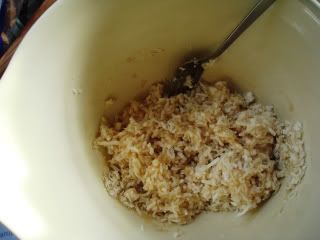 This is not to say that I don't admire these super high achieving domesto-bots, I do, I really wish I could be more like them. Every December I start out the month with big dreams in my head of making seven different types of gorgeous cookies and homemade biscotti, which I will naturally package with organic parchment paper in vintage antique tins and mail out to my friends far and wide prior to December 15th. And then I realize that you know, my regular life will actually still be in existence during this month as well. The pressures of December, in addition to my normal schedule, means that almost every evening in the second half of the month will be a time for Revelry and Merriment. And just to let you know Revelry and Merriment do not often go hand in hand with productivity. At least not at Chez Dickens. Usually they go hand in hand with pizza and Polar seltzer, but that's just us.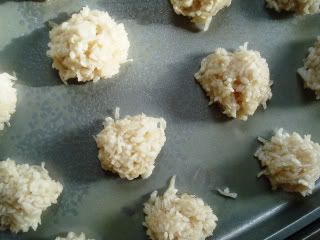 With that being said, and given the content of the remainder of this post, I want to assure you that I am not the type of person who makes homemade candy. I'm not even close to good at making cupcakes, let alone candy. Soup or a savory appetizer, that's a different story; however, this book that I have is completely amazing and makes me feel, at least a little bit, that domestic success is possible without losing your head about it. Her instructions are straight forward and clear, without being overly complicated. I would never, ever, ever have attempted to make candy at my house if it didn't look so dang easy. Admittedly working in melted chocolate is messy, and you have to stay focused and work quickly for a bit, but seriously, you could do this! And the candy? So good! Now I won't be signing the lease on a chocolate factory any time soon but I will definitely make these candies again. Honestly, it's such a simple recipe I can remember it off the top of my head*. You really can't get much better than that now can you? If I can do it, you can too. So let's do it together shall we?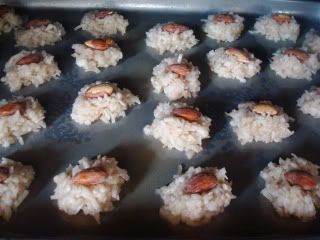 BITES of JOY (alt. name COCONUT ALMOND DELIGHTS-don't want to get sued)
2 egg whites
½ cup sugar
1 tsp. vanilla extract
½ tsp. kosher salt
2 cups sweetened, flaked coconut
Roasted, salted almonds
2 cups chocolate chips
You will also need: a baking sheet for cooking the coconut and almonds on, as well as one or two baking sheets lined with parchment paper for your finished chocolates.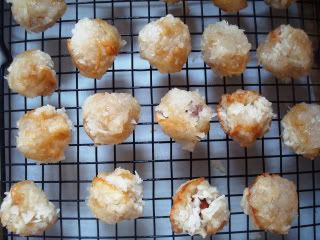 In the book, she made small candy bars. I wanted smaller portions, so I made little lumps, which I eventually turned into balls (snicker).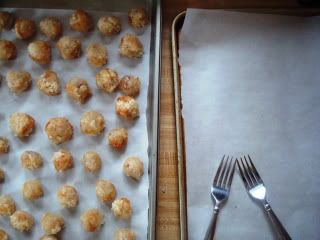 Preheat oven to 350. Combine egg whites with sugar, vanilla and salt. Blend together well with a fork or whisk. Fold in coconut. Lightly oil a baking sheet. Using a teaspoon and your hands mold the coconut into small rounds, about the size of a 2 teaspoons. Press an almond into each round. Bake for about 10-13 minutes. Checking on them after the 10 minute mark. When they start to brown ever so slightly on the edges, take them out. Let cool on the pan for about 5 minutes. At this point in time, I realized mine looked ugly, jagged-edged and difficult to roll in chocolate, so I decided to work them into balls, rounding out the coconut with the almond in the middle. Because coconut has a lot of natural oil, this was easy to do without getting my hands super sticky but make sure your balls have cooled enough to handle without burning your hands. You want them still a little warm, so that they are pliable. I then placed my balls (Hee. How many times can I type that in one post?) on the cooling rack and let them cool completely. When the balls were room temperature, in a microwave safe bowl, nuke your chocolate chips on high for 1 minute, then stir well with a fork to distribute the heat, microwave another minute, stir well, microwave about 30 seconds more and stir well again. The chocolate should be silky and fall from the edges of the fork like a ribbon. Mmmmm, silky chocolate ribbons. Using two forks as your implements drop each ball into the melted chocolate and roll to coat completely, lifting the ball out of the chocolate and placing it on to your waiting parchment paper. Continue with each ball until all are coated in chocolate, stopping to microwave the chocolate for another 30 seconds or so and stir it well if it gets too thick. Let sit at room temperature, cooling and hardening completely for 4 hours.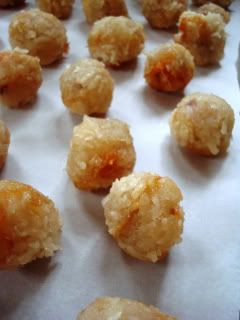 They are completely delicious. If I knew making homemade Almond Joys was as easy as microwaving chocolate and being willing to get a little sticky, I would have made them years ago. They are so good I almost wish I could un-learn this, because these strike me as pretty dangerous to have around the house. Fortunately, mine are going to be given as gifts before the week is done.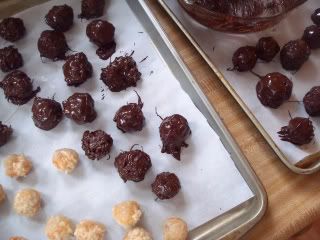 *if there are any mistakes, then you know why. The top of my head is not exactly super bright right now.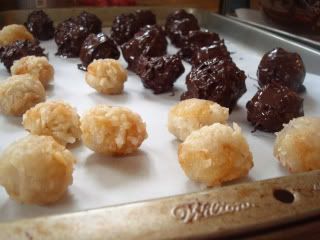 And for those of you that are interested in this kind of project. This is the book. It's seriously amazing: