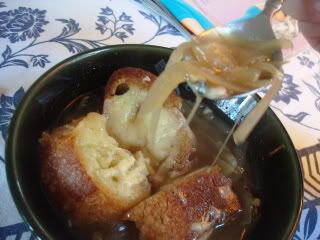 I'm not even close to ready to describe to you guys the massive failure that was my Thanksgiving Pie. For right now, I will just let you know that my cheeseball was a resounding success (cute, right?)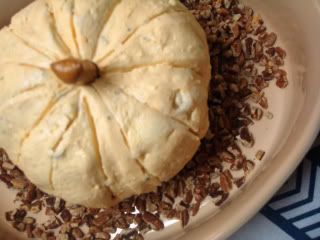 ...and that I made French Onion Soup and you should too.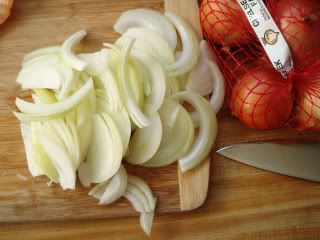 It's so easy. Not like the pie (cracks knuckles, makes angry fighting face).
I used Julia's recipe. Because, I mean, who else? And it was seriously a cinch. The only issue is that you will be peeling, slicing and cooking about 3 pounds of onions. So protect yourself and be prepared. I wore safety goggles, which started out as a joke but clearly became very necessary.
(don't mind the mega greasy hair and myspace face. I was obviously joking)
Because when Paul came downstairs he started weeping an ugly cry because our whole house was like a World War I trench flooded with tear gas. The cats retreated to the third floor with tissues and gasmasks. We had to open all the doors and turn the fan on high.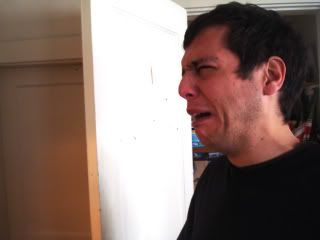 But the good news is once you add the wine and the stock the pungency and eyeball torture tempers down a great deal.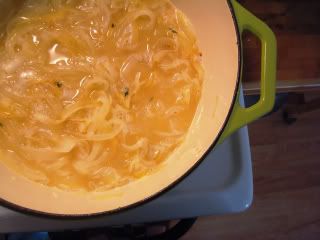 And the soup. Good Lawd, the soup. It was so delicious. I ate it for lunch that day and several other days this week. I even ate it without the bread and cheese because it was that rich and delicious and good god, I mean, who the heck eats onion soup without the cheese, the whole point of the soup is usually because it's a good excuse to nosh down on a half lb. of melted cheese, right? Seriously though. That good.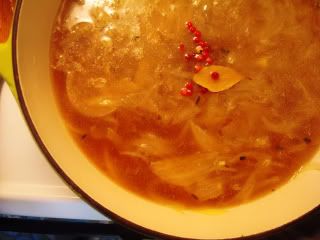 FRENCH ONION SOUP
2 tablespoons butter
¼ cup olive oil
3 lbs onions, halved and sliced thin
2 cloves garlic, minced very fine
1 teaspoon granulated sugar
2 cups dry white wine (I used Sauvignon Blanc)
6 cups beef stock (I had to round this out with about one quarter chicken stock. It worked fine)
salt and pepper
1 Turkish Bay Leaf (optional)
1 few pink peppercorns (optional)
Toasted slices of French baguette
Olive Oil
Grated gruyere
3 teaspoons grated Parmesan
In a large saucepan over medium heat melt the butter and oil together. Add the onions, garlic, and sugar. Sauté until slightly colored, stirring occasionally (don't stir too much -- you want them to brown) for about 10 minutes. They won't be completely caramelized, but they will have cooked down a bit.
Add the white wine, raise temperature to medium high, and bring to a boil. Lower temperature back down to medium and cook for 5 minutes. Add the stock, raise temperature to medium high and bring to a simmer. If using, add the peppercorns and bay leaf. Lower temperature to low and simmer uncovered for 90 minutes.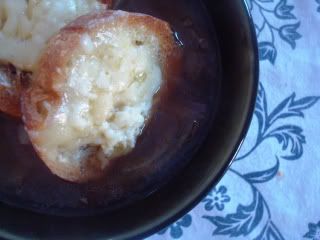 To serve, ladle the soup in oven proof bowls, float one or two slices of baguette on top and cover with grated Gruyere and a sprinkle of parmesan. Place under the broiler until the cheese is melted and bubbling and browned in some spots. Watch closely, all broilers operate differently and you don't want to light the bowl on fire. I don't own any oven proof bowls, so I simply brushed my baguette with olive oil on both sides and toasted each side, then I placed the slightly browned slices on tin foil, topped with Gruyere and parmesan and toasted them to melt the cheese. I then placed them on top of my soup. Delicious. Bon Appétit.
Two more quick things: I cannot tell you how it pained me to the depths of my very soul to use two whole (drinkable) cups of white wine in this but c'est la vie. It does make the soup totally delicious. Second, this is one of the cheapest things ever to make. A bag of onions and beef stock, pretty much the only thing you need besides the wine (but you probably have a bottle kicking around, right? Or would like an excuse to purchase wine and drink the leftovers on a Saturday afternoon, right? Don't worry this is a judgment free zone, boo).