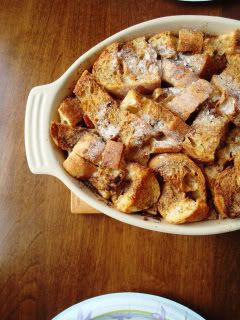 I haven't been hosed by a recipe like this for a long time. When I saw this French Toast Casserole Type Thing online a few weeks ago, I almost died. Cinnamon, pancetta, ciabatta? Check yes for all three. I used the best ingredients and was completely and totally convinced that it was going to be the Most Epic Brunch Dish Ever. Which is saying a lot because you know how I feel about brunch.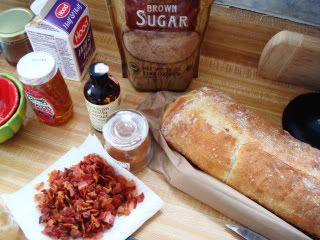 The pairing of salty and sweet is my favorite. I will always lead with the savory, because that's just the kind of girl I am, but if I'm out to breakfast with a group, I might be the first to suggest that perhaps we get a chocolate chip pancake? You know? For the table.
So I saw
this recipe
and I was pretty much convinced that it would change my life. I love, love, love cinnamon toast. I also adore bread puddings and essentially, to me, this was what I was looking at. A breakfast bread pudding with crumbly, salty pancetta in between the cinnamon-sugarey layers.
But what about it? I wouldn't be including all this dark culinary foreshadowing for nothing, now would I? This thing sucked. I was SO bummed. SO bummed. It was three weeks ago and I'm still not over it.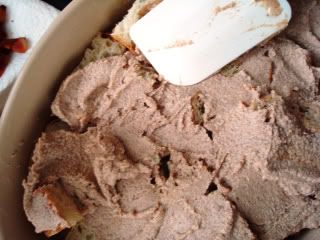 I prepared it the day before, as was suggested and as I was making it, huffing crisped pancetta and deep, delicious Vietnamese Cinnamon, I was LIT-rally dancing in my kitchen going "oh no you di-in't" out loud to myself (it's not a pretty picture, but it's an honest one). I was BEYOND convinced that this would be delicious. Even though there was ricotta cheese in it. Which I do not like at all. I figured, it wouldn't take precedence what with all the other delicious elements happening.
So with great care, I prepared, wrapped up and dropped my casserole at my girlfriend's house, who was hosting brunch the next morning. I was fully prepared to have a show stopping breakfast the next morning, with the inclusion of this dish.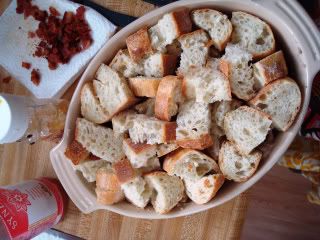 And it was dry and salty and just lacking, really. There was LACK. I wanted to be soothed with sweet cinnamon sugar melty-ness with just a hint of crispy pancetta but instead I was all (bogus face) "this is SALTY. And dry." And I was devastated. Fortunately there was a ridiculous lemon danish and three type of quiche for me to drown my sorrows in.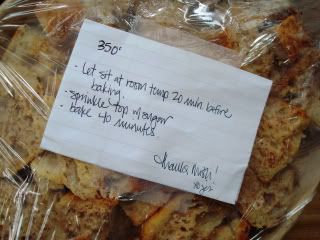 So this week's post is just a lame lesson that some recipes are just duds. Although this one's mere existence has inspired me and I know that with some tweaking, the breakfast vision I had can be fulfilled. Stay tuned.