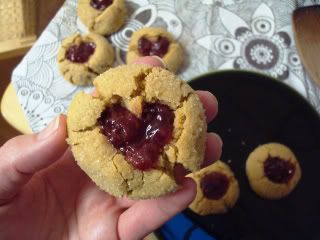 Us girls can all agree on this phenomenon I think. Maybe dudes too. When you are single and just sort of maybe kind of starting to date or be interested in someone, within your circle of friends, they immediately get a code name. Right? Think about your significant other, or any ex significant other, I bet you 20 bucks that at one point in time they had a nickname based on a noticeable physical characteristic or perhaps their career choice or where you met him or her. For every actual relationship there has been a 16 Ounce Hazelnut, Ski Boyfriend or a Silver Fox. This is a safe way of speaking about them without getting too attached yet squarely identifies them as a Person of Interest.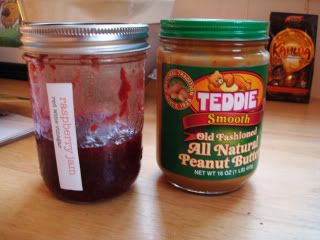 I met Paul online. I know, right? Yes, we did. Why not? I use the internet for everything else; why not use it to land me a Good Man? And we met on a website that required you to have a screen name that wasn't your full regular name or actually anything close to it. I guess that was for um, safety reasons or anonymity or whatever. So I had joined mostly to entertain my married roommates and wasn't taking it too seriously, which was working out just fine because there was no one really all that interesting on my list of compatible suitors. And then one afternoon I came across LetsEatPBandJs. He was cute, funny, in a band, had a job, was two inches taller than me and closed out his profile with a joke about Tony Danza. I was intrigued immediately. I sent his link to my roommate, Aja. "I kind of love this guy for you!" she wrote back. I wrote him a message, he wrote back, I wrote back, he wrote back, I gave him my phone number, he called me the next day, we talked for about 45 minutes I think about Halloween costumes and hair bands (what?) and the next day we met for brunch, coffee and a long walk. It was our first date and it was good, so we went out again, and again, and again and we haven't stopped since.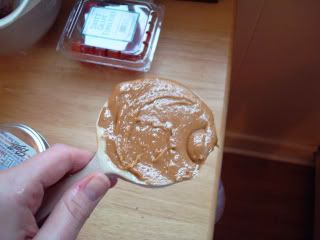 So for those first two weeks of communicating, to my girlfriends Paul was "Peanut Butter Jelly Time." As in "How was your date with Peanut Butter Jelly Time?" If I smirked at an incoming text message "Is that from Peanut Butter Jelly Time?" or when he would be coming over for a date they would dance in the living room and sing "Peanut Butter Jelly Time, Peanut Butter Jelly Time." His nickname came from his screen name and
something that was on an episode of Family Guy
, which at the time we were watching a lot of because it was on like, 7 times back to back on Tuesday nights.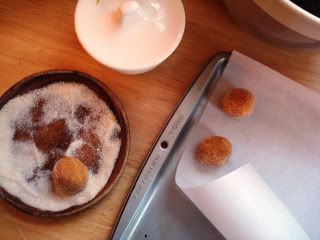 And eventually he became more than a code name or a Person of Interest and Peanut Butter Jelly Time became Paul, a real, live human male, that was appropriately aged, gainfully employed and wanted to be my boyfriend (wee!!!). But though the nickname fell to the wayside sometimes when I think of him, I still think PB&J. Which is sort of completely adorable because his initials are PB and um in case you didn't know I'm a J! Did you just puke? Alright, that's enough of that. It's Peanut Butter Jelly Time: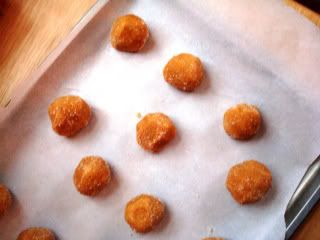 PEANUT BUTTER JELLY THUMBPRINTS
From Martha Stewart
1 ¼ cups all purpose flour
½ tsp. baking powder
½ tsp. baking soda
½ tsp. salt
¾ cup smooth peanut butter (I strongly recommend Teddie's)
1 stick unsalted butter, softened
1/3 cup packed light brown sugar
1/3 cup granulated sugar (plus more for rolling)
1 large egg
1 tsp. vanilla extract
½ cup raspberry jam
Preheat your oven to 350 degrees. Whisk together flour, baking powder, baking soda and salt. In a separate bowl beat peanut butter and butter with a mixer on medium speed until smooth. (A helpful hint when working with peanut butter: sure it's easy to scoop it into the measuring cup, but then getting it out and into your bowl is a bit messier. Lightly spray your measuring cup with vegetable or olive oil spray and the PB will pour right out of the cup.) Add egg and vanilla and beat until incorporated. Turn speed down to low, add dry ingredients and mix until combined.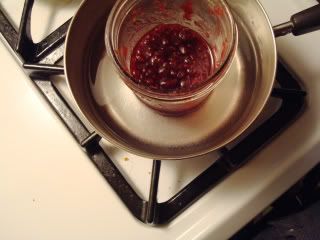 Scoop equal sized spoonfuls of dough and roll into balls, roll balls in sugar and place (about 2 inches apart) on a non-stick cookie sheet or one that has parchment paper or a Silpat liner. Bake until cookies are puffy, about 10 minutes. Remove cookie sheet from oven and using the handle end of a wooden spoon press indentations in the center of each cookie. You can get fancy here and attempt to press your indentations into heart shapes, but honestly, only one will come out looking like a heart and the rest will come out heart-ish so to save any high expectations of romantic cookies, just stick with little circles, they are still cute and still delicious.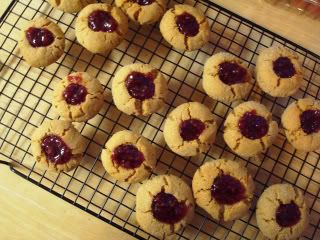 Return cookies to oven and bake until edges are golden. This recipe says 6-7 minutes more, but I only cooked mine for an additional 4 minutes. Reason being is that peanut butter cookies are amazing, but it only takes about 30 seconds of over cooking to render them into a dry mess. So for the sake of deliciousness, I under cooked mine. This meant they were slightly fragile and I had to be careful when transferring them to the cooling rack, but as they cooled, they firmed up a bit. Let cookies cool on rack completely.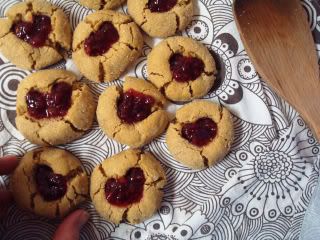 Heat jelly or jam in a small saucepan until loosened. I was using some amazing homemade jam which has a very loose consistency as it was. So all I did here was take the whole jar and place it in a warm sauce pan for a few minutes and it was fine. If your jelly is very thick, you will want to heat it a bit more, but as long as it's in a glass jar, I see no reason why you should even have to measure out the half cup and dirty a pan with sticky jelly. Just place it right in the simmering water and give it a couple stirs. Then, using a small teaspoon, spoon a bit of jelly into the indentations in your thumbprints. Cookies should be store in a single layer and keep for up to a week, but are best the first two days. Try not to eat like, 90 of these, 'cause they are SOOOO good.