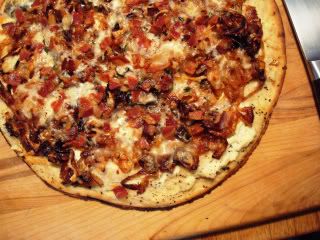 HONEY ROASTED ONION FLAT BREAD
3 bacon slices (or 4-5 of pancetta)
3 medium onions, cut cross wise into ¼ inch(ish) circles
¼ cup honey
¼ cup dry white wine
¾ crème fraiche; or, ½ cup ricotta
½ tsp nutmeg
Salt and pepper
Shredded gruyere cheese (about ¾ c.)
Grated parmesan (a few tablespoons)
1 tsp. fresh thyme leaves
Olive oil
Flat bread pizza crust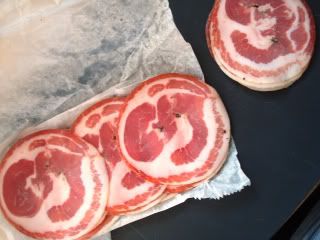 This was originally SPOSTA be a tart. A flaky delicate little buttery thing with a crème fraiche base and an egg wash and all that. Sposta, as in "supposed to," as in, now past tense, because I forgot to take the puff pastry out of the freezer. Just like I knew I would. But what are you gonna do? Turns out I had a flat bread crust from Trader's in the fridge and I was back in business just like that. If you would like to make a tart instead, the original recipe can be found
here
. But if you'd like to make the Porky D. hacked version, step right this way.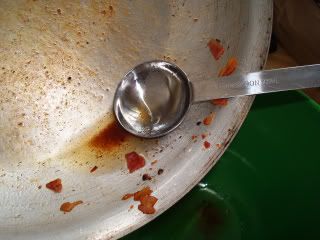 Preheat oven to 375 degrees. Crisp pancetta (or bacon) in a pan over medium high heat. Remove slices and drain on paper towels, crumble once the bacon has cooled; reserve 1 tablespoon bacon drippings. Slice onions into thin rounds, using a mandolin slicer or a nice sharp knife. In a large bowl whisk together honey, wine and reserved bacon drippings, add onions and toss to coat. Prepare a large non-stick cookie sheet with a spray of olive or vegetable oil (you will want to use an older cookie sheet for this project. It's been a week and I am still trying to scrape burnt honey off of mine, so be forewarned).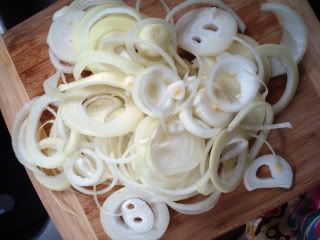 Pour onions and their marinade onto sheet, arranging them into one layer. Bake 30 minutes; remove pan from oven and flip onion slices as best you can onto their other side. Bake an additional 30 minutes, checking in on them every once in a while to stir them up and pull them away from the corners of the pan, because the corners and the furthest outer lying onions will start to burn.
This is because the wine burns off and the honey, well, the honey just starts to burn, so pay close attention in the second 30 minutes of roasting. I don't want to discourage you against trying this method, but just due to the nature of ingredients you will have some disintegrated onions and a very crusty pan when all is said and done. Just want you to know what you're in for. Remove pan from oven and let cool a few minutes before sliding the onions off onto a plate or a Tupperware. Once the onions are roasted and cooled you can store them until you're ready to prepare your flat bread. I made them the day before.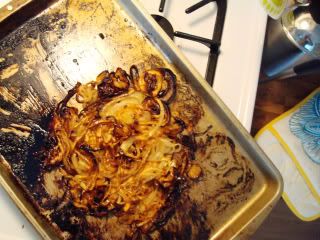 Preheat oven to 425. Lightly brush surface and crust of flatbread with olive oil, salt and pepper the crust. Mix ricotta (or crème fraiche, if using) with nutmeg and spread on surface of the flat bread, top with both cheeses, onions, crumbled bacon and thyme. Bake for 8-10 minutes until crust is crispy and cheese is bubbling. Slice into small pieces for an easy appetizer or serve with a salad for a full meal.