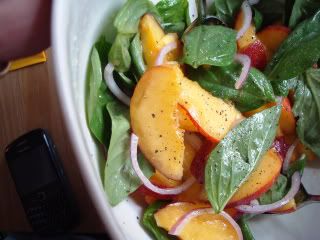 Whew, hot enough for ya? I refuse, after the snowy winter we had, to remark in a disparaging way about warm weather, but there is kind of no denying how instantaneously steamy it has gotten this week. It's as though the East Coast has decided to forego June's sweet 70 degree breezes all together and plunge head first into August swelter.
But don't worry, I've got the antidote: a perfect summer salad which is equal parts ease and deliciousness. A delightful little dish that fuses together ripe, juicy peaches, sharp hits of purple onion and heady basil. It's sweet and juicy, with just the right amount of punch (which is, incidentally, exactly how I would describe myself if I were a kickboxing instructor *roundhouse kick*).
I was in New York last weekend staying with the lovely
Neens
. Who is such a gracious host I sort of feel like her apartment is my favorite bed and breakfast in the world. She had breakfast fixings stocked in the fridge so Saturday morning when we woke up we whipped up a delicious brunch. The main event was cheesy baked eggs with chorizo, mushrooms and spinach, but this salad is what I'm still thinking about.
It's perfect in that summer cooking way in that you just assemble fresh, ripe ingredients and don't really mess with them at all. I'm in general not a fan of fruits in salad…but this one changed my tune. I can't wait to make this again.

PEACH, BASIL and RED ONION SALAD
3 ripe peaches, pitted and sliced
Handful basil leaves, torn off the stem but left whole
½ small purple onion, very thinly sliced
Juice from ½ lemon
Olive Oil (just a drizzle about 2-3 tbs.)
Salt and pepper
Slice your peaches over the salad bowl to catch any juices that may drip down; add basil leaves, onion, salt, pepper. Pour on lemon juice and lightly drizzle just a bit of olive oil. Honestly, I probably used even less than what I suggested above. I have a light hand with oil and with dressing salads in general. You can always add more dressing, but if you over do it, there's no way to dry your salad off.
I think a lovely addition to this salad would be some tangy goat cheese crumbles, or fresh mozzarella. You could serve it with a side of mixed greens and a loaf of crusty bread for a light dinner; as lunch, or like we did, at brunch. Simply delicious.